Stand on the edge of a sea-cliff or stop off at a scenic coastal town. Here are the best things you can do on your trip to Donegal.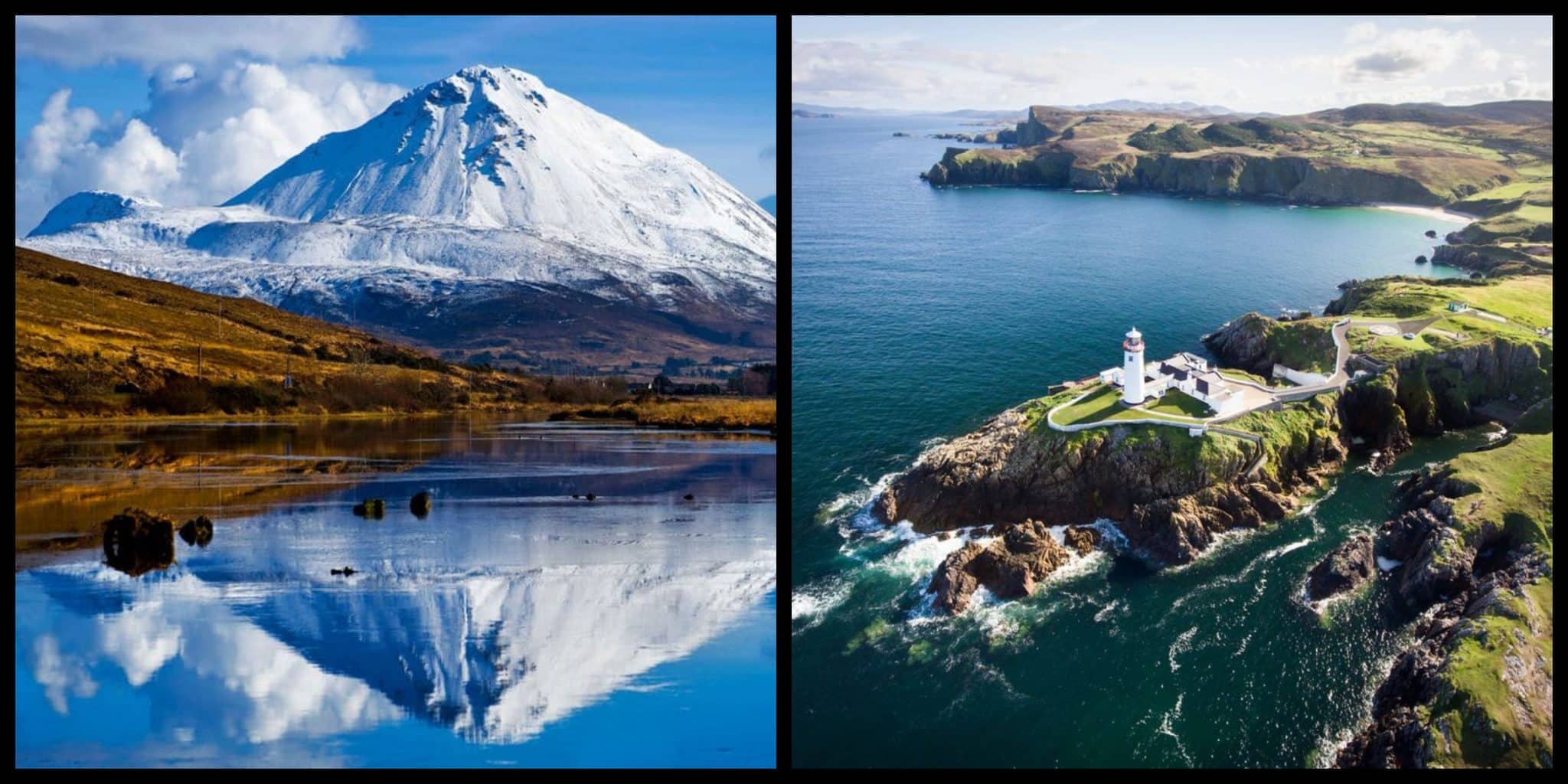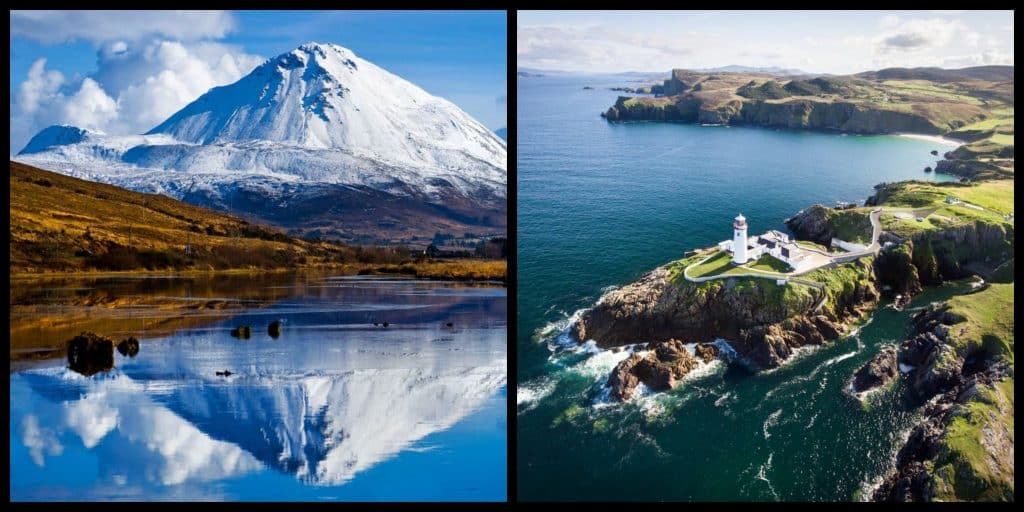 Donegal is one of the most unique counties in Ireland. It is planted in the north-western corner of the country and is the fourth-largest county by area in all of the Emerald Isle.
Tír Chonaill or Dún na nGall, as the county is known in Irish, is characterised by breathtaking landscape, quaint Irish villages, secluded beaches, clinquant coastlines, and a deeply-embedded Irish culture.
From the breathtaking Sliabh Liag Cliffs to the luxurious Lough Eske Castle, the historic Donegal Castle to the magical Murder Hole Beach, this county is brimming with sights and natural beauty. So, here are the ten best things to do in Donegal.
IB4UD's top 5 fun fact about County Donegal
Located in the northwest of Ireland, County Donegal is part of the province of Ulster and is the northernmost county in Ireland, sharing a border with Northern Ireland.
Donegal is the second-largest county in Ireland, spanning an area of 1,880 square miles.
The county's highest point is Mount Errigal, which stands at 2,464 feet and is a popular destination for hikers and climbers.
County Donegal has the second-largest Irish-speaking area, or Gaeltacht, in Ireland and is known for its preservation of Irish culture and traditions.
Approximately 25% of all fish caught in Ireland come through a port in Donegal called Killybegs.
10. Dunfanaghy – a picturesque village
Kicking off our list of best things to do in Donegal the is a trip to the small village of Dunfanaghy, situated on the Wild Atlantic Way and overlooked by the Derryveagh Mountains.
Despite its small size, there is much to do, thanks to its golf course, horse riding, and hill walking. At the same time, beach-lovers are treated to the range of Blue Flag beaches around the area that encompass the Sheephaven Bay shores.
Some of our favourite sandy beaches in the area are Killahoey Beach and Marble Hill Strand. The nearby Ards Forest Park and Horn Head Peninsula are also worth visiting. Dunfanaghy is certainly one of the ten best places to visit in Donegal.
READ ALSO: Top 5 most beautiful beaches in Donegal, RANKED
9. Buncrana – for the views of Lough Swilly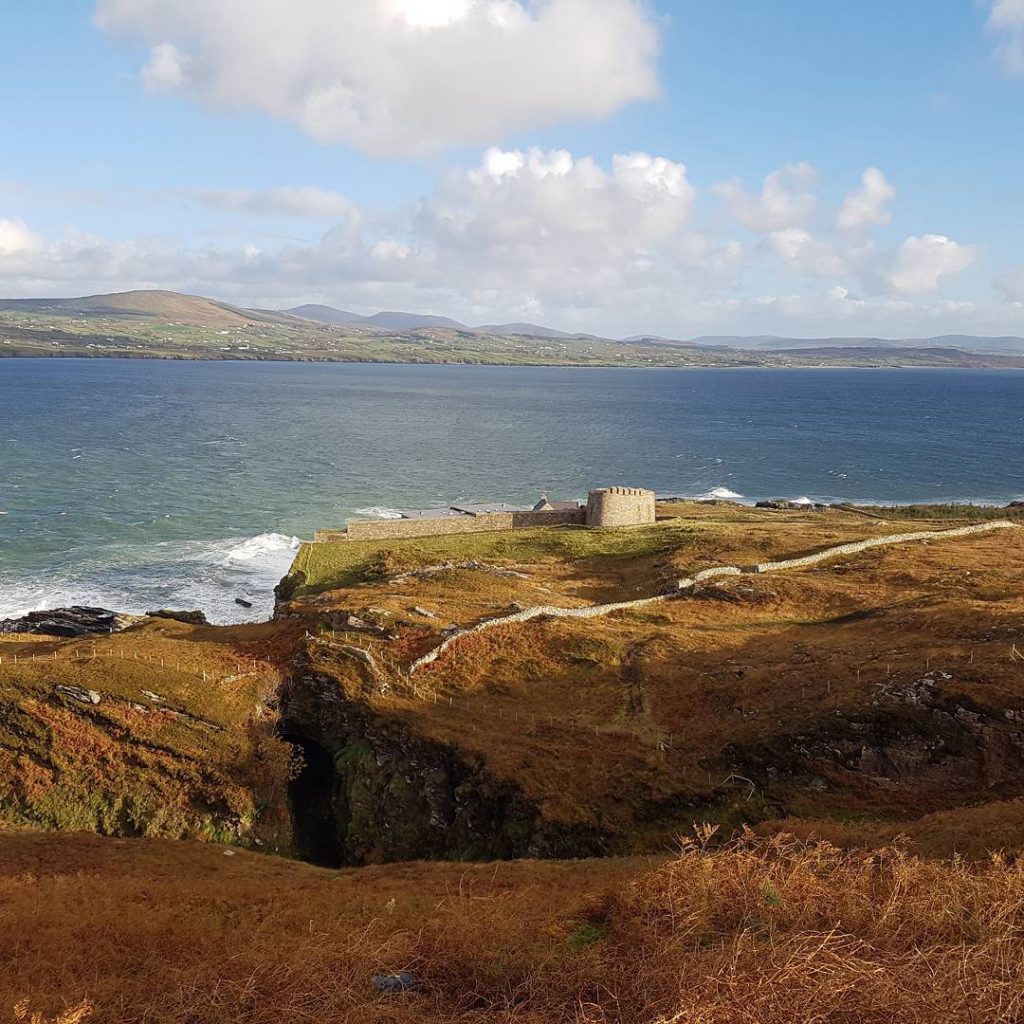 Buncrana is a town that is extremely accessible for visitors, as it is only 23 km (14 miles) from Derry City and 43 km (27 miles) from Letterkenny, Donegal's most populated town.
We have put Buncrana on the list as the town sits on the shores of Lough Swilly, creating a picturesque spot typical of the county, taking in the town, water, and hills.
Lying along the western side of the Inishowen Peninsula, Lough Swilly is one of only three glacial fjords in Ireland. Fort Dunree and Grianán of Aileach, close to Buncrana, are also worth visiting.
8. Malin Head – Ireland's most northerly point on the Inishowen Peninsula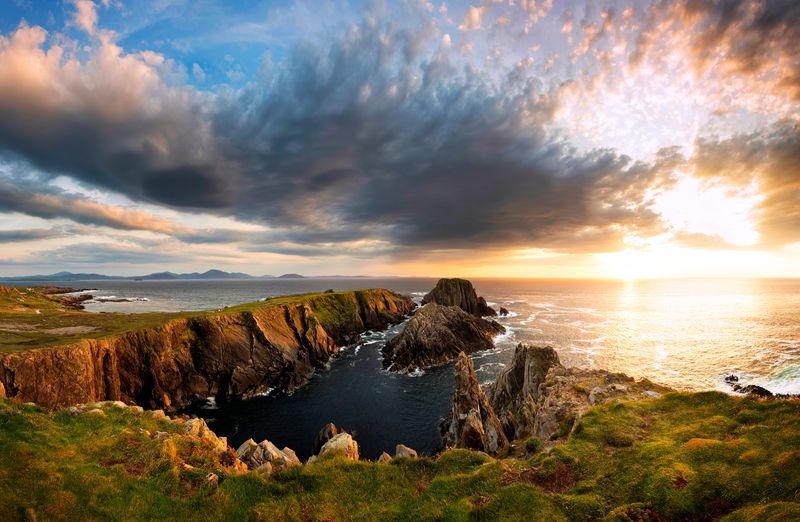 One of the best things to do in Donegal is to take a trip to Malin Head, located on the Inishowen Peninsula. It takes the prizes as the most northern point on the island of Ireland, offering spectacular views.
While here, Malin Head can act as the start of your trip along the Wild Atlantic Way. Better still, Malin Head was featured in Star Wars: The Last Jedi, when the Millennium Falcon rested itself on the cliffs.
Thanks to its northern and remote location, Malin Head, at the tip of the Inishowen Peninsula, is also the prime spot to catch the Northern Lights.
RELATED: Top 5 best places to see the Northern Lights in Ireland
7. Fanad Head Lighthouse – one of the world's most beautiful lighthouses
Fanad Head is a Gaeltacht area (where the Irish language is spoken) and is located on the eastern shore of the Fanad Peninsula, so it is made up of all the best that this stunning county can offer.
At its very tip, you will find the Fanad Head Lighthouse, which tiptoes around the rocky edges of Donegal's coastline, offering coastal views, and keeping a watchful eye over both Lough Swilly and Mulroy Bay.
READ ALSO: IB4UD's Top 10 most beautiful lighthouses in Ireland
Alongside Fanad Lighthouse, some must-visit spots on Fanad Head include Glenevin Waterfall, Portsalon Beach, which is a stunning Blue Flag Beach, and taking the short drive to Murder Hole Beach, one of the most secluded beaches in Ireland.
6. Bundoran – Donegal's surfing haven
Bundoran is the most southerly town in Donegal, not far from County Sligo. It is a fan-favourite for holiday goers.
It is the county's premier seaside resort and proves extremely popular in the warmer months. It earns the nickname 'Fundoran', thanks to its amusements, activities, beaches, and surfing.
It was named as one of the world's twenty-best surfing resorts in 2012 and is one of the ten best places to visit in Donegal.
Some of the best beaches here include Tullan Strand and the main Bundoran Beach, which is a Blue Flag Beach. Just to the north of Bundoran, you can also find Fintra Beach, Maghera Strand, and Silver Strand Beach.
RELATED: Top 12 surfing spots in Ireland every surfer must experience
5. Portsalon Beach – the most beautiful beach in Donegal
Donegal is famously lined with several world-class beaches, and perhaps the chief among them all is the Magherawarden/Portsalon Beach, a mile of golden sandy paradise bordering the Atlantic Ocean.
Portsalon Beach is absolutely stunning and certainly one of the top places to see in Donegal. Looking out over the Atlantic Ocean and facing Fort Dunree, this is a prime spot to enjoy incredible views.
The beach has been awarded the prestigious Blue Flag and was even awarded the title as the second-best beach in the world by The Observer newspaper. We can't argue with that.
4. Drive along the Wild Atlantic Way – a trip of breathtaking scenery
One of the best things you can do in Donegal is to take a drive along its leg of the Wild Atlantic Way, a journey that is filled with stunning coastlines, ancient sites, mountain ranges, and remote islands that will leave you in awe.
Tour the 'Northern Headlands' and take in the Slieve League Cliffs (Sliabh Liag), Tory Island, a remote island off the coast of Dongeal, Grianán an Aileach, and Malin Head, amongst more scenic spots. We promise you won't be disappointed.
READ ALSO: Wild Atlantic Way Route: a 7-day Itinerary of the Best stops
3. Slieve League – amongst Europe's largest cliffs
The Slieve League cliffs, or Sliabh Liag, range above 600 metres in height, treble the size of the famous Cliffs of Moher, and scale the Atlantic Ocean that buzzes below.
Take the long walk up to the edge of the cliffs, where designated viewpoints give you panoramic views of the Atlantic, Donegal Bay, and the Sligo Mountains. Just an hour's drive from Donegal Town, this is a prime spot you don't want to miss.
2. Mount Errigal – the tallest peak in the county
Mount Errigal is undoubtedly one of the most memorable emblems of this part of Ireland. Nestled next to Gweedore town, Errigal mountain towers over its vast green landscape below, standing at at 751 metres.
Errigal is the tallest mountain in in the county, the largest in the Derryveagh family, and its piercing peak glitters in white snow during the winter months.
Errigal is certainly one of the best places to visit in Donegal, offering amazing views for miles around. Thus, making it a must-visit for adventure seekers.
READ ALSO: Mount Errigal Hike: best route, distance, when to visit, and more
1. Glenveagh National Park – Ireland's second-largest park
Glenveagh National Park is the second-largest park in all of Ireland, and its scenic walking trails coincide with the majestic Lough Veagh and the Glenveagh Castle, a well-preserved 18th-century creation.
Taking our prize as the number one thing to do in Donegal, enjoy the rugged mountains landscape, the 16,000 hectares of parkland, the hushed lakes, abundant wildlife, and the descending waterfalls.
In 2017, National Geographic voted County Donegal as the 'coolest' place in the world to visit in 2017. How could you disagree after seeing the ten best things you can do in the county?
Other notable things to do in Donegal
If you have completed our list and have the luxury of a little more time in this stunning part of Ireland, here are some other great things you should check out. Pay a visit to Donegal Town, spend a night at Lough Eske Castle Resort, check out the historic Donegal Castle, the fascinating Glencolmcille Folk Village, and the breathtaking Assaranca Waterfall.
If you're travelling with family, we also highly recommend a visit to Wild Ireland. Wild Ireland is a 23-acre wildlife sanctuary home to endangered animals such as Brown Bears. Just a short 30-minute drive from Derry, this is an easily accessible attraction that you need to check out.
If it's beaches you want to explore, some of our favourites are Murder Hole Beach, Bundoran Beach, Carrickfinn Beach, and Portsalon Beach (mentioned above). Fintra Beach, Killahoey Beach, Portnoo Beach, Ballymastocker Bay, Fintra Bay, Rossnowlagh Beach, and Marble Hill Beach are other great beaches to visit.
Your questions answered about Donegal
If you still have questions about the Forgotten County, we have you covered! In this section, we've compiled some of our readers' most popular questions that have been asked online about this topic.
What time is it in Donegal, Ireland?
Where is Donegal, Ireland?
Donegal is located in northwest Ireland; it is part of the Republic of Ireland.
What is Donegal famous for?
Donegal is known for its wild, rugged beauty, as well as Bundoran – the surfing capital of Ireland. Other sights of interest include the Slieve League Cliffs and the Wild Atlantic Way coastal route.
What language is spoken in Donegal?
Donegal is a Gaeltacht region, meaning the Irish language is widely spoken. That being said, English is used interchangeably and understood by the vast majority of locals, if not all.
Why is Donegal called the "Forgotten County"?
Donegal is called the "forgotten county" as it remains to date widely unchanged by commercialism and modern mentalities.
The Irish language is still widely spoken – unlike many other counties in Ireland – and its infrastructure and ways of life are much slower and in-tune with traditional Ireland.
Is Malin Head worth visiting?
Yes! Malin Head is not only the most northerly point in Ireland, but it also boasts a rich heritage and breathtaking views. Plus, if you time it right, it also acts as the perfect spot to catch a glimpse of the Northern Lights.
What is there to do in Donegal in winter?
While the county is known for its stunning beaches and outdoor activities, there are still plenty of things to be enjoyed in winter. Visit Donegal Town, enjoy some Irish music, relax at Lough Eske Castle, and see a different perspective of this county's rugged beauty.
What is the nicest part of Donegal?
This is a tough one and is really up to the individual! Donegal is an incredibly scenic county from north to south, east to west. However, many would argue that it's the coastline that makes this part of Ireland so special.
If you are interested in Donegal, you will find these articles really helpful:
Where to stay in Donegal
The 10 BEST Hotels in Donegal, according to reviews
5 UNBELIEVABLE Spa Hotels in Donegal You Need To Stay In
5 unique Airbnbs in County Donegal
An Enchanting Tree House in Donegal is Available on Airbnb – and it is MAGIC
Pubs in Donegal
32 Irish pubs: the best pub to visit in every county of Ireland
Top Five Towns in Donegal For A Mad Night Out
Eating in Donegal
The 10 Most Delicious Ways to Gain a Stone In Donegal
32 local dishes: local dishes you need to try in every county of Ireland
Donegal Itineraries
Donegal in five days (an EPIC road trip itinerary)
Galway to Donegal in 5 Days (Irish Road Trip Itinerary)
Understanding Donegal & its attractions
Top 5 reasons why Donegal is the best county in Ireland
10 MAD Donegal Words (And What They Mean in English)
Top 5 Donegal GAA moments in recent history
Cultural & Historical Donegal attractions
Top 10 best things to do in Donegal, Ireland (County Guide)
Donegal Bucket List: 10 things you need to experience in your lifetime
Hidden gem of the week: Grianán of Aileach in County Donegal
10 amazing places in Donegal that Dublin will never have
5 things to see and do on Arranmore Island, Co. Donegal
More Donegal sightseeing
Top 5 most beautiful beaches in Donegal, RANKED
The 3 best waterfalls in Donegal, RANKED
Top 5 Hidden Gems of County Donegal
INCREDIBLE footage of the Slieve League shows off Donegal's scenery