Dublin is a melting pot of creativity; from musicians and actors to novelists, poets and playwrights – they all can be found here. With arts at the centre of our cultural identity, the steady stream of world-class entertainers who bloom from our small city seems about right. It will take some going for future generations to knock these legends from Dublin off their perch.
And in case you were wondering, here are our top 10.
10. Maeve Binchy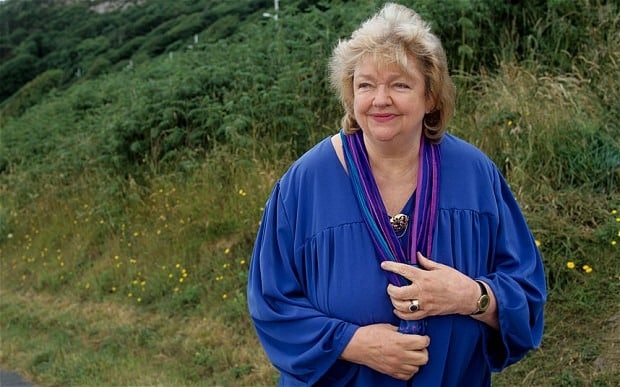 This female Irish novelist is one of contemporary fiction's biggest names. Having sold more than 40 million copies worldwide, which have been translated into over 37 languages, it is safe to say she is quite the international success.
Binchy has been featured on both The New York Times best-seller list and in Oprah's Book Club.
9. Roddy Doyle
Roddy Doyle is an Irish dramatist, novelist and screenwriter. Most notably, his book, The Commitments, was adapted into a film which cemented Doyle's international success in 1991.
Born and raised in Dublin, it is no surprise that his work generally reflects the lives of working-class people in the Irish capital.
8. Bram Stoker
Bram Stoker is most remembered for his 1897 Gothic novel, Dracula. He was born and spent much of his youth in Clontarf on the Northside of Dublin. Later went on to create his ever-lasting masterpiece, Dracula, and there is even a Bram Stoker museum in Clontarf today, for Gothic horror fans!
7. Maureen O'Hara
This Golden Age Hollywood gem was born and raised in Dublin, Ireland. She is most remembered for big-screen, iconic roles, alongside John Wayne (a lot of which were directed by the renowned John Ford). Examples include Rio Grande (1950), The Quiet Man (1952) and arguably her most famous role in The Wings of Eagles (1957).
6. Samuel Beckett
Samuel Beckett is considered one of Ireland's, not just Dublin's, most important artists. He was a novelist, a playwright, poet, director and a translator, spearheading the avant-garde movement on Irish soil.
He won a Nobel Prize in literature in 1969 and his most memorable work would be "Waiting for Godot".
5. Domhnall Gleeson
This Irish actor has made his way into Hollywood A-list in the past few years. He is the son of esteemed actor Brendan Gleeson, and brother of notable actor, Brian Gleeson – clearly talent runs in the family.
2015 was a golden year for the actor when he appeared in four Academy Award-nominated films including Ex Machina, Brooklyn, The Revenant, and Star Wars: The Force Awakens. He has won a handful of accolades for his craft.
4. James Joyce
James Augustine Aloysius Joyce is one of Dublin's most significant claims to fame. Joyce was a poet, novelist and writer who has woven the essence of Dublin into his literature, which will live on forever.
The Dublin local is considered one of the most significant thinkers and writers of the 20th century, and his works which touched on modernism and the avant-garde are still today thought to be some of the finest pieces of literature ever written. He is remembered for Ulysses (1922), Dubliners (1914) and A Portrait of the Artist as a Young Man (1916).
3. WB Yeats
This Irish poet was of the Romantic movement and considered one of Ireland's most esteemed artists of all time. He helped to found the Abbey Theatre and played a fundamental role in Irish politics, acting like a Senator of the Irish Free State. He was awarded the Nobel Prize in literature in 1932.
2. Oscar Wilde
This significant Irish poet and playwright was one of the most popular of his time. He was born in Dublin, Ireland, although lived much of his life in London.
Some of his most famed works include The Picture of Dorian Gray (1890) and The Importance of Being Earnest (1895). When his love affair with Lord Alfred Douglas – the son of an English nobleman – was exposed, Wilde was wrongly put on trial and subsequently imprisoned (at this time, homosexuality was illegal). He was sentenced to two years hard labour. On his release, he moved to France to live in exile and died three short years after, at the age of 46.
1. Bono – U2's Frontman Tops Our List of Legends from Dublin
Bono has topped our list of famous people to spawn from Dublin. He is the lead singer and frontman of the critically-acclaimed band U2 and has been a leading figure in political activism as well as the music industry for decades.
His real name is, in fact, Paul David Hewson and he has received many accolades from the British Empire as well as countless awards for his contribution to music, at home and abroad, alongside his U2 comrades.