Down through the centuries, Irish men and women and their decedents have contributed greatly and influenced the world's political arena. In fact, for a small nation, we have outmatched many others in this regard. Our Journalist Ger Leddin looks back in time and chronicle some of the stories of these Irish men and women.
When he was Minister for Foreign Affairs in 2011 Eamon Gilmore commented that "the Irish Diaspora is an important source of soft power for this country on the world stage." He was right but have you ever wondered why the Irish seem to have played a much larger role in global politics than our small size as a nation would initially lead an observer to consider?
Ever since 4 September 1607, when Hugh O'Neill, Earl of Tyrone and Red Hugh O'Donnell, 1st Earl of Tyrconnell, and about ninety followers left Ulster for mainland Europe the Irish have been there, in the thick of at first European and later Global politics.
We remember those of Irish descent who have played their part globally, The United States has had 22 presidents of Irish heritage, Che Guevara's father's full name was Ernesto Guevara Lynch, with a Galway born Mother and we have numerous prime ministers and governors of Australia, Canada and other far-flung shores but let us look at ten global influencers that were either born are spent their informative years here in Ireland; some historical and some contemporary.
1. Edmund Burke (12 January 1730 – 9 July 1797)
Edmund Burke was born in Dublin and elected a member of parliament in 1780 and is widely regarded as the philosophical founder of the conservative political movement in England and subsequently the conservative movement worldwide.
Noted for his support for Catholic emancipation and his opposition to the French Revolution, Bourke's writings have been credited with seeding the Ideals of a political and social philosophy promoting traditional social institutions in the context of culture and civilization.
2. William Brown (22 June 1777 – 3 March 1857)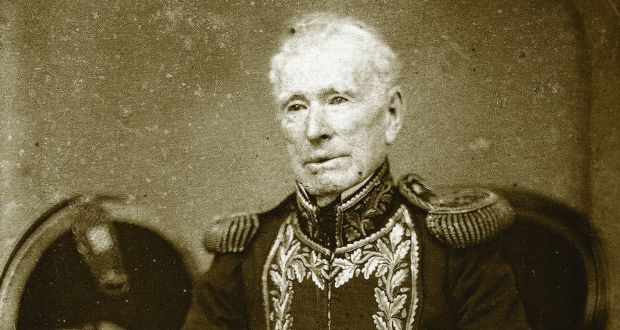 Along with his family, William Browne left Foxford County Mayo around 1786 and settled in Philadelphia, Pennsylvania.
At a young age he entered the American merchant navy as a lowly cabin boy but within ten years had worked his way up through the ranks to captain his own vessel.
Brown led an interesting career, after being press-ganged into the British navy and involved in the Napoleonic wars between England and France. After the war, Brown and his wife moved to Uruguay where he set up in Business as a merchant trader operating between Uruguay and Argentina.
When a naval conflict broke out between Spain and Argentina Brown was commissioned into the new Argentinean Navy and appointed the commander in chief.
Throughout the first half of the 19th century, Brown was a leading player in both conflict and diplomacy in Uruguay, Brazil and a major influence on the political emerging South American continent.
3. Seán MacBride (26 January 1904 – 15 January 1988)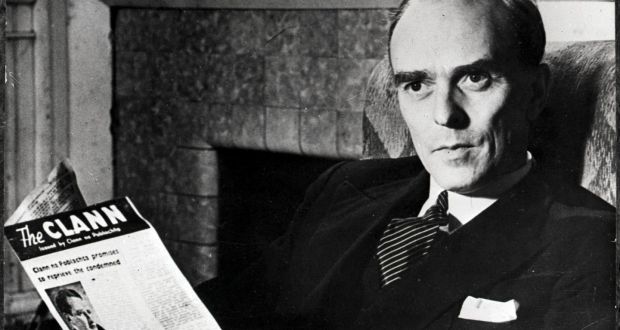 Considered by many to have been one of Ireland's most noted global statesmen and considered by others as a paradox. Seán MacBride certainly played his part on the world's political stage; a former IRA Chief of Staff and winner of both the Nobel and Lenin Peace Prizes.
Born in Paris, he was first elected to the Dáil in October 1947 and served as Minister for External Affairs from 1948 to 1951. But it is McBride's international role which is most impressive.
He was a founding member of Amnesty International and served as that agency's International chairman during the 1970's. MacBride was heavily involved with the stewardship of that organisation.
Seán MacBride was a barrister by training and this background led him to international prominence as Secretary-General of the International Commission of Jurists from 1963 to 1971. Additionally, he served as the United Nation's Assistant Secretary-General and President of the General Assembly High Commissioner for Refugees and High Commissioner for Namibia.
4. Lord Killanin (30 July 1914 – 25 April 1999)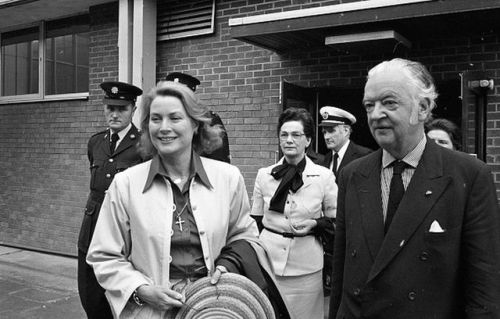 Chapter five of the Olympic charter states that "No kind of demonstration or political, religious or racial propaganda is permitted in the Olympic areas."
However, the Olympic Games and the movement itself have had to contend with the full impact of political influence and at times manage the tight-rope walk of wars, boycotts and terrorism.
As President of the International Olympics Committee between 1972 and 1980 and even before that as an active IOC member Irishman Michael Morris who inherited the title 3rd Baron Killanin, from his uncle on turning twenty-one, steered the Olympic movement through the turbulent periods of the Munich massacre, the Moscow boycott the financial disaster that was the Montreal Games. Killian was also deeply involved with the successful diplomatic manoeuvring to bring China into the Olympic family.
5. Chaim Herzog (17 September 1918 – 17 April 1997.)
Chaim Herzog was born in Belfast and spending his informative years in Dublin. Due to the divisive nature of the Middle Eastern conflict, Herzog remains a very controversial figure.
Herzog emigrated to what was then Mandatory Palestine in 1935. After Israel's Declaration of Independence in 1948, he fought in the 1948 Arab-Israeli war and served with the Israeli army until his retirement as a Major-general in 1962.
Serving as Israel's Permanent Representative to the United Nations between 1975 and 1978 he famously and symbolically tore up the UN General Assembly Resolution 3379—the "Zionism is Racism" resolution in front of the assembly.
On returning to Israel 1981 he entered politics and was elected to the Israeli Parliament where he served for two years until elected to the position of President of Israel, a role he held for two five-year terms.
6. Mary Robinson (Born 21 May 1944.)
Many people remember the election of Mary Robinson as the first female president of Ireland and the sense of change that her tenure brought to the nation. But it was after her resignation from domestic duties that her involvement in global matters came to the fore.
After resigning her Presidency Robinson was appointed the United Nations High Commissioner for Human Rights on 12 September 1997, during her term as High Commissioner, Robinson became actively involved with issues such as immigration and the United States use of capital punishment.
She has served as the UN envoy on world climate change and on the International Institute for Environment and Development (IIED) and was also a founding member and chairman of the Council of Women World Leaders. Robinson was a member of the European members of the Trilateral Commission.
7. Peter Sutherland (25 April 1946 – 7 January 2018)
The former Irish Attorney General served as UN Special Representative for International Migration from 2006 to 2017, and as Director-General of the World Trade from 1993 to 1995, along with being European Commissioner for Competition from 1985 to 1989.
He produced the Sutherland Report for the Portuguese Government on the handover of Macao to China in January 2000. His contribution to the formation of the World Trade Organisation is incalculable as he was considered to be one of the world's noteworthy influencers.
8. Bono, Paul David Hewson, KBE OL (born 10 May 1960)
Bono's international fame as a rock-star has afforded him the opportunity to open the doors along the corridors of global powers that few others could aspire to, and he has used those opportunities to great effect.
Involved himself in campaigning for third-world debt relief and raising awareness of the plight of Africa, including the AIDS pandemic, Bono has met with several influential politicians, including former United States President George W Bush. In March 2002 Bono was influential in US President Bush's decision to grant-aid a $5 billion package for Africa.
His philanthropic work has been twice recognised by Time Magazine who named Bono one of the "100 Most Influential People" in its May 2004 special issue and again in the 2006 Time 100 special issue.
9 & 10. Ian Paisley. Paisley (6 April 1926 – 12 September 2014) And Martin McGuiness (23 May 1950 – 21 March 2017)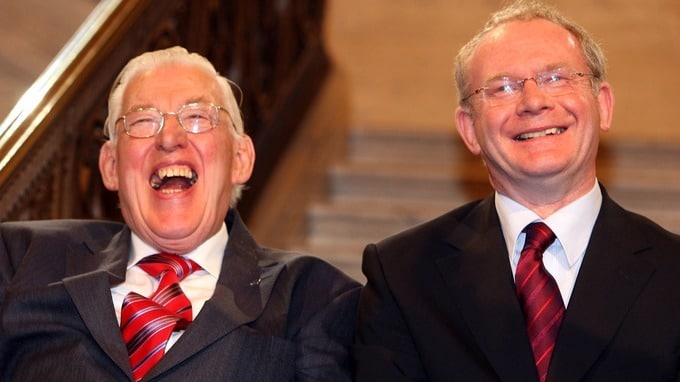 The Good Friday Agreement was signed in Belfast on Good Friday, 10 April 1998 and effectively brought about the end of a sectarian conflict which had divided communities in the Northern Ireland for decades. While the agreement was negotiated by many Irish, English and American politicians, the unlikely and surprising cooperation of McGuiness and Paisley, Deputy and First Ministers respectively, made it work and become a benchmark for similar agreements worldwide.
Sudan, Bosnia and South Africa are among some of the other countries to benefit from the agreement and used it as a benchmark as they too emerged from conflict. Research undertaken by University of Edinburgh researchers include "parity of esteem" – a reference to the protection of human rights – which was first used in the Belfast Agreement and later used in three deals in the Philippines.
The research team have stated that "found that referendums to decide whether agreements will be implemented – similar to the Good Friday Agreement referendum in 1998 – have been used for 13 cases since 1990."
Ireland, as stated previously, is a small nation but as a nation, we have boxed way above our weight in global affairs; a fact that we as a people should be aware and immensely proud of.