For all the pizza lovers out there, this is for you. Check out the ten best pizza places in Galway for a cheeky nibble.
Craving a slice of an Italian pizza pie? Here are the best pizza places in Galway.
We all know that pizza originated in Italy, but that doesn't mean you need to take a long journey to have a decent pizza pie, now does it?
We have compiled a list of the ten best pizza places in Galway because everyone who is anyone loves a good pizza, and why wouldn't they? Let's take a look.
10. Crust Bucket – for a double-decker pizza experience
Claiming to have the best pizza in the city, there is no reason not to try a slice at Crust Bucket.
Add this to the fact that it's served in a double-decker bus, now that's pretty cool, we must say! We bet they don't have that in Italy…
All of this is what makes Crust Bucket one of our top picks for the best pizza places in Galway.
Address: 39 Dominick St Lower, Galway, H91 RX83
9. Milano's – a national favourite
Milano's is a name known to many, and you can find it in many parts of the country. We think it might be because they're doing something right, including their pizzas.
With many pizza choices, including vegetarian and gourmet, there is at least one to try each night of the week.
Address: The Cornstore, Middle St, Galway, H91 AH7A
8. Pizza Amore – pizza in a cosy atmosphere
Bringing a real authentic taste of Italy to Galway City, this spot is perfect for a top-class pizza evening.
Address: 4 Cross Street Upper, Galway, H91 C6X2
7. Freddy's – pizza in a quirky vintage establishment
If it's comfort food and a quirky atmosphere you're after, then Freddy's is the place for you.
This fun and friendly pizza place-diner hybrid is surrounded by vintage memorabilia on the walls, making it stand out from the rest.
Address: 15 Quay St, Galway, Ireland
6. Venice Restaurant – flavourful Italian pizza you just can't miss
Considering these guys have been in Galway for over ten years, they must truly make some good Italian grub, including their famous pizza pies.
One visit to Venice Restaurant just isn't enough!
Address: 11 Abbeygate Street Lower, Galway, H91 W5YA
5. Osteria de Simone – a true Italian restaurant
Osteria de Simone is undoubtedly one of the best pizza places in Galway.
This restaurant gets people returning time and time again with its delicious Italian cuisine.
If Italians can be found here loading up on their beloved pizza, that's saying something. An absolute must-visit!
Address: 3 St Francis St, Galway, H91 XF1P
4. Woozza Wood Fired Pizza – a charming dining experience
With an array of pizza options, including vegan and gluten-free choices, as well as a great wine selection, this is the spot that should be on everybody's pizza wish list.
Not only do they have the traditional savoury pizzas but don't forget to check out the sweet menu, including the Nutella pizza with marshmallows, pineapple, or even strawberry.
Address: Middle St, Galway, H91 YP9F
3. Da Roberta's Ristorante and Pizzeria – pizza by the sea
Situated in Salthill, Galway, this reasonably priced restaurant with super tasty pizza is the spot to go.
The service here is unbeatable and personalised. This is something that really makes them stand out, not to mention their yummy pizzas, of course.
Address: 161 Upper Salthill Road, Galway
2. Pizza and Pasta Napoli – for a real Naples experience
With a name like this, it's no wonder it draws in the crowds.
We all know that the best pizza comes from Napoli, and at this casual pizza restaurant in the heart of Galway, you can have a real Napoli experience. Great value for money and great flavours to match.
Address: 15 Cross Street Upper, Galway, H91 ANH9
1. The Dough Bros – for creative wood-fired pizzas'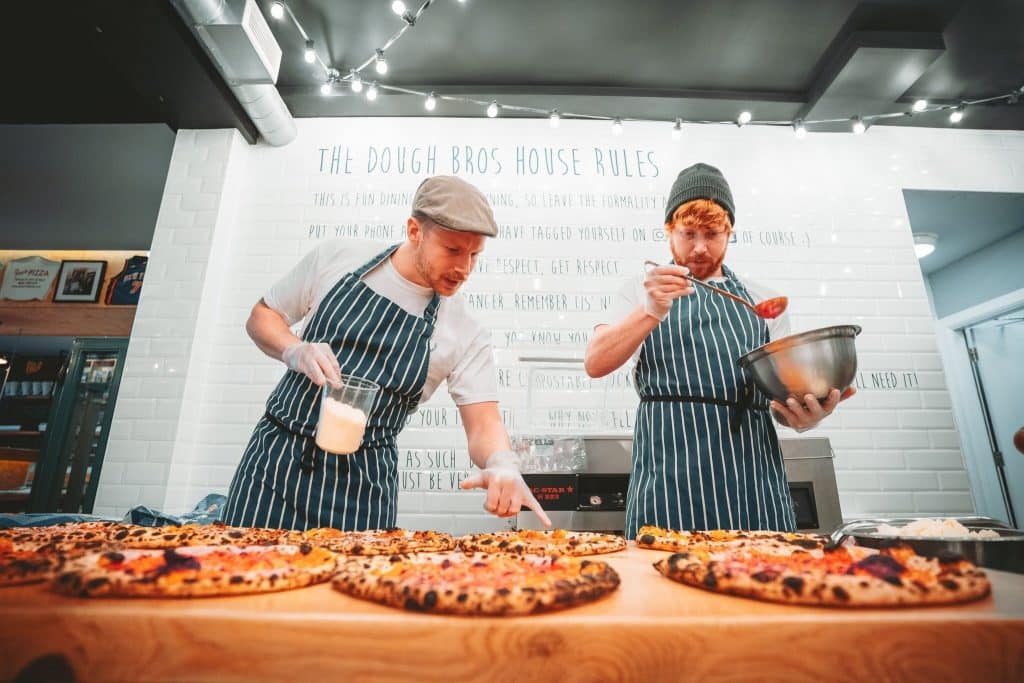 Topping our list of the best pizza places in Galway is a staple in the city: The Dough Bros.
Not only are these guys renowned for their wood-fired pizzas all over Ireland, but they have some awesome craft beers to go with them. Name a better combination; we dare you!
Address: Cathedral Buildings, 1 Middle St, Galway
Galway is certainly a place to visit for many reasons, so why not have one more?
Pizza lovers will be inundated with dining options and atmospheres. So, we suggest having a few pizza nights so you don't miss out on the hidden gem!
Don't worry if you are not a pizza lover; many of these restaurants serve all kinds of Italian cuisine, making it great for everyone. Although we believe you may change your mind when you get a glimpse of these authentic Italian pies before you.