Ireland, sun, and beer go hand in hand. So, let us guide you towards the best beer gardens Cork City has to offer so you can look forward to brighter, sunnier days ahead.
There is no better place to be when the sun shines than in Ireland. Just finished a Cork walking tour and fancy a pint? If you find yourself in Cork City on a warm and sunny day, you will definitely be in search of a vibrant beer garden, so we are here to help.
With spring and summer fast approaching, it is time to add those must-visit beer gardens to the list because we have a feeling this is going to be the best summer yet.
So, let's all have a beer, a gin, or a pint of Guinness to celebrate – outdoors in the sun, of course. Here are the ten best beer gardens in Cork City that you cannot overlook.
10. The Beer Garden – for an Irish roast and a pint
Just ten minutes from the hustle and bustle of Cork City, you can find an Irish Gastropub with a fantastic outdoor space that is perfect for a delicious Sunday lunch, followed by a cold beer.
Oh, and don't miss their Tasty Tenner Meal Deals menu for a delicious bite to eat.
Address: 10-12 Evergreen Rd, Turners Cross, Cork, T12 KD00
9. Coughlan's – an all-day, all-night favourite
Coughlan's has a beer garden where you can come for a few daytime drinks and end up staying until the wee hours, dancing away to the live music.
The beer garden hosts live acts several nights a week in this small and cosy setting, making this bustling bar home to one of the best beer gardens in Cork City.
Address: 7 Douglas St, Ballintemple, Cork, T12 DX39
8. The Vicarstown – tasty food and beer, say no more
Just a short walk from English Market is The Vicarstown Bar, which boasts a lively beer garden with a range of craft beers and in house Mexican food.
This unique spot is perfect for a chilled meet up with friends.
Address: 52 N Main St, Centre, Cork, T12 KT92
7. Fionnbarra – a hidden gem on Douglas Street
With a huge beer and spirits selection, a heated beer garden, and a super cute location on Cork's quirky Douglas Street, this has to be one of the best pubs and beer gardens in Cork City.
Fionnbarra is a great spot to mingle with locals and take advantage of one of the best selections of whiskey and gins in the city.
Address: 73 Douglas St, Ballintemple, Cork, T12 ETF1
6. Queen of Rebels – an ambient spot for some sundowners
This is the perfect spot for sundowners from the rooftop bar.
Here, you can take in the skyline of Cork City while also enjoying an ambient atmosphere and access to a full menu from Captain Americas and Wow Burger, delivered right to your table.
Address: 4-5 S Main St, Centre, Cork, T12 YKP6
5. Deep South – for a fantastic food truck, drinks, and a party atmosphere
Located in the heart of the city on Grand Parade, you will find an awesome spot for outdoor socialising over a beer or a cocktail. However, the party comes alive at night with plenty of music and dancing.
So, whatever mood you are in, you can visit the Deep South. Make sure to try their Louisiana style food straight from the fantastic food truck onsite.
Address: 51 Grand Parade, Centre, Cork, T12 H677
4. Tom Barry's – a historic pub in one of the oldest areas of Cork
As one of the oldest pubs in Cork, Tom Barry's has plenty of stories to tell.
This buzzing location is the place to drop into for some tapas, homemade pizzas, a beer in the sun, or an evening outdoor cocktail with friends.
Address: 113 Barrack St, The Lough, Cork, T12 RT44
3. Electric – one of Cork's best cocktail bars
As the name suggests, this place is truly electric, with it being located in a fabulous art deco building on South Mall in Cork.
With a prime riverside spot and the option to just sit on the grass outside with a cold pint in hand or sip on a cocktail as the sun goes down, Electric is one of the best beer gardens in Cork City.
Address: 41 S Mall, Centre, Cork, T12 TC96
2. Franciscan Well Brewery – craft beer any time of the day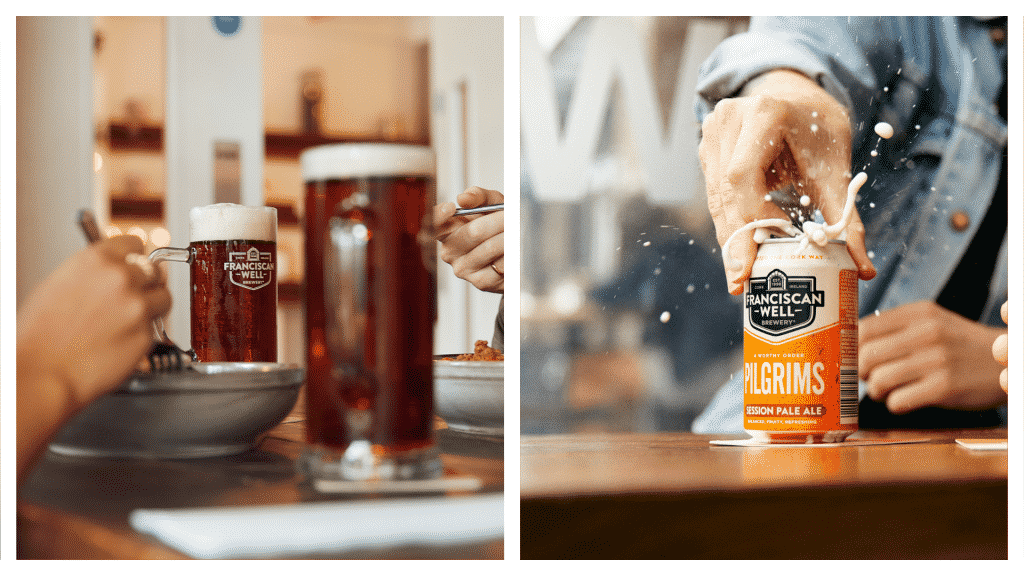 A beer garden that is also a popular micro-brewery? Say no more! Located on the site of an old Franciscan monastery, Franciscan Well Brewery is a great place for outdoor dining, enjoying a selection of beers, and soaking up the sun.
The thoughts of sipping on a craft beer with your friends as the sun glistens down or even cosied up by one of their patio heaters on a chilly evening sounds like a recipe for a perfect experience.
You can even enjoy a delicious pizza from Pompeii Pizza. So, add this quirky beer garden to your bucket list as one of the best beer gardens in Cork City.
Address: 14 N Mall, Sunday's Well, Cork, T23 P264
1. The Courtyard on Sober Lane – the place to be when the sun shines
Are you looking for a bustling and vibrant atmosphere on a hot, sunny day in Cork City? If so, then look no further than this awesome spot.
The Courtyard on Sober Lane features live music, a spacious outdoor patio to mingle in, and super tasty BBQ food. Thus, making it a prime spot in the city.
This popular beer garden offers plenty of space to enjoy a cool pint or delicious cocktails.
Address: Sober Ln, Cork
Notable mentions
Clancy's Roof Garden: With loads of space, this prime spot in the heart of Cork prides itself on tasty food, drinks, and a rooftop beer garden perfect for chilling out.
The Venue Bar: This neighbourhood pub offers a beautiful beer garden, a friendly atmosphere, and a selection of craft beer.
Goldie: For fresh fish, seafood, and beer in an outdoor beer garden, this is a popular spot with a twist, making it perfect for any special occasion.
SoHo South Mall: When it comes to alfresco drinking locations, you need to add SoHo South Mall to your list. This bar is one of the most scenic spots in the city, offering views over Bishop Lucey Park. They even have a delicious drinks menu with plenty of choice.
FAQs about the best beer gardens in Cork
What are the best beer gardens in Clonakilty?
Scannells Bar, The Brewery Bar, and Con and Maura's are some of the best beer gardens in Clonakilty.
What are the best Kinsale beer gardens?
Hamlets Cocktail and Gastro Garden, Sams Bar, and Oscar Madisons are some of the best beer gardens in Kinsale.
What are the best pubs with outdoor seating in Cork?
The Old Oak and Costigan's Pub are two great pubs with outdoor seating in Cork.
Get featured on Ireland Before You Die
Do you want to get your Irish business more online exposure? Especially to those interested in travelling the best places in Ireland? Then why not get a dedicated feature on Ireland Before You Die. Find out more 
here.