Cork is one of Ireland's best cities and it is also home to some of Ireland's best bars. This article highlights the top 10 pubs you need to visit if you are in Cork.
10. Fionbarras
This quirky neighbourhood joint has had a loyal patronage for years. Nicely ensconced in the heart of Douglas Street it's equipped with the best beer garden in the city and some funky décor. It's got real friendly bar staff coupled with a great food menu that's easy on the wallet. It's hard to find places that are dog-friendly these days but Fionbarras is the exception.
9. Franciscan Well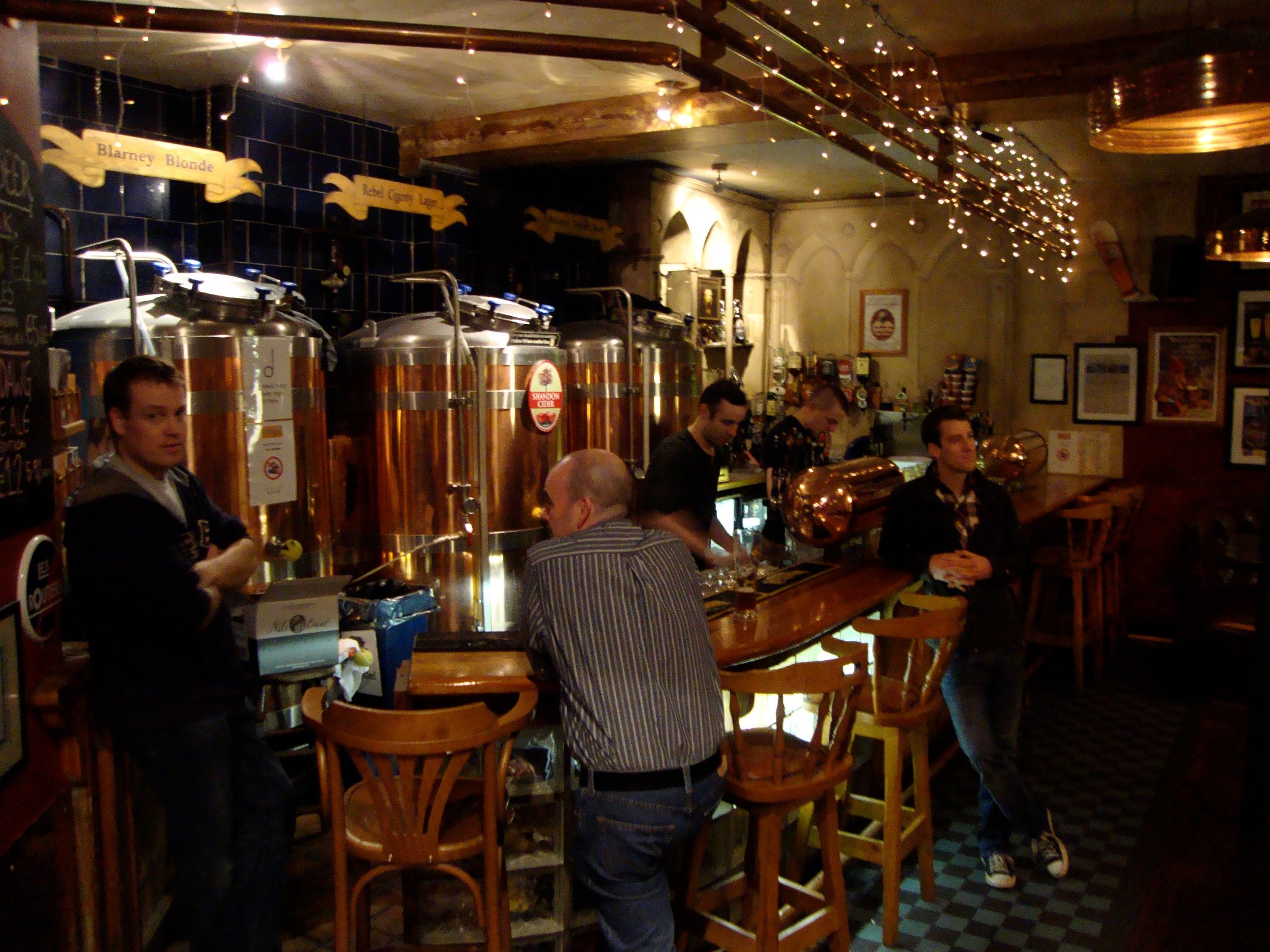 Corks original craft beer brewery is built on the grounds of an old Franciscan Monastery dating back to 1219. A local legend has it that the water from the well had miraculous and curative properties, and people would come from far and wide to drink from it. To this day people are still travelling vast distances to come sample their wide selection of beers brewed onsite, especially when they hold their legendary Oktoberfest in the autumn. All the staff have an infectious love for beer which filters down to the eager punters in this award-winning brewery.
Out the back is an expansive beer garden where an eclectic crowd mixes easily. Don't miss trying their Shandon Stout, Rebel Red and the Pale Ale that is stored in Jameson whiskey barrels for added depth. Eat from the in-house pizzeria on the heated patio outside, I recommend the pizza topped off with potatoes (it doesn't get more Irish than that!)
8. An Bodhran
This tiny, city centre pub is a homage to local blues guitarist Rory Gallagher and 70s rock star Phil Linnet. Pictures and memorabilia of the two adorn the stone walls which complement the blackened timber rafters inside. Great live music and an impressive jukebox entertain an all-ages crowd.
7. The Mutton Lane Inn
Founded in 1780, this quaint tavern is tucked away down a laneway right off Cork Citys main drag, Patricks Street. It's dimly lit in here which lends itself to a relaxed ambience where you can take in the beautiful art and murals that are found all inside the interior. Long on atmosphere, short on pretension.
6. The Oval
As you walk in the doorway of this bar, you pass through a red curtain, entering into a candlelit, intimate setting. A supremely cosy spot that's uniquely atmospheric, it was built by its illustrious neighbours, the Beamish and Crawford brewery. Named for its oval-shaped ceiling, it was designed by a well-known architect. An inviting fireplace and private snug make this a joint an easy place to while away a few hours with friends.
5. The Corner House
The home of traditional Irish music in Cork. This is a no-frills, straight up watering hole. Usually, a music session going on in the corner here most nights of the week. An engaging, eclectic crowd frequents The Corner House.
4. An Spailpin Fanach
A trad music mecca with tunes being played live 6 nights a week here. Very spacious with plenty of nooks and crannies to hide away in. Don't miss the Singers Club upstairs every Sunday nite.
3. The Hi-B
A Cork institution, the Hi-B is found upstairs across the road from the General Post Office on Oliver Plunkett Street, slap bang in the middle of the city. This is a local bar that feels like you have been transported back to the 1920s. This is where the Cork Gramophone Society holds their get-togethers. A unique clientele patrons this charming establishment.
2. Tom Barry's
A beautiful art deco take on the traditional Irish pub, Tom Barrys is situated halfway up the hill on historic Barack Street. A bohemian, artsy crowd are found up at the bar that serves excellent stout. A minimalist aesthetic is complemented by old wood panelled walls and low lighting. The beer garden out back is very tastefully arranged with flowers and nic nacs.
1. Sin E
The aptly named 'Sin E' – meaning 'this is it' in Gaelic because this pub truly has it all. They have been serving drink in this establishment for 150 years so it's not lacking in history or character. Downstairs is perpetually crowded so come early if you like sitting, whereas upstairs has more of a living room feel.
The bar staff are energetic and attentive as they dole out a fine array of liquor and local craft beer. The intimate atmosphere makes it easy to mix and banter with the locals at this folk music joint.
Get featured on Ireland Before You Die
Do you want to get your Irish business more online exposure? Especially to those interested in travelling the best places in Ireland? Then why not get a dedicated feature on Ireland Before You Die. Find out more 
here.