Belfast is the capital of Northern Ireland. As it's just a two-hour drive from Dublin city, there is no excuse to miss it during a trip to the Emerald Isle.
In fact, there are tonnes of things to do in and around Belfast. Adventure centres like We Are Vertigo will satisfy the little (and big) kids in the family, natural wonders such as the Giant's Causeway are surprisingly close to the city, and Belfast's restaurant and pub scene is booming.
Some aspects of the cityscape that deserve a tip of the hat, however, are these five beautiful buildings in Belfast.
5. The Crown – for majestic Victorian ­­­­­vibes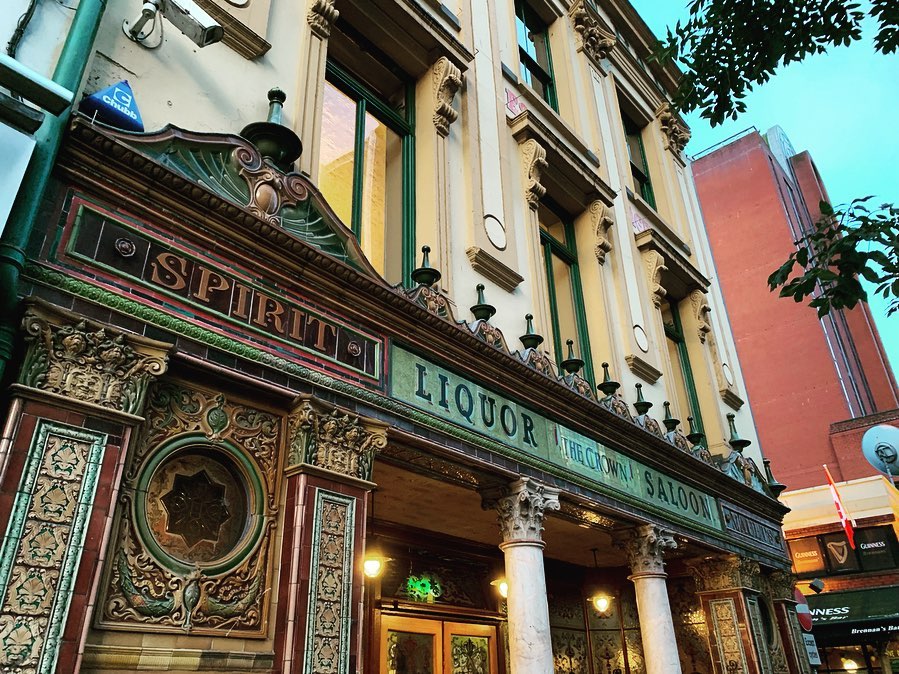 This quintessential Victorian saloon in the heart of Belfast is arguably the city's most famous watering hole. The reason? It is a delight to behold!
The façade is a tapestry of mosaics that will have you stand and stare in awe. Regal marble columns flank double wooden doors that reveal a majestic 1820's pub.
Private booths and delicately carved wooden panelling, gas lamps, and period features all make this spot one to remember, and a trip to Belfast wouldn't be complete without a visit to this beautiful building.
Address: 46 Great Victoria Street, Belfast, Co. Antrim
4. Titanic Belfast – for a visually striking slice of history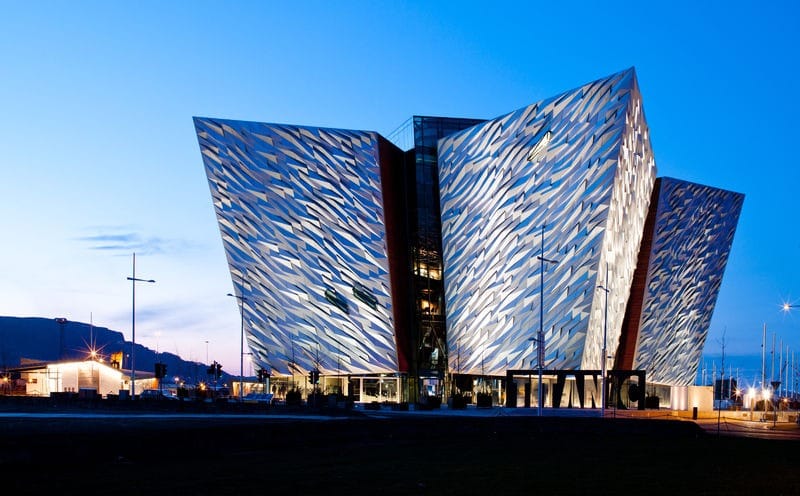 The RMS Titanic ship we know from history and film was built in Belfast, and Titanic Belfast is one of the world's leading visitor attractions today.
This building's unique exterior shape calls to mind an iceberg, while its interior offers immersive experiences that take visitors on the journey of the Titanic—from its concept stages through to its ill-fated maiden voyage in 1912.
The visitor centre, which opened in 2012, was designed by American Eric Kuhne and Associates and covers a total of 130,000 square feet (12,000 square metres) of floor space.
Titanic Belfast consists of several levels of museums and galleries, reconstructions, event spaces, and interactive experiences.
Address: 1 Olympic Way, Queen's Road, Belfast, Co. Antrim
3. Grand Opera House – for classy, theatrical beauty
One of the most beautiful buildings in Belfast city has got to be the subtle but artful Grand Opera House.
While it is humble in its presence, sitting diametrically from The Crown, and surrounding by other standard city buildings and hotels, the Grand Opera House has a beautiful presence.
The building, which opened on 23 December 1895, was designed by reigning English theatre architect Frank Matcham.
Today the Grand Opera House continues to draw crowds daily to West End touring musicals, ballets, operas, and other live performances.
Address: 2-4 Great Victoria Street, Belfast, Co. Antrim
2. Saint Anne's Cathedral – for ornate, heavenly architecture
This impressive cathedral is a sure stop on a walking tour of Belfast's most beautiful buildings.
Saint Anne's is a cathedral of the Church of Ireland and takes centre stage in Belfast's Cathedral Quarter.
The majestic building stretches tall to the heavens with ornate archways, towering ceilings, and a spire that scrapes the sky.
Sir Thomas Drew is cited as being the leading architect of Saint Anne's Cathedral. The ground-breaking took place in September of 1899, although it took until 1904 to complete.
Regardless of religious stance, you will find that this is one of the most beautiful buildings in Belfast.
Address: Donegall Street, Belfast, Co. Antrim
1. Belfast City Hall – for a glorious Neo-Baroque spectacle
Here in the grounds on Donegall Square stands one of Belfast's most beautiful buildings: Belfast City Hall, an oasis in the heart of the city.
This impressive building is a wonderful example of the late 19th-century architectural style: Baroque Revival.
Construction of the building first started in 1898 and was completed in 1906. The architect behind the magnificent Belfast City Hall was Sir Alfred Brumwell Thomas, and the total cost of the project was £369,000.
Today this beautiful building is hard to miss on a trip to Belfast, seeing as it is bang-smack in the heart of the city.
Address: Donegall Square North, Belfast, Co. Antrim