Belfast is the home of many things. It is a cultural and historical hub; it is the capital of Northern Ireland; it is a contemporary, vibrant community with a great youth culture and emphasis on arts and music. It is also home to the RMS Titanic – arguably the world's most famous, ill-fated ship.
Built on the grounds of the former Harland & Wolff shipyard in Belfast city, the ship was deemed "unsinkable", only to sink on its maiden voyage from Southampton to New York City on 15 April 1912.
Between 1,490 and 1,635 died that night, and not only did the event bear a significant effect on naval and maritime laws regarding navigational safety going forward, but it also had a major cultural impact, amplified by the cult film classic, Titanic (1992).
Today, one of the best museums in Ireland, Titanic Belfast, which is one of the most incredible architectural structures in Ireland, stands beside the harbour grounds where the ship was first built, and here are the top five reasons why you should visit.
5. It's in One of the Coolest Cities: Belfast
If you're stuck for good reasons to visit Titanic Belfast in Northern Ireland, here's a good one: it is in Belfast – one of the coolest, up-and-coming cities on the Emerald Isle.
The city is as vibrant as it is varied, with tonnes of things to do, from shopping and sightseeing to cultural and historical tours, which give you a unique opportunity to relive Belfast's troubled past.
The Titanic Museum is situated in Belfast's Titanic Quarter, which is the original site of the ship build. Heaps of other attractions, including admission on to the SS Nomadic ship (Titanic's sister), only make a trip to Belfast and the Titanic Quarter all worth the while.
4. It is Considered One of the World's Leading Tourist Attractions
If you're in doubt whether it is worth a trip to Belfast to see the Titanic museum and if it is a must on your Ireland Road Trip Itinerary, find solace in the fact that it is actually considered one of the world's leading tourist attractions.
In fact, on 2 December 2016, Titanic Belfast was awarded the "World's Leading Tourist Attraction" at the World Travel Awards in the Maldives. It outshined renowned bucket-list attractions such as Paris's Eiffel Tower and the Colosseum in Rome.
This award was assessed from over 1 million votes which came from all over the globe (216 countries to be exact!), resulting in the "Tourism Oscar" going to the Belfast attraction.
3. You Can "Really Visit" the Titanic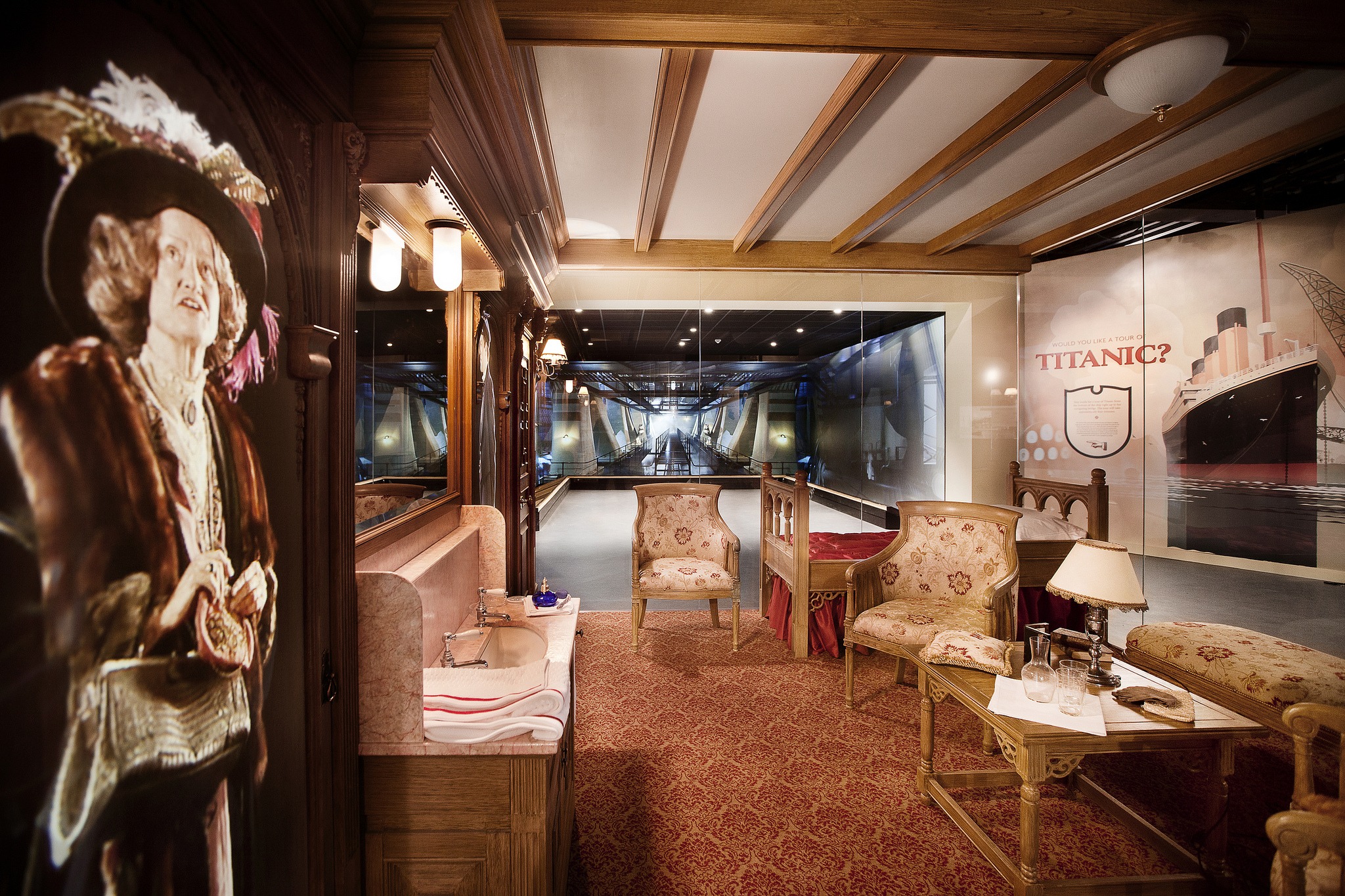 One of the most notable elements of Titanic Belfast is the fact that, aside from the museum side of the experience (which we will explain in further detail in #2 and #1), you can "really visit" the Titanic.
As a matter of fact, the iconic wooden staircase where Rose meets Jack (in James Cameron's fictionalised film of the ship's demise), has been replicated to perfection at the Titanic Belfast.
For those looking to "visit" the ship, afternoon tea and party nights can be arranged in the setting where these two star-crossed lovers fell in love.
2. It's as "Experiential" as They Come
Another solid reason to jump on the bandwagon and visit the Titanic museum in Belfast is that it'll be one of the most experiential museum experiences you've ever had – fact!
From moving images and visual aids to real artefacts and replica sets, from games and rides to interactive technology and information aplenty – this museum experience leaves no stone unturned.
The whole self-guided tour, from start to finish, takes about 90 minutes to 2 hours, but don't worry about the little ones getting bored – there is far too much stimulation on every turn to keep them keen.
1. The Titanic Belfast is Truly Immersive
Whether you're a history buff, someone who fell in love with the 1997 cult film, a keen tourist or a maritime fanatic, it's safe to say that each and every person who experiences Titanic Belfast will leave deeply moved, shaken and entirely immersed.
The whole experience pairs stimulating exhibits with impactful and harrowing accounts of the ill-fated liner, which sank on the morning of 15 April 1912 in the North Atlantic Ocean, only four days into its maiden voyage en route to the United States.
Whatever your reason for visiting this tourist attraction, this will be a fantastic stop on your ultimate one-week Irish itinerary and one of the best things to do and see in Ireland. It would be hard to leave without feeling more connected with this momentous event in history, one that is seldom forgotten.
Address: 1 Olympic Way, Queen's Road BT3 9EP
Website: https://titanicbelfast.com
Phone: +44 (0)28 9076 6399
Email: [email protected]