Making plans for St. Patrick's Day in Dublin? Here are ten of the best events the city has to offer this St. Patrick's Day!
It's 2023, and with that comes the promise of a brand-new celebration of St. Patrick. This one is going to be a good one, and what better place to spend it than in the capital city?
We're just as excited as you are, so we've made a list of the ten best events happening this St. Patrick's Day in Dublin!
10. 'Me Auld Flower' Irish food and drink festival – traditional and modern food and drink festival celebrating all things Irish
This exciting and quintessentially Irish festival runs for four days of festivities and is open until 10 pm for all your dining, demo, and drinks needs.
If you're looking to experience the buzz of an old Dublin marketplace or to taste some exquisitely Irish delicacies and produce, this is the place to be.
MORE INFO: HERE
9. See The Bogs live at The Cobblestones on St. Patrick's eve – an Irish Celtic-Rock gig in an iconic Dublin music venue
The Bogs have been performing their Celtic, traditional, and rock blend of tunes for over 35 years, covering some of Ireland's greatest musicians like The Dubliners, The Pogues and Christy Moore.
Tickets are €12, and the Cobblestones serve excellent pints of the black stuff.
MORE INFO: HERE
8. A visit to the Guinness Storehouse – soak up the history of Ireland's beloved stout and enjoy a pint overlooking the city
The storehouse is always a good choice, and for Paddy's Day, they're hosting live music too.
The Gravity Bar serves one of the tastiest pints in Dublin, poured to perfection, with great views of Dublin to add. We recommend booking in and watching the festivalgoers cross the city below.
MORE INFO: HERE
7. The Irish Famine Exhibition – a powerful exhibition of artefacts and more from the 'Great Hunger'
While celebrating Ireland and St. Patrick's legacy this St. Patrick's Day in Dublin, you can visit this eye-opening and emotional exhibition featuring a documentary, genuine famine artefacts and more.
MORE INFO: HERE
6. Dance the night away at Index nightclub – celebrate St. Patrick's night in one of Dublin's best clubs to the beats of the country's most promising DJs
Index is a proud Dublin dance institution, and they're hosting a St. Patrick's Day special event in collaboration with Subject, showcasing Saoirse, Sunil Sharpe and more Irish House and Techno talents.
End the night on the dancefloor in honour of the Patron Saint!
MORE INFO: HERE
5. The Dublin Whiskey Tasting Experience at Lincoln's Inn – sample five of the finest Irish whiskeys in a traditional Irish pub at the heart of Dublin.
The Dublin whiskey tours are informative, invaluable, intimate, and fun. This event is being held in the treasured Lincoln's Inn, offering tasting, tales, and insider information.
We recommend booking soon as this is not one to be missed when celebrating St. Patrick's Day in Dublin.
MORE INFO: HERE
4. Pillow Queens and Friends live at the festival quarter – an evening of Irish music and culture on the magical grounds of the National Museum
The soaring successes that are the Pillow Queens have teamed up with the St. Patrick's Day festival to create this spectacular evening of hand-picked Irish acts.
This event takes place on Saturday, so if you're celebrating the whole weekend, we can't recommend you enough to get tickets to this once-off event!
MORE INFO: HERE
3. Friday Night Live, stand-up comedy from Cork – five Irish comedians in a lively and trendy Dublin city pub
For just €10 a ticket, you can see five hilarious comedians who all hail from the rebel county.
This event starts at 10 pm, so there's plenty of time to enjoy some pints in some of Dublin's oldest, most traditional bars before making your way to Sín E, one of Dublin's coolest spots, for some laughs.
MORE INFO: HERE
2. Cultúr Club, presented by the epic queer-club collective, Mother – a pre–Paddy's Day dance event in the festival quarter
This event is a celebration of queer performance and the strong, welcoming Irish LGBTQ+ community.
Featuring a broad display of drag, DJs, storytelling, and art, this event is a mighty way to kick off celebrations. National treasure Pantibliss is on the line-up, and there's an afterparty too!
MORE INFO: HERE
1. The St. Patrick's Day Parade – an outstanding display of festivities that never disappoints!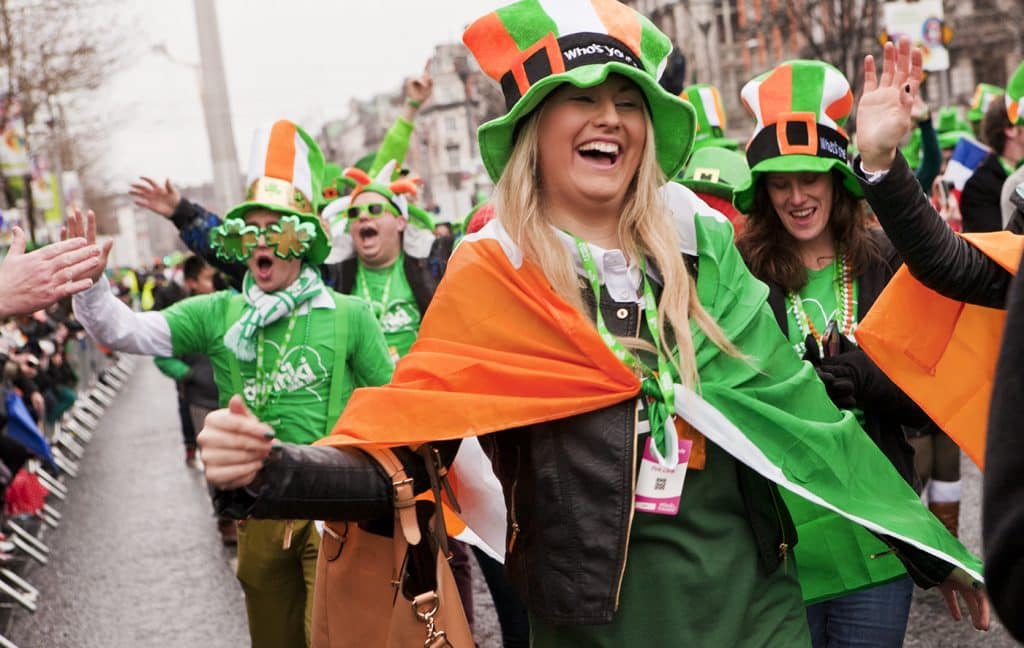 The parade gets better every year, and this year boasts the most diverse and mesmerising parade affair yet. It's one of the biggest Paddy's Day parades around the world.
Themed around the ideals of community, togetherness, and youth, the parade will feature over 4,000 participants and plenty of magic. You don't want to miss it, so get to town before noon!
MORE INFO: HERE
Get featured on Ireland Before You Die
Do you want to get your Irish business more online exposure? Especially to those interested in travelling the best places in Ireland? Then why not get a dedicated feature on Ireland Before You Die. Find out more 
here.