The bustling city of Dublin is jam-packed with some of the best live music spots in the country, and here are our favourites.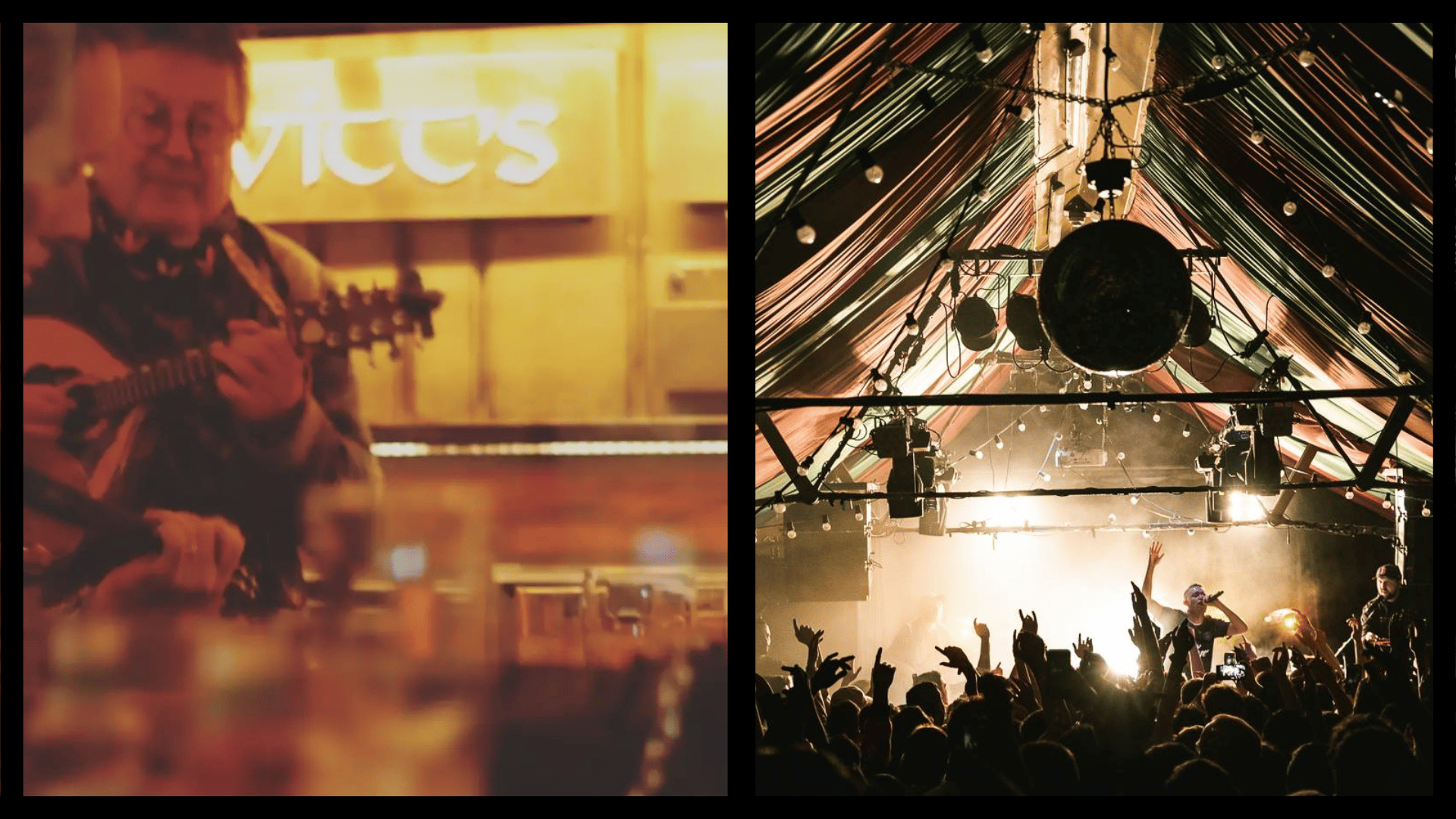 When in Dublin, you cannot skip out on the opportunity to enjoy some live music; after all, this is one of the things that makes the island of Ireland world famous.
There is nothing better than bopping along to some fantastic traditional or modern beats with a delicious pint in your hand and your friends around you, paired with exceptional pub grub and an ambient vibe – we've got it covered right here.
So, if music hits your soul, you should add these ten best bars in Dublin for live music to your list. Let's take a look at what they offer.
IB4UD's top fun facts about the live music scene in Dublin
Dublin has a rich and vibrant live music scene that spans various genres, from traditional Irish music to rock, pop, jazz, and everything in between.
The city is home to numerous iconic venues for live music, such as the Olympia Theatre, Vicar Street, and Whelan's, which have hosted both legendary and emerging artists such as the Arctic Monkeys, Bloc Party, Ed Sheeran and Jeff Buckley.
Grafton Street, one of Dublin's main shopping streets, is famous for its buskers who entertain passersby with their musical talents.
Dublin hosts several music festivals throughout the year, including the renowned Longitude Festival, which attracts both local and international artists.
The Irish music scene extends beyond traditional genres, with Dublin being a hotspot for indie, alternative, and experimental music.
Dublin's live music scene is not limited to indoor venues; during the summer, you can enjoy outdoor concerts and music festivals in parks and open-air venues like Marlay Park and the Iveagh Gardens.
10. The Mezz Temple Bar – a great night in Temple Bar
This bar is one of the best spots for letting your hair down, with regular live music and DJs, in sophisticated and modern surroundings.
This place is a haven for anyone with excellent music taste, and you will find that it attracts many looking for a good night out in Temple Bar.
Address: 23/24 Eustace St, Temple Bar, Dublin, D02 YP77
READ ALSO: IB4UD's top 5 best bars in Temple Bar, Dublin (for 2023)
9. Devitts – trad sessions in a homely pub
For delicious homemade food, creamy pints and trad sessions every night of the week, it's no wonder Devitts is one of our favourite bars in Dublin.
Located on bustling Camden Street, Devitts is where you will instantly feel at home, singing along with the locals.
Address: 78 Camden Street Lower, Saint Kevin's, Dublin 2, D02 C642
8. The Brazen Head – a renowned spot for pints, food and live music
Music can be found here seven nights a week, starting from 9 pm, making this one of the best bars in Dublin for live music. The Brazen Head is one of the best and oldest pubs in Dublin for good reason.
You will also find that food is served up until 9 pm, drinks flow until late, and their music line-up will be enough to keep you well entertained.
Address: 20 Lower Bridge St, Usher's Quay, Dublin, D08 WC64
7. Sin É – Dublin's original live music venue
This is one of Dublin's best bars in Dublin for live music, well known amongst locals. As the city's original live music venue, Sin É has gone strength to strength, offering free admission to see touring bands.
There are two floors of epic memorabilia, regular DJs and a delicious craft beer menu. There is something for everyone!
Address: 15 Ormond Quay Upper, North City, Dublin, D07 YK6A
6. Whelan's Bar – the best live music venue and bar
Whelan's is considered one of the best nightclubs in Dublin for live music and is where music lovers attend many gigs and events and see some of the best up-and-coming Irish bands and music artists.
They have free live music in the bar on Sunday nights, and you will always find a fantastic event to attend.
Address: 25 Wexford St, Portobello, Dublin 2, D02 H527
READ ALSO: Top 10 best annual music festivals in Ireland, ranked
5. Johnnie Foxes – Ireland's highest pub with live trad music
Get out of the city centre and head to this pub in the Dublin mountains. It offers up sensational views as well as traditional live music and Hooley nights, Johnny Foxes has made a name for itself in Dublin.
Ireland's highest pub attracts locals and visitors with its exceptional food and fantastic music sessions.
Address: Glencullen, Co. Dublin
4. Fibber Magees – the hub for Rock n Roll in Dublin
Known locally as Fibbers, this live music bar is a favourite among Dubliners and is renowned for being Dublin's oldest Rock n Roll Bar.
Fibbers is a hub for entertainment and live music in Dublin, with drink promos, regular live bands, and DJs playing every night of the week.
Address: 80-81 Parnell St, Rotunda, Dublin 1, D01 CK74
READ ALSO:
3. The Old Storehouse – a must for live music in Temple Bar
With a fantastic location in Temple Bar, this is a must-see on any Dublin trip. The Old Storehouse hosts a lively main bar.
It's the prime spot for live music sessions, starting at 3 pm seven nights a week. Not to mention they offer up some of the best traditional Irish food in town.
Address: 3 Crown Alley, Temple Bar, Dublin, D02 CX67
2. O'Donoghues – one of the most famous live music pubs in Dublin
You'll find trad music sessions in pubs all over the city. However, this is the bar that has been a favourite of Christy Moore and The Dubliners, as well as locals and people from across the globe, for many reasons.
Step foot into this ultra-traditional pub to experience what real live Irish music is all about and where you'll find a host of memorabilia and music history to discover.
Address: 15 Merrion Row, Dublin
READ ALSO: 10 bars in Dublin that celebrities have been to
1. The Cobblestone Pub – one of the best bars in Dublin for live music
This exceptionally traditional pub offers live music sessions every night of the week, which is no surprise considering this family of musicians has been playing for five generations. This is the spot to see where all the city's talented musicians meet up for a shindig and is one of the most authentic venues for traditional music in Dublin.
Address: 77 King St N, Smithfield, Dublin, D07 TP22
Notable mentions
The Grand Social: A live music venue with great vibes, speciality beers, and a love for music.
McNeill's Pub: A historical music instruments shop turned live music pub with many characters.
Nancy Hands: A traditional pub near Phoenix Park with trad sessions every Saturday night.
The Celt Bar: This Talbot Street pub has live music every night, with double the dose on Sundays.
Your questions answered about the best bars in Dublin for live music
If you've still got questions about Dublin's best bars for live music, you've come to the right place. Here, we answer our readers' most frequently asked questions on the popular topic.
What are the best pubs in Dublin for live music tonight?
On any given day, your best bet is The Brazen Head or The Celt Bar.
Where is the best bar to listen to live music in Dublin?
Check out our list above for some of the best bars to listen to live music in Dublin.
Where can I hear traditional Irish music in Dublin?
The Cobblestone Pub, The Celt Bar & McNeill's Bar, to name a few.
Well, we're sure this list will inspire you to head to Dublin for a live music and entertainment night.
There is plenty of choice for all music lovers with these ten best bars in Dublin for live music, so next time you want to let your hair down and sing along, be sure to keep these in mind.
Get featured on Ireland Before You Die
Do you want to get your Irish business more online exposure? Especially to those interested in travelling the best places in Ireland? Then why not get a dedicated feature on Ireland Before You Die. Find out more 
here.