If you're a fan of Irish music, why not go to an Irish music festival? Ireland has some great events for you.
Annual festivals – they're perfect for making the most of your trip to Ireland, and when it comes to Irish music, every corner of the Emerald Isle has something to offer!
Festival dates and locations can change from year to year but don't fret, we've got you covered!
If you want to meet the best musicians in Ireland or experience a 'trad' session with the locals, keep reading and discover the top ten best traditional Irish music festivals in Ireland.
10. Traid Phicnic − for Irish music, food, and shopping
Traid Phicnic is a community-led event in County Galway where you will find music sessions in every pub as well as local musicians performing on the main stage.
The stage can be found in the infamous Spiddal Craft village, which is also a great spot for grabbing lunch and finding handmade souvenirs.
When: The first weekend of July
Where: Spiddal, Galway
9. Oireachtas na Samhna − for a memorable Halloween
Oireachtas na Samhna celebrates our language and culture with a full week of drama, singing, dancing, and traditional music competitions.
A weekend spent at this festival is one of Ireland's best parties. Watch the competitions by day and at night, show off your moves at the trad disco! For more on Irish tradition, check out this thorough article on the history of fashion in Ireland and traditional Irish clothing.
When: The last week in October
Where: Location changes every year
8. Temple Bar Trad fest − the pick-me-up you need after Christmas
This is a great one to look out for if you're keen to visit Dublin City. At Temple Bar Trad fest, you can enjoy five days of amazing Irish music acts scattered across the venues of Ireland's capital.
These include concerts and intimate gigs such as private singing circles and street performances.
When: Late January
Where: Dublin
7. Cooley Collins − a world record holder
This Irish music festival in Ireland holds the Guinness World Record Title for most musicians playing in a folk band.
A whopping 406 musicians came together in 2016 to achieve this fantastic result. At Cooley Collins, you can expect to see album launches, workshops, and dances on the itinerary.
When: Mid-October
Where: Gort, Galway
6. Baltimore Fiddle Fair − Irish music in a scenic town
Baltimore Fiddle Fair is a small festival in Baltimore, County Cork. The cliffs and sea here make a stunning backdrop for trad sessions and gigs with famous musicians and budding fiddle players.
The online event last year featured Matt Molloy from The Chieftains and the singing duo Ye Vagabonds.
Baltimore Fiddle Fair is set to return to West Cork in 2022 for the festival's 30th anniversary, and we can't wait to see what's in store!
When: Mid-May
Where: Baltimore, Cork
5. Feakle Festival − one of the best traditional Irish music festivals in Ireland
You would think that a festival in a rural village of just 800 people wouldn't be worth the visit, but Feakle is not to be missed.
Last year's online event was streamed for free, and it included huge names in Irish music, such as Martin Hayes and Cormac Begley.
When: August
Where: Feakle, Clare
4. IMBOLC − bring the family
This year's IMBOLC festival was hosted over a month's worth of streamed concerts and casual trad sessions.
IMBOLC is unique for its diverse events, such as kids' concerts and Irish language lessons. Be sure to add this one to your bucket list for next year!
When: February
Where: Great James Street, Derry
3. Joe Mooney − the third-best traditional Irish music festival in Ireland
Drumshanbo's Joe Mooney festival is a week-long summer school with hordes of tutors offering all kinds of lessons such as music, set dancing, and singing.
If you're not here to learn, you can enjoy the trad sessions and dances taking place throughout the town.
When: July
Where: Drumshanbo, Leitrim
2. Willy Clancy Festival − the highlight of the summer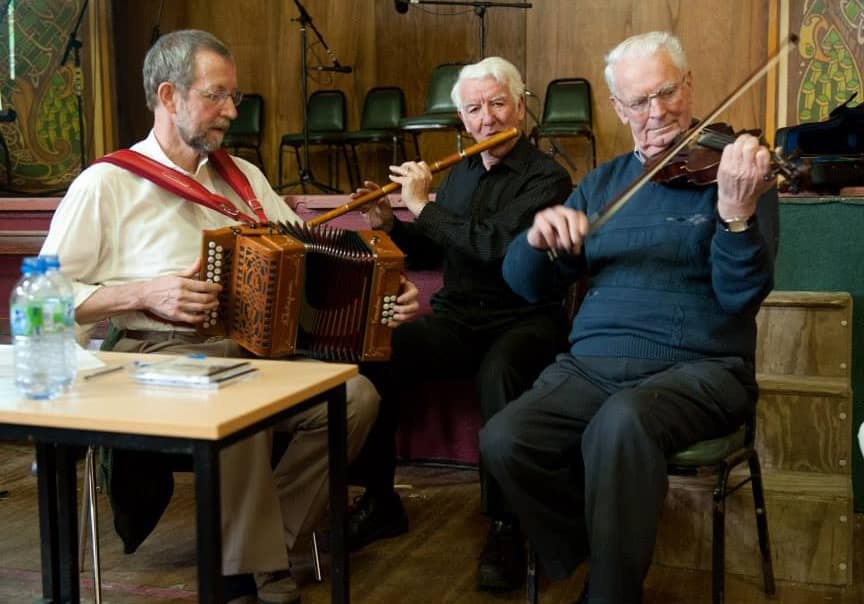 Willy Clancy Festival, also known as Willy Week, is a summer school where you can experience instrument and dance lessons, workshops, lectures, recitals, and dances.
It's sure to be buzzing with musicians from Ireland and all over the world.
When: Summer
Where: Miltown Malbay, Clare
1. The Fleadh − where Ireland's best musicians compete
This festival gets its name from 'Fleadh Cheoil na hÉireann', which in English means 'Music Festival of Ireland'.
The Fleadh allows musicians to compete in four different categories depending on age. County and provincial competitions take place before the All-Ireland Fleadh, which then reveals the best musicians in the country.
The All-Ireland Fleadh keeps its host town alive with concerts, street performers, and trad sessions in every pub.
When: August
Where: Location changes every year
Other notable mentions
Buskfest: BuskFest is an international busking festival that takes place in Banbridge, County Down, Northern Ireland.
Earagail Arts Festival: Earagail Arts Festival is a bilingual arts festival that takes place in County Donegal. It comprises 16 days of music, theatre, visual arts, film, literature, circus, and carnival along the Wild Atlantic Way.
Fleadh Nua: This is a festival of Irish culture which has been held annually during May in Ennis, County Clare.
Kilkenny Roots Festival: Since 1998 the festival has attracted some of the finest names in the Americana/Roots canon. It runs in County Kilkenny between the end of April and the start of May.
FAQs about traditional Irish music festivals
How can you identify an authentic Irish music session?
The key is, the more casual, the better. You'll usually find a group of musicians huddled in the corner of a pub somewhere, open to others joining in.
Are traditional Irish music festivals running again?
Yes! Although many were postponed or cancelled during the pandemic, most are back up and running.
What is the biggest music festival in Ireland?
Electric Picnic, an indie and alternative festival, is the biggest music festival in Ireland and also one of the most popular. It takes place in Stradbally, County Laois, over a weekend in September.
Get featured on Ireland Before You Die
Do you want to get your Irish business more online exposure? Especially to those interested in travelling the best places in Ireland? Then why not get a dedicated feature on Ireland Before You Die. Find out more 
here.