Michael Collins (1890 – 1922) was the preeminent leader of the Irish revolution. He fought for the freedom of the Irish people from under British rule and died a hero to many.
Today Collins is considered to be one of the leading Irish revolutionaries. He remains celebrated for his devotion and commitment to Ireland's fight for independence.
Michael Collins, a Cork-native, led the peace negotiations between Ireland and Great Britain that drove the Anglo-Irish Treaty. This, in turn, resulted in the establishment of the Irish Free State.
Collins was assassinated on the 22nd of August 1922 by anti-Treaty rebels in his home county.
Today many tourists and Irish history buffs enjoy tracing the trails made by Collins in the capital city of Dublin and in his home territory of Cork.
Collins' legacy is tremendous and public locations – which acted as the staging grounds for his fight for Irish freedom – can be visited en masse.
If you're keen to learn a little more about a great Irish revolutionary, check out our three-day trip which traces the most trodden tracks of Michael Collins.
DAY 1
On day one of your Michael Collins adventure, you're going to start by getting a lay of the land in Dublin city.
Collins spent much of his time in the capital city, and key sites of interest exist in abundance.
Start out at his grave site in Glasnevin Cemetery. Many other leading Irish revolutionaries are buried here, also. A fantastic tour of the grounds run daily (for those of you keen to learn a little more!)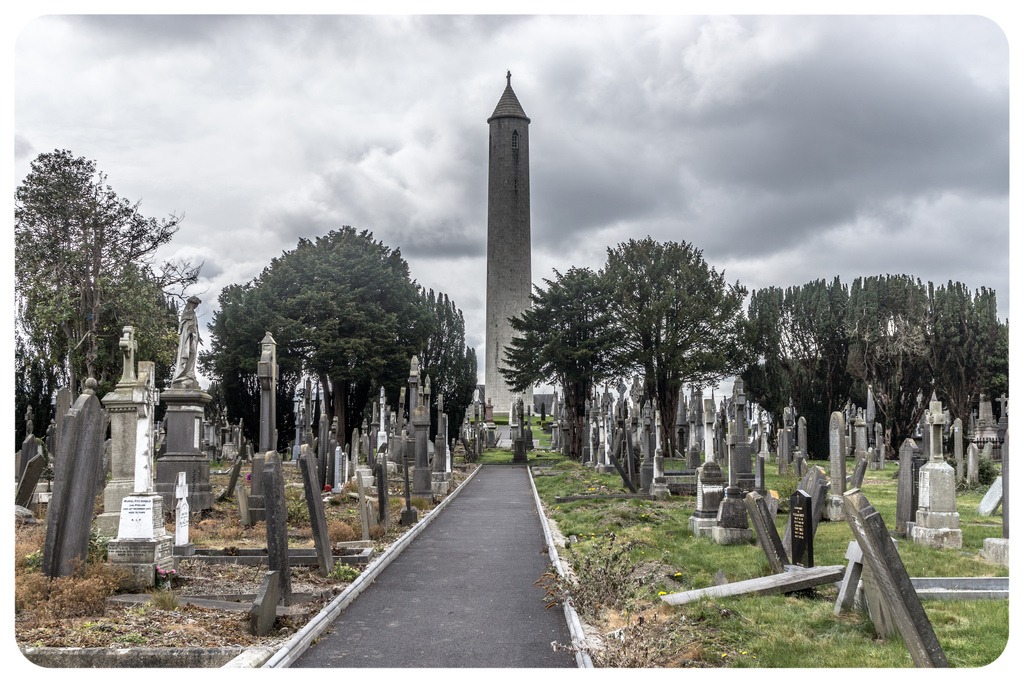 Next head towards Dublin city. This is a 30-minute walk on foot or a short drive. Your next stop will be 29 Parnell Square West. This was once the site of Vaughan's Hotel of which Collins was a frequent guest.
Nearby, the Rotunda Hospital is another site of interest. Post-1916 Easter Rising, Collins and his comrades spent a night here. A remembrance plaque is located on the site today and can be seen through the railings.
Afterwards, head down to the General Post Office (GPO). This the most iconic building in Ireland's fight for independence. Collins and his garrisons were stationed here during the Rising. Real bullet holes can still be observed on its exterior!
Stop by the Oval Bar, which is just a stone's throw from the GPO, for some lunch. This pub was a popular hangout for Collins and his men and is also nearby 32 Bachelor's Walk where he had offices.
Afterwards, check out 3 Crow Street, the building where Collins' intelligence office was located. Next swing by 3 Andrew Street to see where his leading finance office was.
For those of you keen to get more intel on Collins' work and life in Dublin, do the Michael Collins Walking Tour which is led by Irish historians. The tour runs daily, starting at 3pm from the International Bar.
DAY 2
On day two of your Michael Collins road trip, we suggest you do a pub crawl of some of the best pubs in Dublin which Collins' used to hang out at.
Start with The Confession Box on the Northside of Dublin City. In Collins' time, this would have been called The Maid of Erin, and it was one of his local spots.
Next: head on over to the Southside of Dublin to The Duke, just off Grafton Street. The Keirnan's, the family of Collins' fiancée, Kitty owned the pub at the time.
The third stop of your Michael Collins pub crawl will be Davy Byrnes, a regular favourite of the revolutionary. Afterwards hit up The Bailey Café, also on Duke Street. This was yet another one of his top hangouts.
Pub number five will be the Victorian venue, The Stag's Head. Collins was often was spotted there with a glass of whiskey.
The now Bull & Castle pub beside Christchurch was another favourite spot of Collins' in the early 1900s. This is another great place to pop in for a pint.
Lastly, head on up to The Portobello to end your Collins pub crawl. This was the staging grounds for many Irish Republican Brotherhood meetings.
Day 3
On the third day of your Michael Collins road trip, start out early and head to Cork. This is a three and a half hour drive, so we suggest you stop in Portlaoise in County Laois or Cashel in Tipperary for a leg stretch!
Once you have made it down to County Cork, you'll be in Collins' homeland, and there are tonnes of interesting sights to see.
We suggest you start with the Michael Collins Centre. This off-beat museum offers some fascinating and unique artefacts from Collins' time. Local historians will be on hand to answer any questions you may have, also.
Next up is Michael Collins House. Contrary to popular belief, there is no confirmation of whether the revolutionary lived in this exact building, although it is certain he lived on the street. Nevertheless, the museum is well worth a visit as it is interactive and super informative.
Afterwards, drive on to see the birthplace of Collins', an old stone cottage steeped in history, before driving on to Béal na Bláth (also Bealnablath) to see Collins' remembrance monument.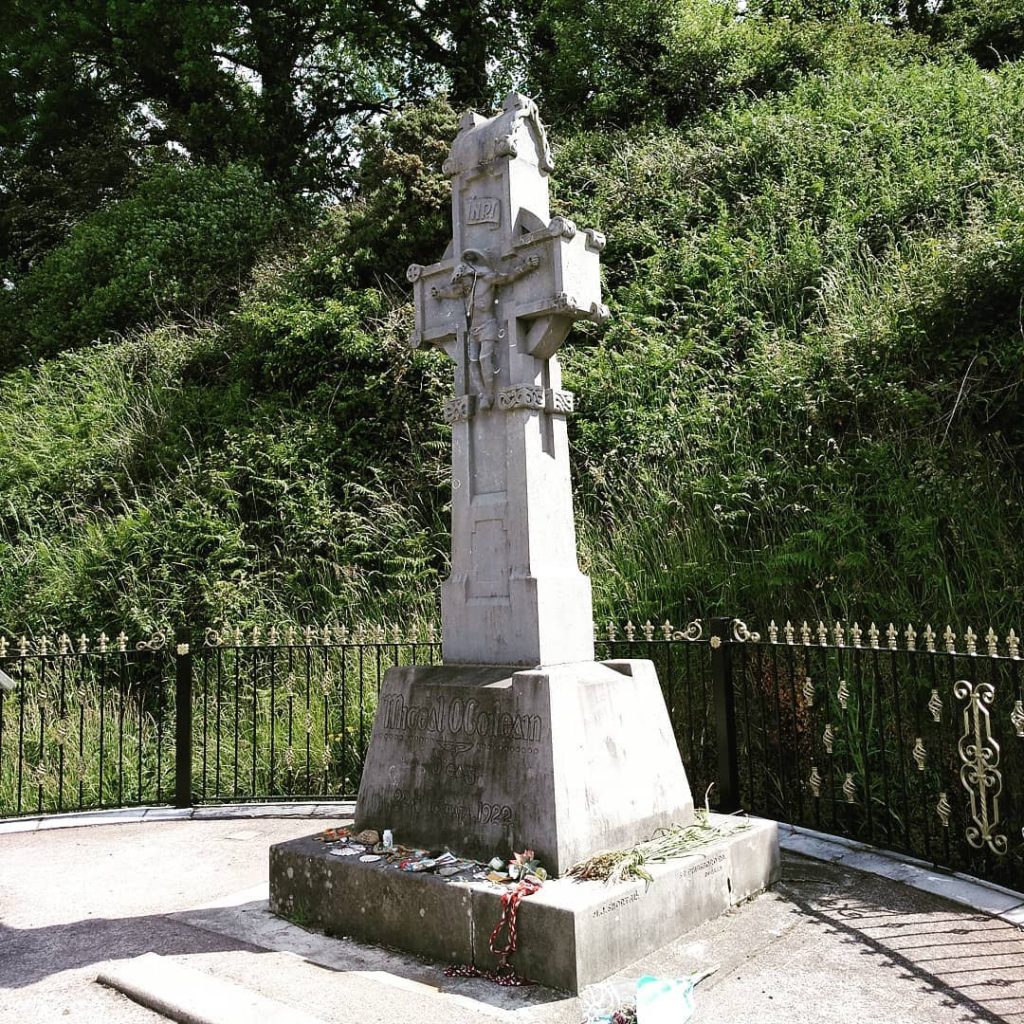 Although many sources say this small country village was the site of Collins' assassination, it was in fact in Glennarouge – a remote townland only a short distance up the road.
From his favourite hangouts to his birthplace, and in turn death place, these are the top destinations on a three day Michael Collins road trip.