At dusk, Ireland's Cliffs of Moher come alive, dramatised against the backdrop of the wild Atlantic Ocean. If your interest is piqued, read on to learn about when to visit and what to see in this Cliffs of Moher sunset guide.
Visiting the Cliffs of Moher is one of the best things to do in Ireland. Spanning 14-kilometres (9 miles) along the west coast of Ireland, the Cliffs of Moher have earned locals and visitors' attention for centuries due to their undisputed majesty and impressive beauty.
The cliffs, which tower over the turbulent Atlantic Ocean, offer panoramic views of the water and surrounding countryside, while also being a popular site with walkers and hikers.
Should you be considering a visit to this popular Irish attraction, we suggest that you arrive around dusk to see the site at its best. In this Cliffs of Moher sunset guide, we will share with you all you need to know from when to visit to what to do!
Overview – the iconic Cliffs of Moher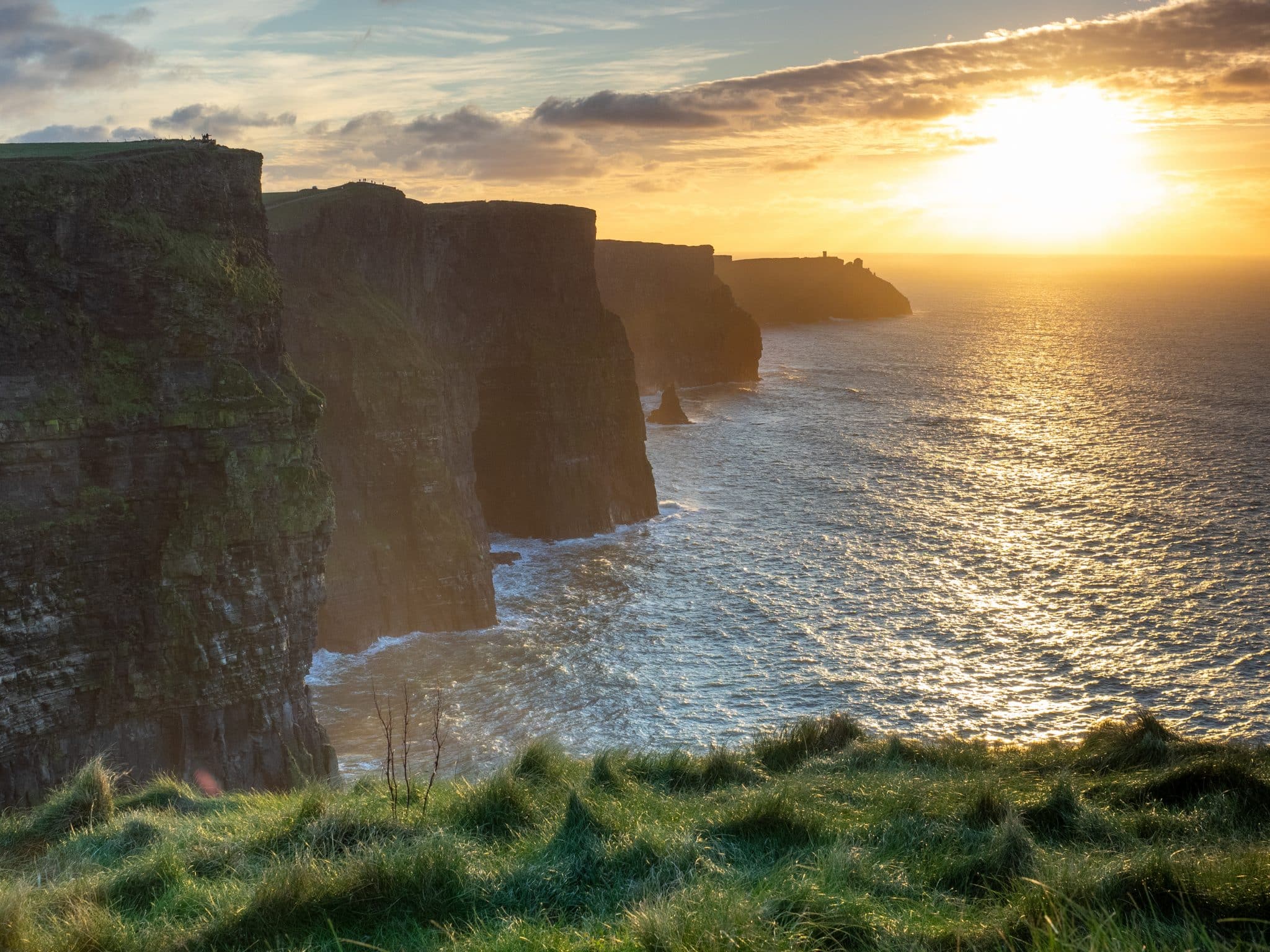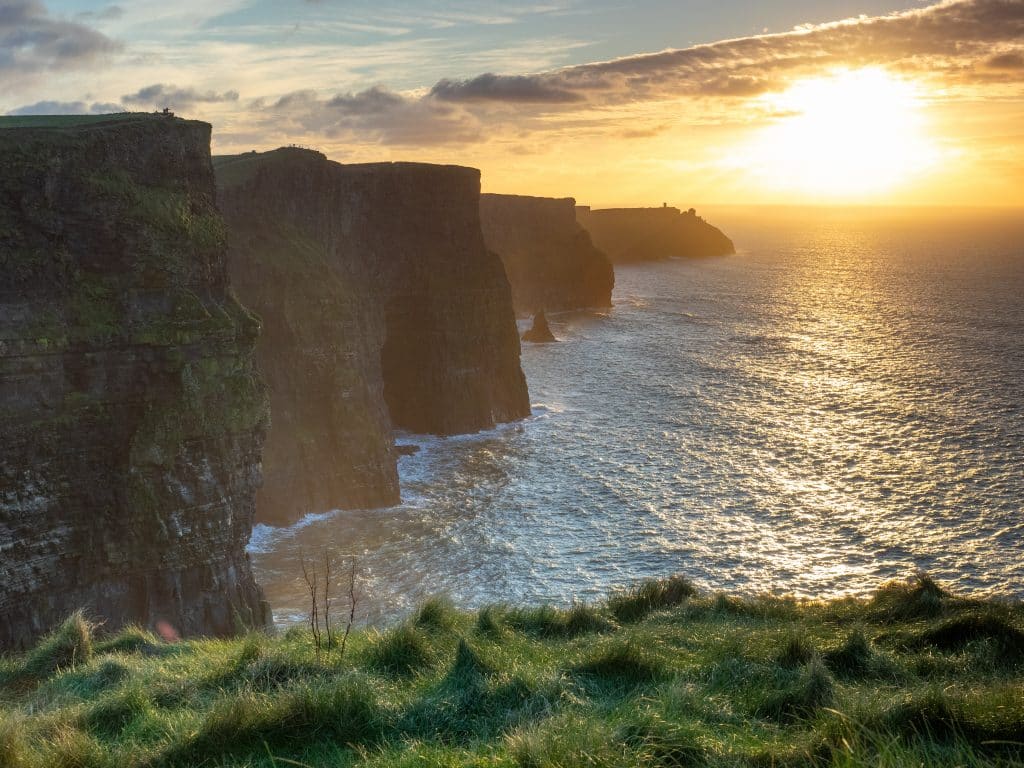 Located in County Clare, along the West coast of Ireland, are the Cliffs of Moher.
Dancing on the skirt tails of the Burren – a lunar-like region characterised by its limestone rock formations – the Cliffs of Moher are in one of the most beautiful areas of Ireland.
Towering 390 feet (120 metres) above the wild ocean, these impressive cliffs offer bird's eye views from the top.
What month to visit – the best time of year
The Cliffs of Moher are an incredibly popular destination for out-of-towners, day-trippers, and locals alike.
Summertime sees the highest number of tourists, with tour buses and school trips ensuring that your visit is likely to be of the hustle and bustle kind.
We suggest that you visit early-to-mid-spring (March to April) or mid-to-late-autumn (October to November) to enjoy a more laid-back experience.
During these times of the year, weather can still be relatively balmy. However, do remember to plan ahead as Ireland is notorious for its ever-changing climate.
What time to visit – best time of the day
The time at which you visit is a crucial factor in our Cliffs of Moher sunset guide. We suggest you arrive at the site at least two hours before sunset to maximise your experience.
Golden hour – the last hour before sunset, when the sun is six degrees above the horizon – will offer you the best opportunities for photography and the most romantic backdrop.
Have a look at our list below on sunset times for each month of the year in 2021:
January: 4:19 pm to 5:09 pm
February: 5:11 pm to 6:04 pm
March: 6:06 pm to 8:02 pm (note: clocks move forward one hour)
April: 8:04 pm to 8:57 pm
May: 8:59 pm to 9:46 pm
June: 9:48 pm to 10:01 pm
July: 10:01 pm to 9:26 pm
August: 9:24 pm to 8:20 pm
September: 8:18 pm to 7:07 pm
October: 7:04 pm to 4:57 pm (note: clocks move back one hour)
November: 4:55 pm to 4:13 pm
December: 4:13 pm to 4:18 pm
How long is the experience – how much time you will need
Given that this is our Cliffs of Moher sunset guide, we suggest you give yourself at least two hours at the attraction, arriving 120 minutes before sunset.
Once the sun has passed the horizon, we advise that visitors begin to make their way back to the car park. Full darkness should fall under an hour after sunset.
Please note that there are no fences or barriers to protect you from the sheer drop in most areas along the cliff walks, so we do not advise walking the cliff paths by dark.
Directions – how to get there
The Cliffs of Moher are located near Doolin in County Clare and are notably signposted in the region.
Offical access includes parking; please note that there are seldom other places to park in the locale. Do not try to illegally park on the narrow country roads surrounding the Cliffs of Moher as you are likely to be fined or towed.
What to bring – come prepared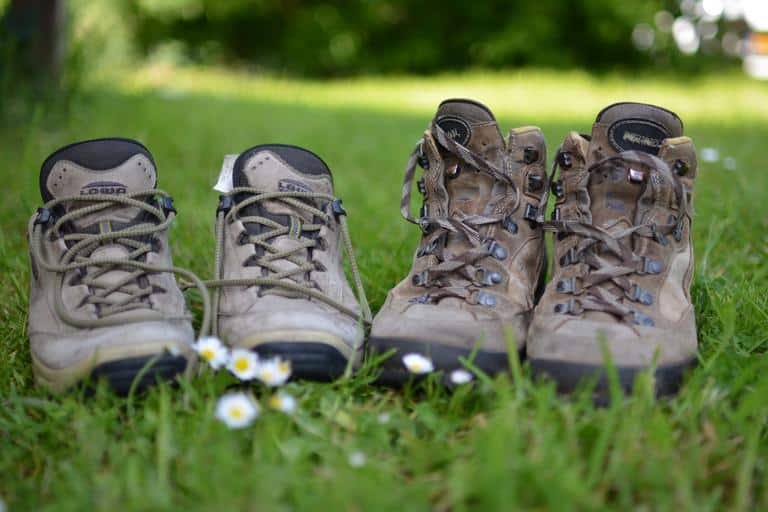 The Cliffs of Moher is a stunning natural sight, so make sure to dress appropriately to make the most of your visit. A raincoat, hat, and gloves, as well as sturdy walking shoes, are advisable.
Things to know – helpful information
Authorised access to the Cliffs of Moher ranges between €0 (children under 12) and €20 (family tickets). An adult ticket purchased at the gate is €10, although online discounts are available and highly advised.
There is a visitor centre, café, and a handful of stores where you can find unique souvenirs and trinkets on-site.
Where to eat – delicious food
While there is a cafe located at the attraction, for our Cliffs of Moher sunset guide, we must suggest bringing a picnic!
There are stores in the nearby town of Doolin, offering deli food, sweet treats, snacks, and drinks.
Where to stay – fantastic accommodation
Hotel Doolin is a no-fuss, four-star hotel that offers modern convenience while retaining a comfy, unpretentious atmosphere.
If you're craving something a little more intimate, we suggest the 12-bedroom Fiddle + Bow boutique hotel, also in Doolin.
Should socialising be of the utmost importance when choosing accommodation, we suggest the Aille River Hostel, once again in the charming town of Doolin.