This cosy Connemara cottage for sale in rural County Galway boasts incredible views of the Irish coast and countryside.
Are you dreaming of escaping from the city to a place free from traffic jams, busy streets, and constant noise right outside your door? Then this rural Connemara cottage for sale in the heart of Ireland's County Galway might be for you.
Castle Cottage, located in the breathtaking surroundings of the Gaeltacht area of West Connemara, is currently on the market for €350,000.
So whether you're looking to start a new life in the Irish countryside or are just looking a rural summer escape, this charming Irish cottage could be precisely what you're looking for.
A country retreat – experience life in rural Ireland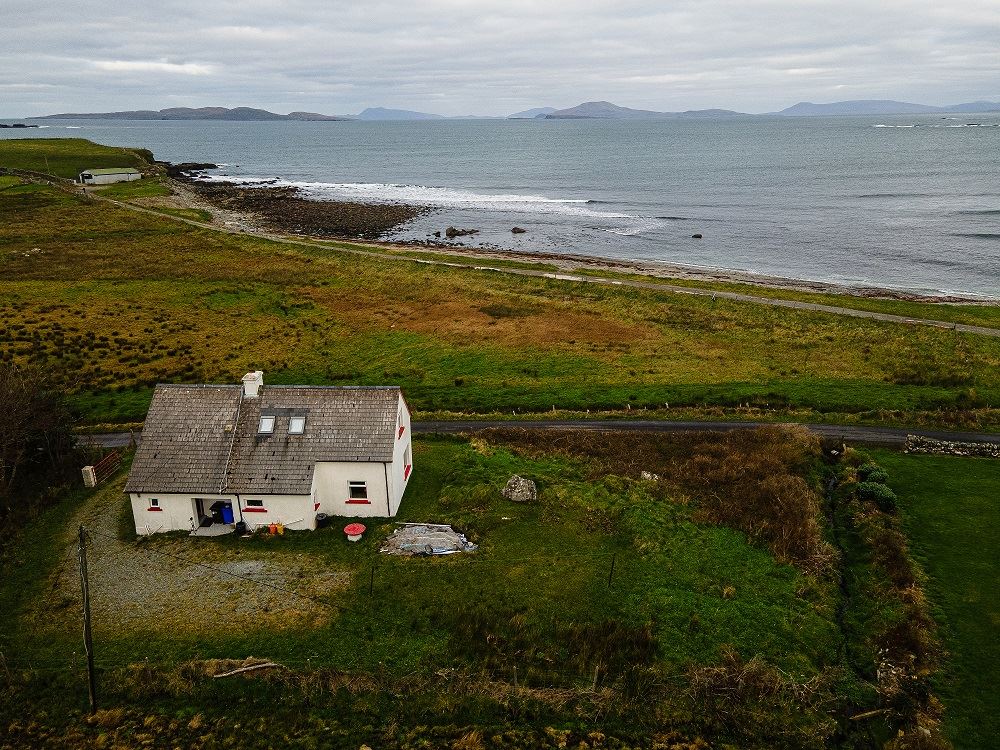 Located on the tip of the picturesque Renvyle Peninsula, Castle Cottage boasts incredible views of the Atlantic Ocean and the Mayo coastline in the distance.
Located just minutes from the shore, this quaint Irish cottage takes its name from the nearby O'Flaherty Castle, a 13-14th-century castle where the famous Pirate Queen Gráinne Mhaol once resided.
Located in the heart of one of the most breathtaking examples of the Irish countryside, only a stone's throw away from the coast, and with a castle as your next-door-neighbour, what more could you ask for when in search of a Connemara cottage for sale?
The details – what the cottage is like
Sitting on a 0.32-acre site, this beautiful Irish cottage is actually much bigger than it may first appear.
Fitted with charming traditional Irish interiors, old-fashioned furniture, and a modern stove to warm you up on cold evenings, you'll feel like you've stepped back in time in this impressive five-bedroom home.
Each of the five bedrooms are spacious and comfortable, so you'll have plenty of room for a big family or to accommodate visiting guests in this cosy Connemara cottage for sale.
There is also a bathroom and a W.C., as well as a roomy open plan living, kitchen, and dining room area.
What's nearby – not too far from the town
The cottage is not only situated close to some of the best beaches the west coast of Ireland has to offer, but it is also only a five-minute drive from the nearby Tully Village, meaning handy amenities are never too far away.
Renowned for its Mussel Festival that takes place in May every year, Tully is home to a doctors surgery, shops, and riding stables, as well as several great bars, restaurants, and hotels.
A haven for hillwalkers, Connemara National Park is only a 15-minute drive away, so whether you want to hike the impressive Diamond Hill or explore the stunning Kylemore Abbey, you won't have too far to go!
So, if you're dreaming of life in rural Ireland, then this quaint Connemara cottage for sale might be exactly what you're looking for.
The cottage is currently listed by Matt O'Sullivan Auctioneers.