Want to spark romance without breaking the bank? Here we suggest 10 romantic but cheap date ideas in Dublin.
Dublin is a vibrant city—and also a romantic one. While dating in the city can be a costly activity, it doesn't have to be, especially in the warmer months, when outdoor excursions become a lot more appealing.
Here are ten romantic but cheap date ideas in Dublin that are sure to be a winner, without making you look cheap!
10. Learn about Dublin – a free walking tour
Whether you are new to the city, a visitor, or a long-time resident, I think it's fair to say we could always learn a little more about Dublin city!
The Dublin Free Walking Tour Group offers daily pursuits around the city and can be a great way to break the ice on a first date, as well as a way to learn a thing or two about the city in question.
Tips are encouraged on this tour and we suggest you throw at least €5 per person to cover the time and dedication of this team of tour guides.
9. Watch grazing herds in Phoenix Park – a sight for sore eyes
A large herd of wild deer lives in Phoenix Park, a cityside park in Dublin and the largest enclosed public park in all of Europe.
This makes for a fantastic setting for a date, and if you come by dusk you're likely to see these gentle giants grazing against the backdrop of a city sunset.
8. Take a sunset stroll on the South Great Wall – for panoramic views of the city
If you're looking for romantic but cheap date ideas in Dublin, then look no further than a stroll along the South Great Wall.
This pier stretches out into Dublin Port and ends at the Poolbeg Lighthouse. On turning back, you'll be greeted by panoramic shots of Dublin city and the famous Poolbeg Chimneys.
7. Wander along the promenade in Bray – for a seaside stroll
Bray is just outside Dublin in County Wicklow but can be easily accessed on the DART (Dublin Area Rapid Transit) train.
Hop on the DART from Dublin city and enjoy seaside views along the route to Bray. Once you're there, a walk along the promenade with an ice cream in hand is sure to hit the spot. It also won't cost you much either!
6. Feed the birds in St. Stephen's Green – for a park visit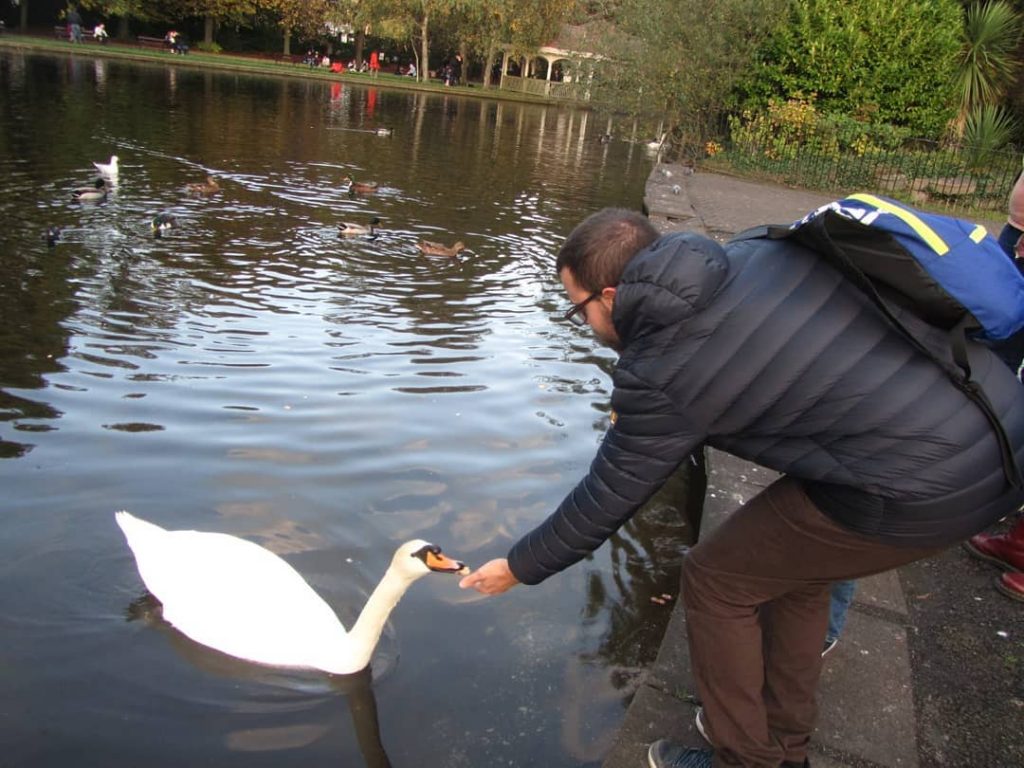 If you're looking for a cheap date in Dublin, you could always take a wander into St. Stephen's Green Park, where you can feed the birds.
The city centre public park is most notably known for ducks, swans, pigeons, and seagulls, and this affordable activity is certain to strike a romantic note.
5. Enjoy the sun at the beach – on a warm day
Summer is the best bet for sunny weather, but seeing as the weather can be so erratic in Ireland, we can't even bank on that! However, when the weather is right, we suggest heading to one of the many nearby beaches, such as Dollymount Strand.
Not only does the opportunity to do so come once in a blue moon but it is also a super romantic but cheap date idea in Dublin.
4. Sip cans on the canal – for a classic Dublin activity
When the sun comes out to play, so too does Dublin's population. One summer trend that is inherently interwoven into the fabric of capital city culture is "cans on the canal."
This term refers to drinking cans of beer (or any alcoholic beverage really) on the side of the canal, most notably around Portobello. People turn out en masse when the weather is right, and this also makes for a great cost-effective date solution.
3. Trek the Howth Cliff Walk – for a seaside town and stunning coastal walk
Howth Peninsula is home to some of Dublin's most stunning walks and trails. The coastal setting is considered to be home to breathtaking cliffs, remote coves, and sandy beaches.
Various trails can be undertaken depending on your desired duration and level of intensity, and this makes for a great cheap date idea in Dublin while also making the most of nice weather.
2. Stroll around IMMA – for art lovers
A stroll around the Irish Museum of Modern Art (IMMA) is a fantastic, cultured, and cheap date idea in Dublin.
Not only are the manicured grounds romantic and remote, but IMMA itself offers some stunning permanent collections that can be roamed free of charge.
1. Have a romantic picnic – the old-school option
Nothing says romance more than a well-considered picnic. The beauty of this cheap date idea in Dublin is that it can be done anywhere really! We've talked previously about romantic picnic spots in Dublin here.
Top marks go to a little added thought: a picnic blanket and wine glasses opposed to plastic cups on the grass would truly take this simple idea up a notch.