As one of Dublin's most iconic landmarks, the Poolbeg Lighthouse walk makes for a fantastic day-out year-round. In this walking guide, we'll share all our insider tips, from directions to useful info.
Poolbeg Lighthouse stands majestically in Dublin harbour, lighting the way for those navigating the coastline and offering an excellent walking route for those keen to smell the salty air and appreciate Dublin from a different angle.
You are sure to have seen it on postcards or punctuating the Dublin horizon. Still, many visitors and even locals have never experienced the Poolbeg Lighthouse walk.
Read on to learn all you need to know about this hidden gem experience in the heart of Dublin.
IB4UD's tips for Poolbeg Lighthouse
Check the weather forecast and dress appropriately for the often windy and exposed location.
Wear sturdy footwear, as the terrain around the lighthouse can be uneven.
Pack snacks and water, as there are no facilities available on-site.
Check the visiting hours and plan your visit accordingly.
Consider visiting during sunset or sunrise for a picturesque experience.
Overview – origins of Poolbeg Lighthouse
Located at the mouth of the River Liffey in Dublin city is Poolbeg Lighthouse: a classic fire-truck-red lighthouse situated at the end of the Great South Wall.
Founded in 1767, this lighthouse remains active to this very day. At its inception, Poolbeg Lighthouse was driven by candlelight. In 1786, however, oil became the sole fuel source.
In 1820, the lighthouse was remodelled into the version that we still see standing in Dublin today.
While its primary function is as a means of illumination and warding off sailors from the approaching harbour walls, Poolbeg Lighthouse also makes for an excellent place for a unique walk near Dublin City.
Address: S Wall, Poolbeg, Dublin, Ireland
Check out: The 10 best walks in and around Dublin.
When to visit – beautiful sunrise and sunset views
Although the Poolbeg Lighthouse walk sits more on the spectrum of 'hidden gems' in Dublin, this can be a popular spot with Dublin locals, so the best time to visit is off-peak.
Sunset and sunrise on the weekdays are a solid shout and can offer dreamy backdrops of Dublin city, as well as some fresh sea breeze to soothe the soul. It is a brilliant evening stroll.
We do advise, though, to avoid walking the Great South Wall at night as there are no lights to safely navigate the way or barriers to shield you from the pier's edge.
Related: 10 best places to watch the sunrise in Dublin.
What to see – best bits
The Poolbeg Lighthouse Walk offers stunning sights. No matter whether you turn north or southbound, your eyes are sure to feast on endless cityscapes and unfolding mountains that skim the clouds and stretch into the far-off distance.
Make sure to take note of the Dublin city skyline, the neighbouring coastal village of Dún Laoghaire, and Howth Peninsula, which scoops around Dublin Bay.
This is a lovely spot to just sit and take in the spectacular views and watch boats coming in and out of Dublin Port.
Standing out and looking over the bay is one of the best parts of this walk. You will see the horizon dotted with cargo ships and the odd sailboat. You might be lucky enough to spot a ship passing into Dublin Port.
People will usually spot lots of wildlife while walking Poolbeg Lighthouse, such as cormorants, herons, gulls, and seals.
How to get there – directions
The easiest way to get to the Poolbeg Lighthouse walk is by car. To make matters simple, we've gone ahead and outlined the driving route from the 3 Arena – one of Dublin's most iconic music venues located nearby.
There are two options when doing the Poolbeg Lighthouse walk, the shorter and the longer walks. For the shorter walk, you can park at Pigeon House Road.
If you decide to do the longer route, it starts at Sandymount Strand so you can park there to begin your walk.
Driving route from the 3 Arena: HERE
How long is the experience – how much time you will need
As mentioned before, there are two walking options if you decide to visit Poolbeg Lighthouse. The first option is the shorter walk, starting at Pigeon House Road.
The shorter walk is around 4 km (2.4 mi) round trip. This is the perfect route for a short, idyllic walk with the family. This will take you around 40 – 60 minutes depending on your pace.
For a longer walk, you will start at Sandymount Strand. This walk is around 11 km (6.8 mi) in length and will take around 2 hours and 20 minutes to complete.
The walk through Sandymount Beach is a lovely, scenic walk. Whichever route you take for this lovely walk in Dublin, they will meet overlooking Poolbeg Beach.
Things to know – things to be aware of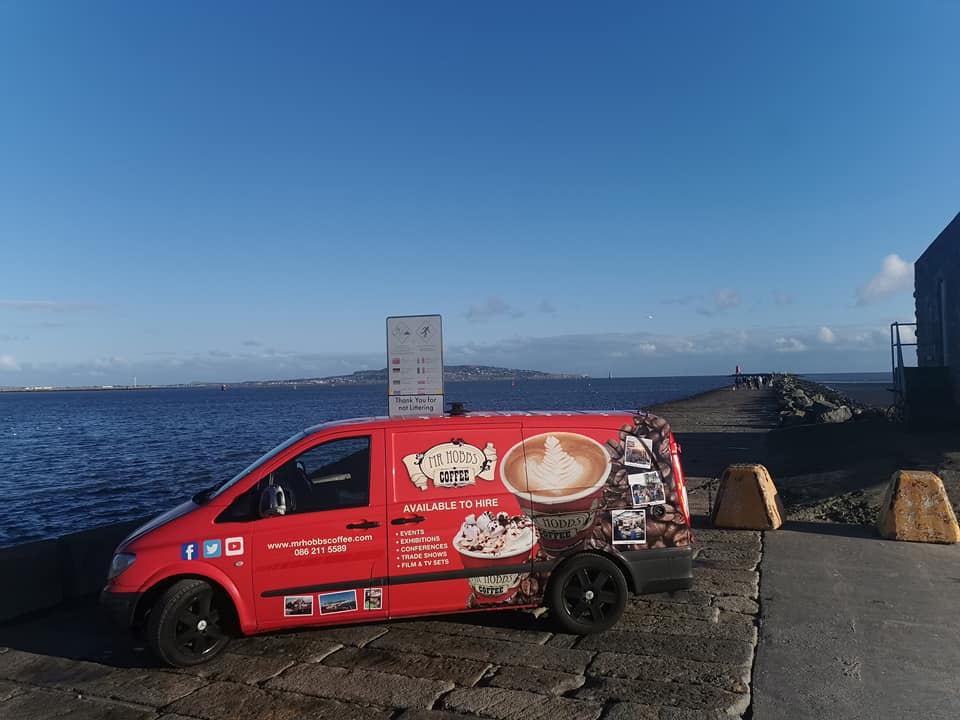 The Poolbeg walk is an adventurous and outdoorsy experience. Given that you will be walking the Great South Walk – which juts out into Dublin Bay – you will be surrounded by the sea, its crashing waves and wild winds.
Make sure to wear suitable, comfortable shoes and bring a rain jacket in case the weather turns. Please note that there are no facilities such as bathrooms along the Poolbeg Lighthouse walk.
However, a Mr Hobbs coffee truck serving hot drinks (and sometimes hot whiskeys in the winter) often comes with a great selection of coffee to keep walkers warm during peak times.
Where to eat – delicious Irish cuisine
Nearby, The Fair Play Cafe is a local hidden gem. We suggest you get the full Irish breakfast and a good cuppa tea to warm your bones after your Poolbeg Lighthouse walk.
Alternatively, the Press Cafe is a stunning spot and a great place to enjoy some homemade food after an adventure around Dublin Bay.
Where to stay – fantastic accommodation
If you are keen to stay outside the city and soak up local vibes, we suggest the four-star Sandymount Hotel.
Expect modern furnishings, community vibes, and a warm welcome in this hotel near the Poolbeg Lighthouse walk.
Read also: 10 best cheap hotels in Dublin.
Other notable mentions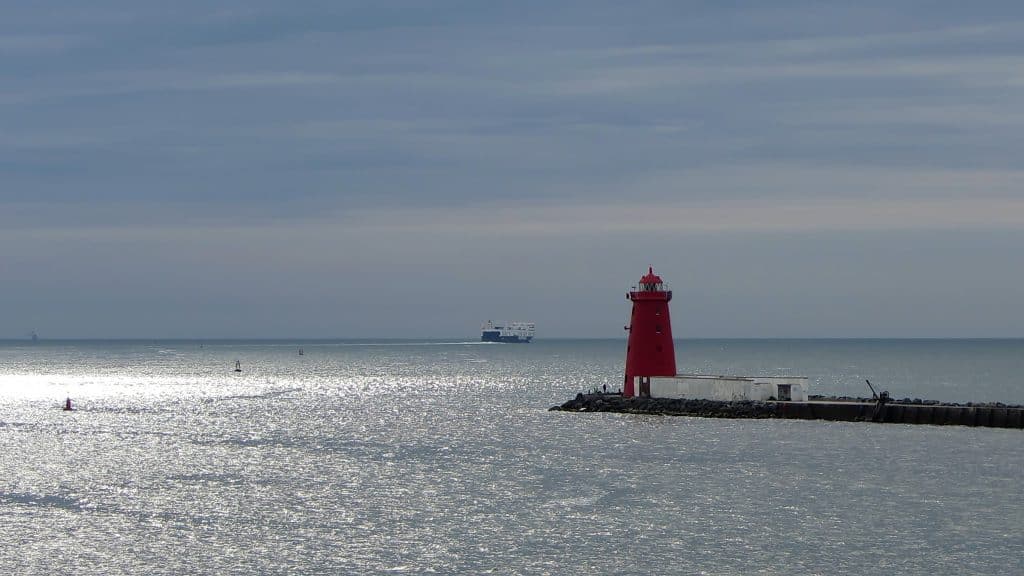 Safety and preparation: As there are no railings to separate the pier from the sea, be careful when visiting. Also, be sure to wear flat, comfortable shoes.
Red colour: The lighthouse is red in colour to indicate the 'port side' to ships entering Dublin Bay.
Your questions answered about Poolbeg Lighthouse
Does Poolbeg Lighthouse have a closing time?
You can access Poolbeg Lighthouse at any time of the day, just be careful if you decide to visit after the sun goes down.
Can I walk the Poolbeg Lighthouse at night?
You can, but be careful. It is a beautiful spot at sunset but can be quite dangerous as there are no railings up to the lighthouse.
How long is the Great South Wall?
It was originally 4.8 km (3 mi) in length when it was built and became the longest seawall in the world. Now, a lot of the land has been reclaimed and it is 1.6 km (1 mi), still one of the longest seawalls in Europe.