Whether you're looking for a university with history or a college in a city of culture, these are the ten best colleges in Ireland, ranked.
Choosing a college is no easy feat. There's much – aside from test scores – that can dictate your Central Applications Office (CAO) form or college application.
Factors such as curriculum, city, or county all play significant roles in helping you decide where you may spend the next few years of your life studying your chosen field.
If in need of some added insight, we've put together a list of the ten best colleges in Ireland to help you figure out which is best for you.
10. Ulster University – the multi-campus college
Dotted in key locations around Northern Ireland is Ulster University, a multi-campus college that welcomes around 25,000 students per calendar year.
This is one of the best colleges in Ireland because it has a very high student success rate, with over 92% of students gaining employment or pursuing further studies within six months of graduating.
9. Technological University Dublin (TU) – the Dublin City underdog
Don't be fooled by its name, this college offers more than tech courses and is favoured by arts, business, and science students who seek to live the city life.
TU Dublin (as the locals call it) is home to a whopping 28,500 students, so you can be sure that the college environment will be just as social as the city it is situated in.
8. University of Limerick (UL) – for environmental activists
Offering courses from education to engineering, and humanities to health, there is bound to be much to tickle your fancy in this west coast college in Ireland.
In 2015, it was named the 16th in the world for efforts to uphold an environmentally-friendly campus by the Green Metric Ranking of World Universities.
7. Dublin City University (DCU) – the small, social college
With only about 16,000 students, DCU is a relatively small college, but don't let that fool you. It is highly social with student involvement in many clubs and groups, so expect lots of activities and events.
Additionally, 20% of its students are international, so it's a multicultural environment that promotes diversity and inclusivity.
It also has the top graduate employability out of all universities, making it one of the best colleges in Ireland. If you're thinking of making it your future alma mater, application essay help by experts is one sure-fire way into DCU.
6. Queen's University Belfast – Northern Ireland's leading college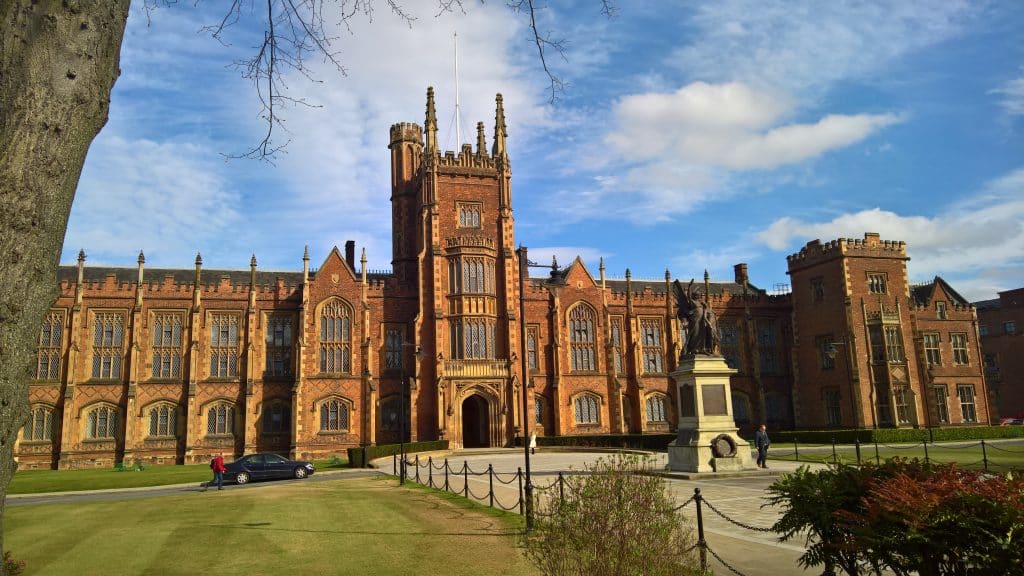 With over 300 programmes and 25,000 students, Queen's University Belfast is Northern Ireland's leading college.
In the 2020 QS World University Rankings®, it ranked 173rd in the world and 26th in the UK. Not to mention its dreamy heritage-style surroundings that look like they've been plucked straight from the pages of Harry Potter.
5. University College Cork (UCC) – the student city
Cork is the second-largest city in the Republic of Ireland and is home to a wealth of students who favour it for its thriving nightlife, local culture, pub scene, outdoor activities, and world-famous food.
Another benefit to studying in Cork is that students get the best of both worlds: it is cheaper living than in Dublin and just as much craic.
4. Royal College of Surgeons Ireland – for medicine and health
The Royal College of Surgeons Ireland, University of Medicine and Health Sciences, is Ireland's top medical college for those seeking a career in health care.
It also claims to be one of the most international medical schools in the world for those seeking a multicultural experience.
3. National University of Ireland Galway (NUI) – for the love of Galway
Galway was titled Europe's 'Capital of Culture' in 2020. Home to arts and energy that would rival most other cities around the globe, it is safe to say this is one of the most electric colleges on the Emerald Isle.
From arts to science, psychology to commerce, there are tonnes of courses to study by day and an endless offering of entertainment in the city surroundings by night.
2. University College Dublin (UCD) – for a cityside location
For those who seek a cityside location and sprawling campus with endless activities and copious courses on offer, UCD in Dublin is the one for you.
Over 30,000 students attend UCD annually – meaning it's considerably larger than those mentioned before. But don't let that deter you; some of the great minds, including James Joyce himself, attended UCD as it's considered one of the best colleges in Ireland.
1. Trinity College Dublin – for heritage surroundings
Trinity College is located in the beating heart of Dublin City. A draw for local and international students, as well as tourists, TCD is a place of great history. Alumni include Oscar Wilde, Samuel Beckett, and the former president of Ireland, Mary McAleese.
Whether you're after science or art, computer science or engineering, TCD has tonnes of courses to choose from and its city centre location makes it the perfect location for those keen to discover all that lies on its doorstep.
Get featured on Ireland Before You Die
Do you want to get your Irish business more online exposure? Especially to those interested in travelling the best places in Ireland? Then why not get a dedicated feature on Ireland Before You Die. Find out more 
here.