Since the foundation of the Republic of Ireland in 1937, there has been a total of nine presidents of Ireland so far.
The presidents of Ireland have always been important public figures and ambassadors for the country, as well as being the official heads of state.
From helping to shape the nation to taking a visible stance on social and moral issues, the presidents of Ireland have always played an important role.
In this article, we will list all nine presidents of Ireland in order and describe each one.
1. Douglas Hyde – the first president of Ireland (1938 – 1945)
Douglas Hyde had the honour of becoming the first-ever president of Ireland in 1938 as the nation was just declared a republic.
Douglas Hyde was a long-time promoter of everything Irish as he was a co-founder of Conradh na Gaeilge (The Gaelic League), as well as being an accomplished playwright, poet, and a professor of Irish at UCD.
2. Sean T. O'Ceallaigh – second president of Ireland (1945 to 1959)
Ireland's second president was Sean T. O'Ceallaigh, who succeeded Douglas Hyde in 1945 to become president of Ireland.
Sean T. O'Ceallaigh was a founder of Sinn Féin, and also took part in the fighting during the 1916 Easter Rising. He served as president for two terms.
3. Éamon de Valera – third president of Ireland (1959 to 1973)
The third president of Ireland, and one of the most famous and politically controversial figures to hold the role, was Éamon de Valera, who was elected in 1959 and served two terms in office up until 1973.
Widely regarded as one of the most important Irish figures in the 20th-century and one of the most famous Irish men of all time, he played a huge role in Ireland's struggle for independence as he was one of the leaders of the 1916 Easter Rising and fought in the Civil War on the anti-treaty side.
4. Erskine Childers – fourth president of Ireland (1973 to 1974)
The fourth president of Ireland was Erskine Childers who was in office from 1973 to 1974. He served as a minister in five different governments before his election as president.
Unfortunately, his time in office was short-lived as he died after just one year and five months in the role. He is the only Irish president to have died while in office.
5. Cearbhall O'Dálaigh – fifth president of Ireland (1974 to 1976)
The fifth Irish president was Cearbhall O'Dálaigh, who was a president of the Supreme Court and a Judge in the European Court of Justice before succeeding the previous Irish president Erskine Childers.
O'Dálaigh's time in office was also short-lived as he resigned in October 1976 after being criticized by a government minister for referring a bill to the Supreme Court before he signed it into law.
6. Patrick J Hillery – sixth president of Ireland (1976 to 1990)
Patrick J. Hillery brought stability back to the Irish presidential office after a hectic time, which resulted in two different presidents in three years. He was elected in 1976 and served two terms until 1990.
Before he became president, he was minister for Foreign Affairs and helped to negotiate Ireland's entry into the EEC (now the EU) in 1973. He also was Ireland's first European Commissioner.
7. Mary Robinson – seventh president of Ireland (1990 to 1997)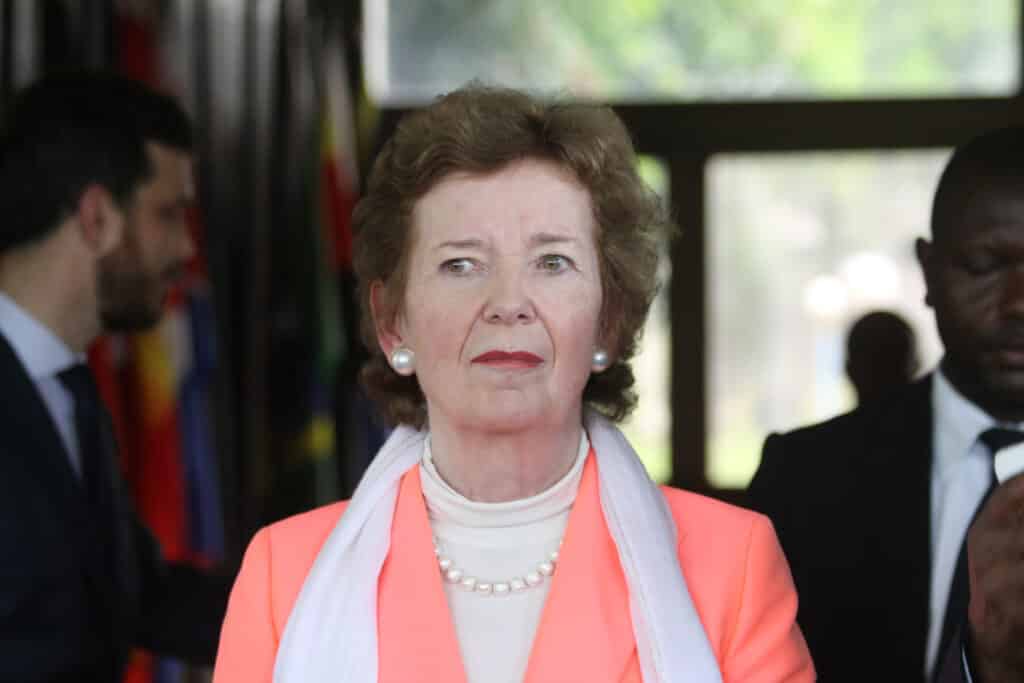 Mary Robinson became not only the seventh Irish president, but also the first woman to ever hold the role. She was elected in 1990 and served for seven years before going on to become the UN High Commissioner for Human Rights.
Besides being the first woman to become president of Ireland, at 46, she was also the youngest ever Irish president as well.
She is hailed as one of the most famous Irish women of all time for using her time in office to take an active and visible stance on many social issues important to Irish society.
8. Mary McAleese – eighth president of Ireland (1997 to 2011)
Mary McAleese succeeded Mary Robinson in 1997 and, similar to Robinson, she used her influence as the president of Ireland to great effect as she was a big supporter of the peace process in Northern Ireland.
Mary McAleese was also similar to Mary Robinson in that she too was a barrister and a professor of Criminal Law at Trinity College Dublin.
9. Michael D Higgins – ninth president of Ireland (2011 to present)
Michael D Higgins is an Irish politician, poet, broadcaster, sociologist, and the ninth and current Irish president. He was elected in November 2011 and was re-elected for a second term in 2018.
He has had a long political career as he was a TD for the Galway West constituency from 1981 to 1982 and 1987 to 2011.
Michael D Higgins has proven to be a very popular political figure in Ireland and is regarded as a great ambassador for the country.