From beautiful coastal trails to winding mountain roads, these are the five most dangerous roads in Ireland.
Ireland is home to some stunning scenic drives. However, these can often prove to be sketchy to drive on. Here are the five most dangerous roads in Ireland.
One of the most appealing aspects of Ireland is its wild and uninhibited nature. Take a single step outside a city, and you will feel like you've fallen onto the pages of some classic novel of the Romantic era.
With rolling green hills stretching as far as the eye can see, wild herds grazing at dusk, and castle ruins still standing proud, Ireland is a Celtic Eden. Ireland's untamed, organic essence is one of the things that makes the island so magical.
However, this untamed aspect also encourages a serious lack of modern, integral infrastructure. Road-tripping in Ireland is, without a doubt, a must-do before you die, but on these five most dangerous roads in Ireland, you had better proceed with caution.
5. Slea Head, Co. Kerry – a beautiful but hair-raising experience
Situated in County Kerry, one of the prettiest places in all of Ireland, is the Slea Head Drive. This scenic route takes its users winding and weaving along the wild Atlantic Ocean's waterways in a loop, starting at and returning to Dingle town.
The 46 km (28.6 miles) route – which forms part of the Wild Atlantic Way – is an awe-inspiring drive that meanders along cliffs dropping to the crashing ocean below. Narrow roadways intersperse hair-pin turns, and exposed drops can make this somewhat of a dicey ordeal.
Oftentimes, the road will unexpectedly narrow to allow only one car to pass, with no possible way to pull off, should a car appear from the blind turn that lies ahead.
Overall, this drive is certainly not to be missed, but it is definitely worth taking on with a bit of common sense. Drive slow, observe signs, and expect the unexpected.
4. Old Military Road, Co. Wicklow – steep climbs and uneven terrain
This beautiful scenic drive is located in County Wicklow, not far from the Dublin border. The route, which is accessed with ease, is a popular feat for tourists and local day-trippers.
Old Military Road was of great significance during the 1798 rebellion, hence its name. The route today is absolutely spectacular and well worth a visit, but users are advised to exercise caution on this challenging drive.
Uneven terrain dominates the entire 58 km (36 miles) stretch. Twists and turns, steep climbs followed by drastic descents, and exposed gradients where cross-winds can shake your vehicle are all pretty standard on Old Military Road.
3. Wild Atlantic Way (various counties) – Ireland's tourist trail
The vast stretch of the Wild Atlantic Way is undoubtedly one of the most beautiful road trips you can do, as well as one of the most dangerous roads in Ireland.
The mega-drive covers over 2,500 km (1553 miles) and stretches from County Donegal in the North of the country all the way down the West coast to Cork in the South.
It is widely accredited as being one of the most beautiful coastal drives in the world, but that doesn't mean it is the safest. Crossing through a whopping nine counties, its infrastructure varies widely.
Unexpected turns, bumps, and lumps in the terrain punctuate grazing herds of sheep who seem to rule the road. Unmarked roadways, cliff faces, severe drops, and steep ascents all make the Wild Atlantic Way the challenge that it is.
2. Gap of Dunloe, Co. Kerry – drive slow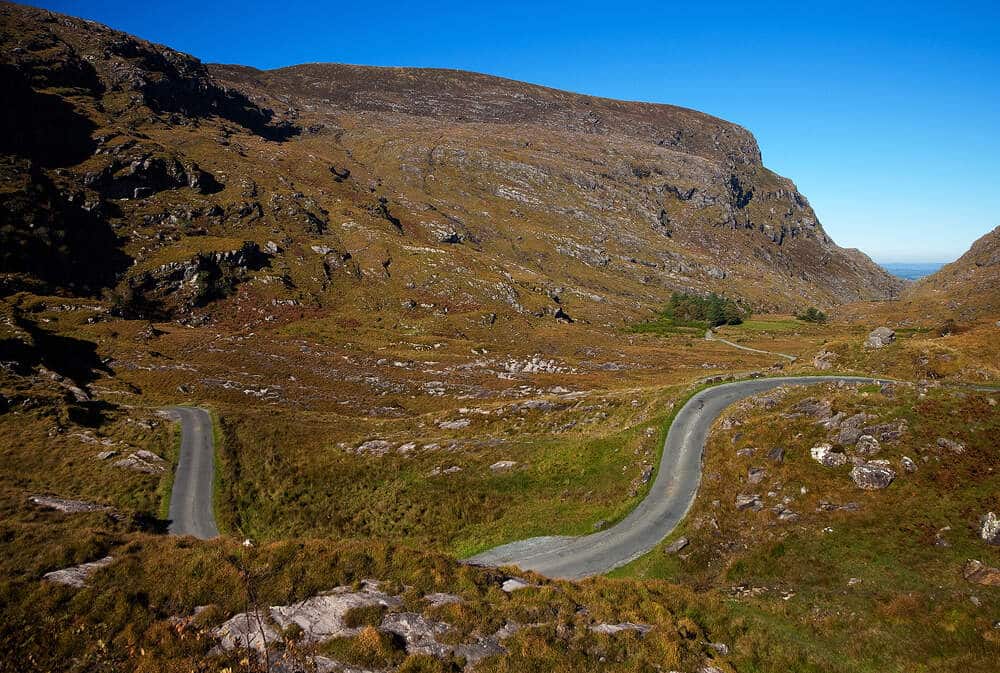 This route is perhaps one of the most popular in all of Ireland for both hikers, adventurers, and road trippers.
This mountain pass narrowly winds 11 km (6.8 miles) between the majestic MacGillycuddy's Reeks mountain and the Purple Mountain Group range. Without a doubt, this is a cinematic experience not to be missed, but it is also worth proceeding with caution.
The narrow path is punctuated by extreme elevation and blind turns by the dozen. Although it is perfectly legal to drive your car through the Gap of Dunloe, the roadway is often overtaken by horses, walkers, and cyclists, making it an absolute safety hazard.
If you do choose to take this one on, all we can say is: Drive SLOW!
READ MORE: See where the Gap of Dunloe ranks on our list of the top 5 most dangerous tourist destinations in Ireland
1. Conor's Pass, Co. Kerry – narrow, winding roads
The mind-blowing scenic drive in County Kerry is one to add to your bucket list. It is one of the highest mountain passes in Ireland at a whopping 1,345 feet above sea level.
Starting off from Dingle town (like #5), this route meanders along the side of a mountain until you are completely in the clouds.
Expect to have little to no visibility up on Conor's Pass. To top it all off, you're on a narrow mountain pass, which often is fit for one-way traffic only. And you are navigating blind turns galore, with little opportunities to pull in.
Without a doubt, Conor's Pass must be not only one of the most memorable scenic drives you can do but also one of the most dangerous roads in Ireland.