Ireland is an ancient land filled with stunning natural wonders and sights to behold. Considering this and the fact that some 80 million people share in Irish ancestry, it's no surprise that tourism on the Emerald Isle is booming.
Even internal travel from native tourists is at an all-time high. Everyone wants to experience the attractions and scenery that the island has to offer.
That said, much of Ireland's landscape is wild and (sometimes) undeveloped. And while these two traits add to Ireland's appeal, they can also lead to safety issues.
Careful, now! Here are the five most dangerous tourist destinations in Ireland.
5. Giant's Causeway
The Giant's Causeway is a natural wonder located in County Antrim in Northern Ireland. For decades, this UNESCO World Heritage site has drawn crowds of tourists who have come from near and far to marvel at these curious rock formations.
The Giant's Causeway consists of about 40,000 individual rock columns that stand in clusters along the ocean's edge – a sight for sore eyes indeed.
However, the site can also be dangerous! Unexpected waves coming in from the sea have swept people out, and the nature of the surroundings (especally presents endless opportunities for visitors to slip, trip, and fall. Approach with caution.
Address: Giant's Causeway, Bushmills, Co. Antrim
4. Gap of Dunloe
Set in County Kerry, this narrow mountain pass is a popular tourist destination and a favourite of explorers, amateur mountaineers, and day-trippers alike. It sits between the MacGillycuddy's Reeks and the Purple Mountain Group range, offering truly cinematic views across the board.
Most visitors in the area choose to tackle the terrain by car; however, this is one of the most perilous roads in Ireland. It may be a tourist attraction, but with its narrow space and turns, it comes with its share of danger, so buckle up and drive carefully.
Address: Gap of Dunloe, Dunloe Upper, Co. Kerry
3. Carrauntoohil
Carrauntoohil is Ireland's tallest mountain range, standing at an impressive 3,407 feet. Due to its preeminent status, it happens to be one of the most trodden routes for hill walkers, hikers, explorers, and adventurers.
Day trips and overnight expeditions are all common around the range, and while there are many manageable trails for people of all fitness and experience levels, visitors must exercise caution.
It is important to remember that any mountain range is unpredictable and potentially treacherous. Rocky paths and steep, exposed cliff faces are not unlikely, so it is key that climbers proceed with safety first, following hazard signs and trail routes, and only embark on trails they feel fully capable of completing.
Address: Carrauntoohil, Coomcallee, Co. Kerry
2. Skellig Michael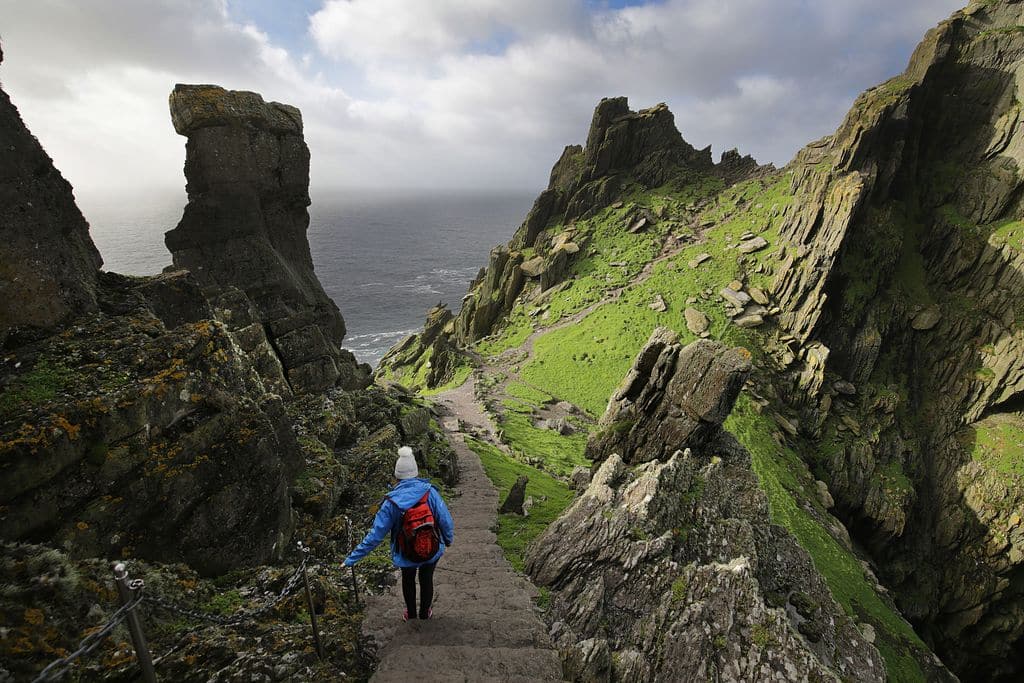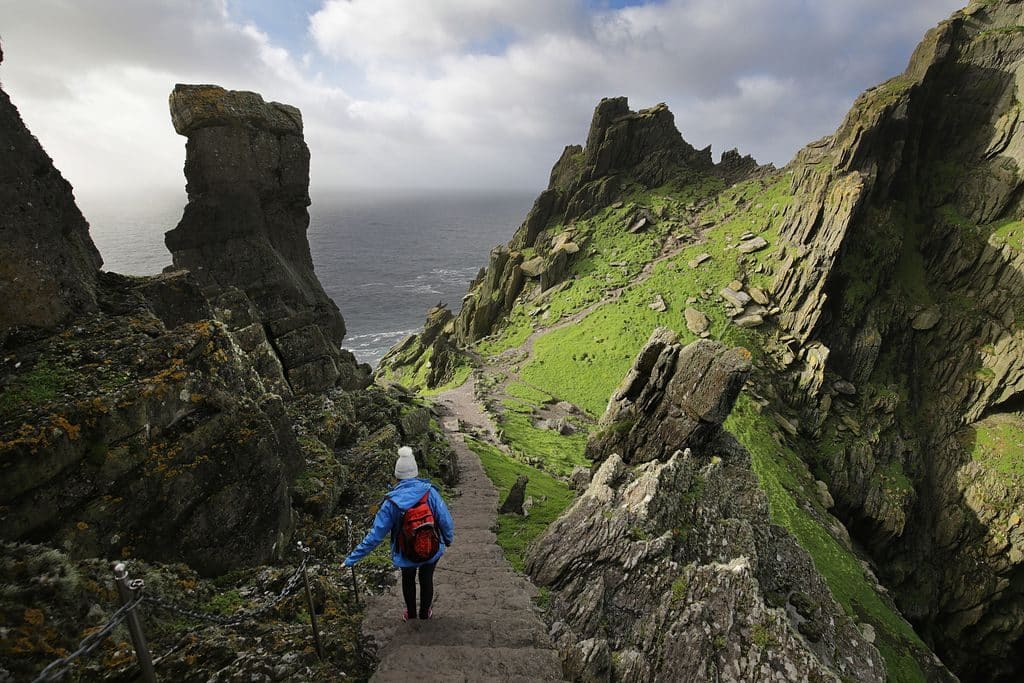 Set off the coast of County Kerry is Skellig Michael, which makes up one of the two uninhabited rocky islands of the Skelligs. Skellig Michael is a massive draw for tourists, being home to an early monastic settlement.
The remote and abandoned crag sits weather-worn in the Atlantic Ocean, rough and treacherous from years of winds and violent storms.
While tours go to and from the island daily – majorly drawing history buffs and those interested in archaeology – this is without a doubt one of the most dangerous tourist destinations in Ireland.
Steep and uneven climbs on ancient steps run along the side of exposed cliff faces, and broken paths and fragile infrastructure offer little reassurance. All we can say is that you wouldn't want to get caught out here in a freak storm!
Address: Skellig Michael, Skellig Rock Great, Co. Kerry
1. Cliffs of Moher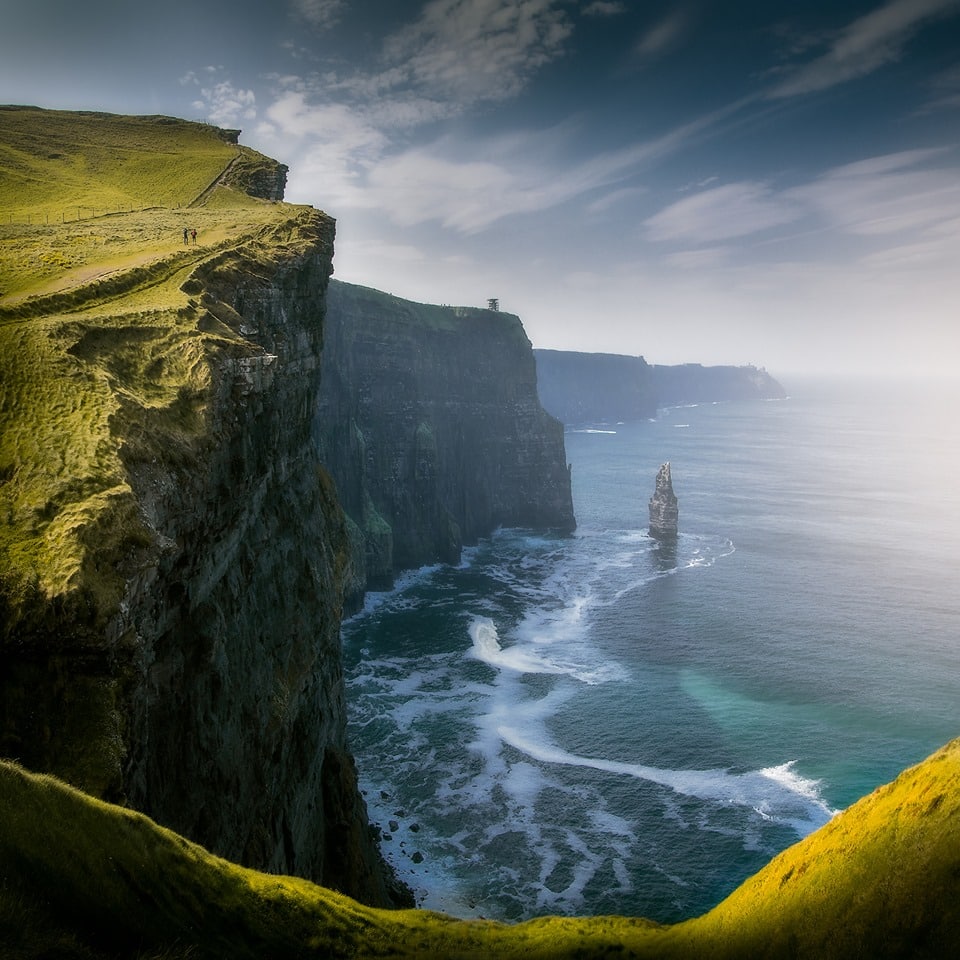 The Cliffs of Moher in County Clare on the West coast of Ireland are recognised worldwide as one of the most dangerous tourist destinations in Ireland, if not the entire world. Do a simple Google search, and endless articles exposing its lack of safety will pop up left, right, and centre.
The majestic mega-cliffs run 14 kilometres along the Atlantic Ocean coastline in the Burren region of Clare and attract busloads of tourists annually. In fact, it is one of Ireland's most sought-after sites. Even so, its unmarked paths and dangerous drops make it also one of Ireland's most dangerous.
Over 60 people have died along the cliff walks, whether that was from falling, jumping, slipping, or being blown into the raging sea that lies below. Always respect warning signs and observe the cliffs (and take your photos) from a safe distance. No selfie is worth the risk!
Address: Cliffs of Moher, Liscannor, Co. Clare