Anyone who knows; knows. The Treaty County is the place to be when it comes to music, culture, and good times. Get a taste of it for yourself with a visit to our five best pubs for live music in County Limerick.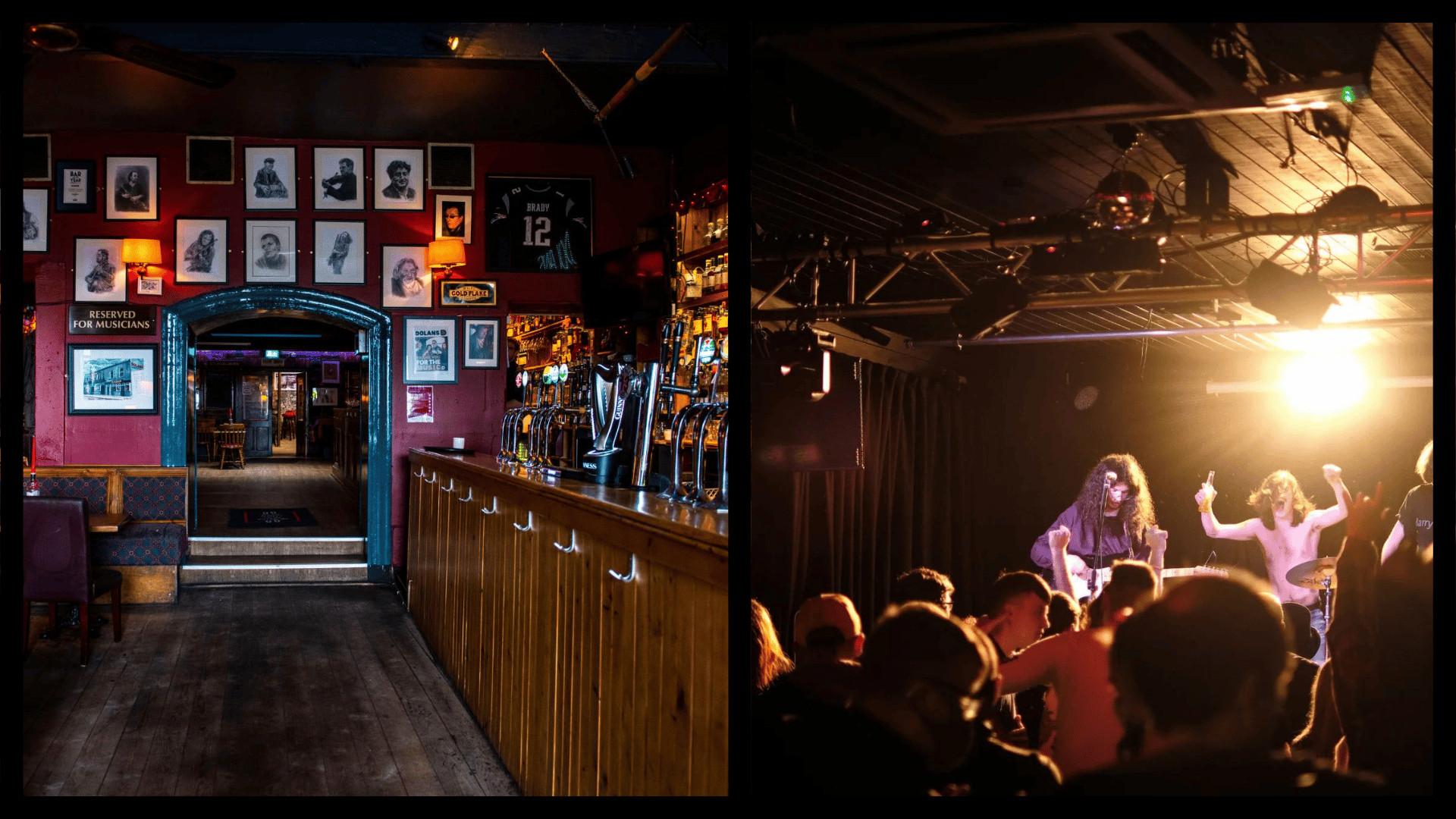 Found yourself in the Treaty County craving a great pint and some music? Today, we're revealing the best pubs for live music in County Limerick.
County Limerick, on the banks of the roaring River Shannon, is an underrated gem waiting to be explored. In recent years, the area has earned an international reputation for its thriving music scene.
Whatever you're into, be it rock, hip-hop, dance music, or traditional Irish music, Limerick has something to offer any intrepid music lover. Let us be your guide; check out our top five pubs to dive into live music in Limerick and get a taste for yourself!
5. Cleary's Bar ‒ the rocker's local of choice
No list of the best pubs for live music in County Limerick would be complete without first giving due attention outside the city environs.
Newcastle West's Cleary's Bar, complete with a mural of Irish rock legend Rory Gallagher beside the front door, is the music lover's pub of choice in West Limerick.
The walls of this pub are lovingly adorned with a variety of rock 'n' roll memorabilia from the likes of the aforementioned Rory Gallagher (Séamus, the owner, is a bit of a super-fan), Thin Lizzy, and other Irish rock 'n' roll legends.
Thus, making it the perfect environment to enjoy a trad session or a local singer-songwriter.
Address: Goat Street, Newcastle West, Limerick
4. Pharmacia ‒ cutting-edge tunes, classy cocktails, one for the tastemakers
A favourite hangout of writer, musician, and podcaster Blindboy Boatclub, this city centre cocktail bar is the beating heart of Limerick's burgeoning independent music scene.
Hugely popular with students and alternative types, the eclectic live music line-up ranges from regular dance and electronic nights to shows by local independent and experimental musicians to drag shows and cover bands.
If you're feeling curious, head down, try one of their famous Zombies and get ready to experience something you've never experienced before. If you find yourself needing a break from the dancefloor, the spacious beer garden and cosy booths are just the ticket.
Address: 8 Sarsfield Ave, Limerick, V94 E14K
3. Charlie Malone's ‒ the home of the session in Limerick city
Charlie Malones' late-night sessions are famously hard to leave. Locals occasionally refer to the place as 'The Black Hole'; as in, 'once you go in, you're not coming out!'.
The walls of this Limerick City institution are decorated in the old-fashioned pub and hardware shop style, with shovels on the ceiling and DIY supplies on display behind the bar.
Charlie's was also recently visited by A-list Ghostbuster Bill Murray. The actor was spotted soaking up the lively traditional Irish music session and the masterfully-poured Guinness.
A hidden treasure, unmissable for anyone seeking great music and an authentic atmosphere.
Address: 19 Wolfe Tone St, Limerick, V94 FFC0
2. The Commercial Bar ‒ the perfect balance of cool and cosy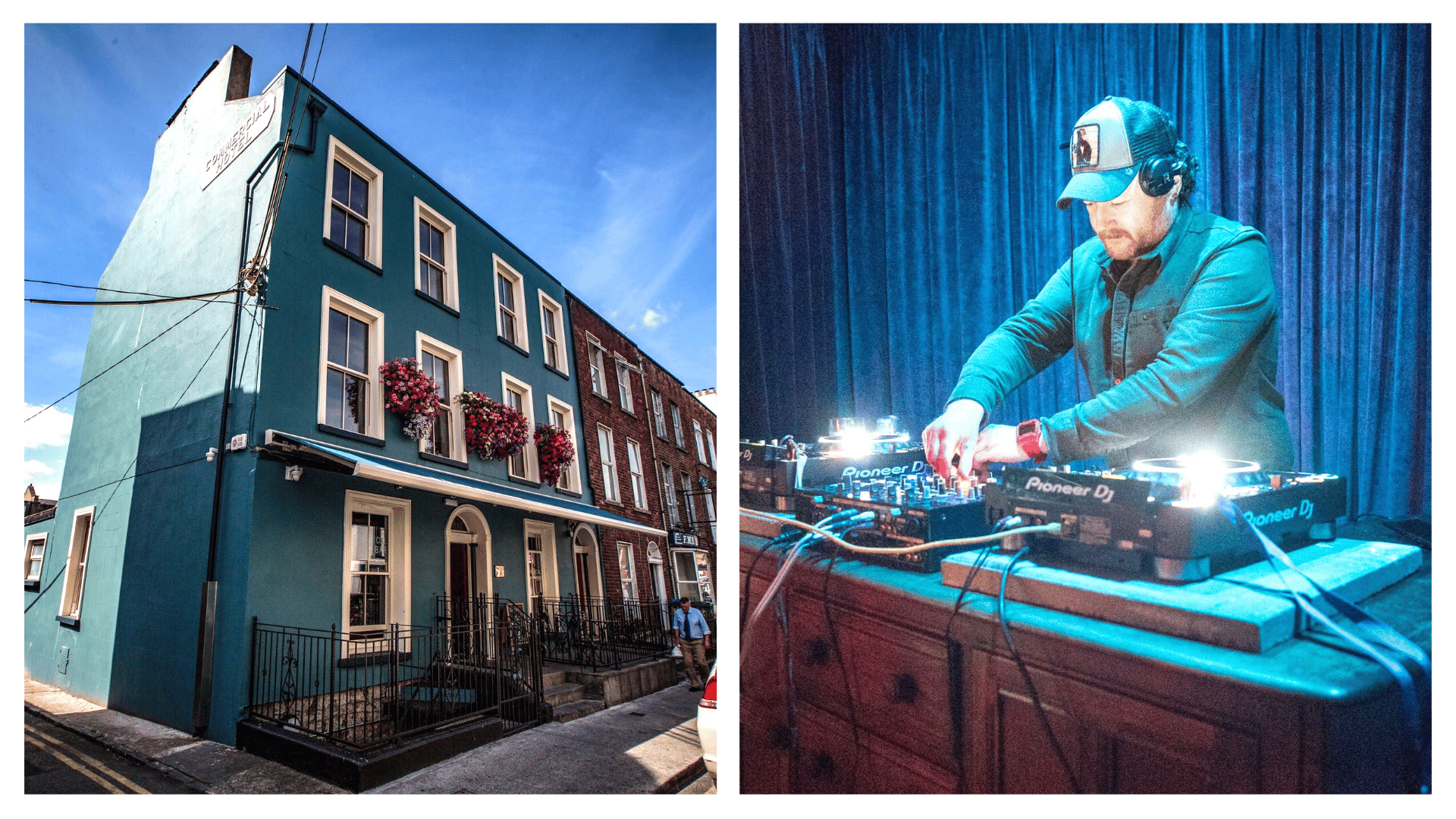 Situated on Catherine Street, in the heart of the city centre, The Commercial has firmly established itself as Limerick's capital of cool. Downstairs venue The Record Room regularly hosts performances by up-and-coming Irish acts and wildly popular DJ nights.
The Record Room is also the spiritual home of the city's acclaimed hip-hop scene. Local rappers can regularly be seen rocking the stage of the basement venue. Music fans are guaranteed a treat on any given weekend.
In the winter, the cosy upstairs bar is the spot to be. They have a roaring fire, weekly traditional Irish music sessions, and to-die-for hot whiskeys. Easily one of the best pubs for live music in Limerick, if not the whole country.
Address: 46-47 Catherine St, Limerick, V94 T2V3
1. Dolan's ‒ Limerick, and maybe Ireland's, number one live music venue.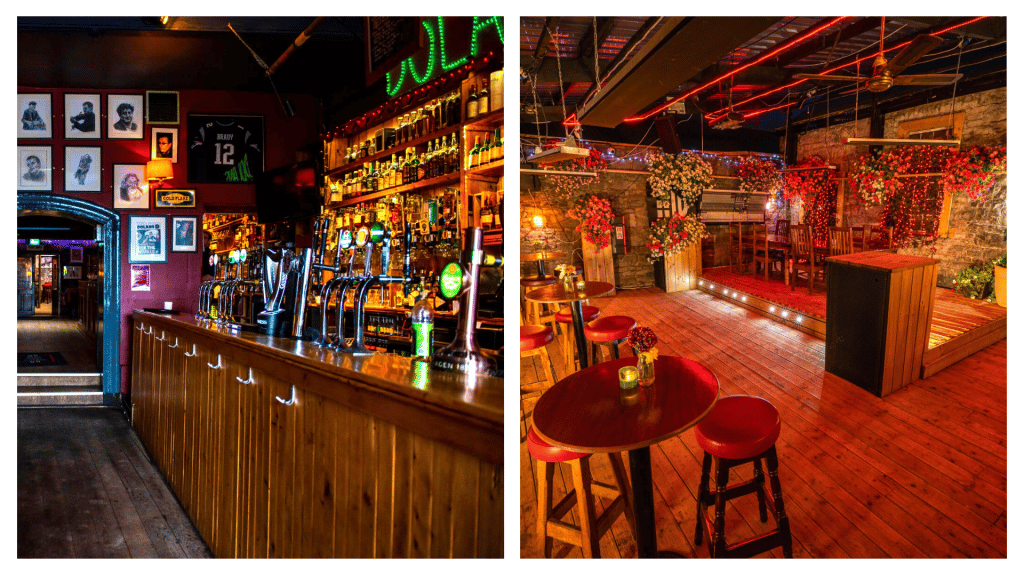 When it comes to the best pubs for live music in County Limerick, there can only be one contender for the number one spot.
Situated in the humble surroundings of Limerick's docklands, Dolan's somehow manages to fit not one but three world-class venues all under one roof.
Local and international touring acts regularly grace the stages of the Warehouse, Upstairs, and the Kasbah Social Club. Meanwhile, the nightly traditional music sessions in the front bar are world-renowned.
Despite its size, Dolan's succeeds in retaining the cosy, candlelit vibe of a traditional pub.
As if that wasn't enough, the food is also excellent, with a menu showcasing the best of traditional Irish fare. All of this makes it the best pub for live music in Limerick and an absolute must-visit on any trip to the Treaty County.
Address: 3-4 Dock Rd, Limerick, V94 VH4X
Notable mentions
The Still House: City centre pub with a reputation for a wild card session.
Cask: Castletroy-based wine and cocktail bar with weekly live music.
Nancy Blake's: Late bar with live bands, DJs, and trad in the front bar.
The Locke Bar: Limerick's favourite way to spend a sunny day. Waterfront pub and beer garden with nightly trad sessions.
FAQs about the best pubs for live music in County Limerick
What Limerick pubs have trad sessions?
Dolan's, The Still House, The Locke Bar, and Charlie Malone's all have regular trad sessions.
What are the best pubs in Limerick for food?
Dolan's has a great menu showcasing local ingredients. Enjoy a burger from the Locke Bar's neighbouring Locke Burger for a more casual option.
Does Limerick have good nightlife?
Limerick is home to some fantastic late bars, nightclubs, and live music venues and has amazing nightlife. Recent festivals and events in the city, such as Live at the Docklands, Live at King John's Castle, and Féile na Gréine, have been hugely successful.
By John Ahern
Get featured on Ireland Before You Die
Do you want to get your Irish business more online exposure? Especially to those interested in travelling the best places in Ireland? Then why not get a dedicated feature on Ireland Before You Die. Find out more 
here.