Rory Gallagher is best known for his incredible talent on the guitar, but here are ten facts about Rory Gallagher you never knew.
Originally from Ballyshannon in County Donegal and raised in Cork, one of the Rory Gallagher facts you may know is that he rose to prominence in the 1960s and 70s for his bluesy rhythms on the guitar.
He was an Irish blues and rock multi-instrumentalist, songwriter, and producer, and his albums have sold over 30 million copies worldwide.
Coming in at number 57 in Rolling Stone Magazine's list of '100 Greatest Guitarists of All Time', he is one of the most talented musicians to ever come out of Ireland.
So, while you may recognise much of his music, we are here to fill you in on ten facts about Rory Gallagher you never knew.
10. Rory is not actually his first name – he was christened William Rory Gallagher
You may be surprised to find out that Rory Gallagher's first name is, in fact, William.
Born on 2 March 1948, he was christened William Rory Gallager for the reason that there was no Saint Rory, and he "liked the idea of not having a saint's name."
Continuing, "Anyway, I think my mother preferred Rory to Liam."
9. He was brought up around traditional Irish music – sparked a life-long love for music
As he was growing up in Cork, Gallagher's parents were very fond of traditional Irish music, and thus, he spent much of his childhood surrounded by it.
Rory's parents and their friends would play traditional Irish music on the weekends, and at the age of nine, he acquired his very own acoustic guitar.
8. His brother was his manager – keep it in the family
In the traditional Irish fashion of family members all working and running the one business, Rory Gallagher was actually managed for most of his solo career by his younger brother Donal.
Speaking to Hot Press before his death in 1995, Gallagher said of Donal, "I don't think I'd have stuck with it so long if it wasn't for Donal.
"I'm so suspicious of people, and I don't think a different manager would put up with my whims."
7. He was a temporary member of the Rolling Stones – kind of
One of the facts about Rory Gallagher you never knew is that he was almost a member of the Rolling Stones.
After the Rolling Stones guitarist Mick Taylor walked out due to arguments between himself and Keith Richards in 1975, Gallagher received a phone call from the Stones' pianist and road manager Ian Stewart asking if he'd like to join the band.
Believing it was a prank, Gallagher refused to take the call, and Stewart had to phone back several times to convince him.
Finally, he went to Rotterdam to play some sessions with the band, but things had to be brought to an end as Gallagher had a tour lined up in Japan that he couldn't pull out of.
6. Bob Dylan was turned away from his dressing room backstage – they didn't recognise him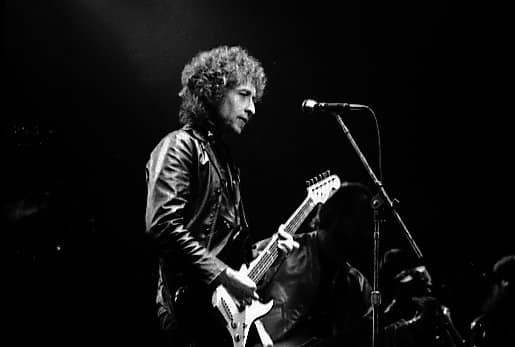 After performing at the Shrine Auditorium in LA in 1978, jet lag and continuous nights on tour meant Gallagher was tired and not really up for meet and greets.
Donal waited outside his door, turning away fans looking for photographs and signatures, but things became difficult with one very persistent fan.
After much persistence, the man finally gave up and walked away, and it was then that someone informed Donal that he had just rejected Bob Dylan.
Knowing that Rory was a huge Dylan fan, Donal went in search of the man he had just turned away and asked him to come back to meet Rory.
5. He got caught in a riot while on stage – a scary experience
Performing in Athens, Greece in 1981, Gallager found himself in the middle of a full-scale riot.
It wasn't long after the Greek coup, and a short while into the show, he saw flames at the back of the stadium. People were burning down shops and buildings, and the police arrived with CS gas.
The performers had to flee the scene and head back to their hotel.
4. His Belfast gig was one of his favourites – a Belfast welcome
One of the only artists to continue to perform in Belfast during the Troubles, Gallagher remembered his 1973 gig in the city as one of the best.
Speaking to Hot Press, he said, "There was a lot of trouble out on the streets, but the atmosphere inside was electric; it was a real we-shall-overcome kinda night."
3. He recorded with The Dubliners – icons of Irish music
Forever fond of Ireland and Irish music, one of the facts about Rory Gallagher you never knew is that he recorded music with The Dubliners for one of their albums.
After performing at the same gig as them in the 60s when he was still relatively unknown, Ronnie from The Dubliners invited him and his band into their changing room, and since then, they remained life long friends.
2. Brian May was a fan – a huge inspiration to the Queen guitarist
One of the Rory Gallagher facts you never knew is that Queen guitarist Brian May was a huge fan of Gallager's.
In an interview, May revealed, "I owe my sound to guitar hero Rory Gallagher."
After Gallagher's performance with Taste at the 1970 Isle of Wight Festival, May approached the guitarist to ask how he got his distinctive sound.
Revealing his secrets to the then young man, May left that day and tried out what he was told. He said, "It gave me what I wanted; it made the guitar speak. So it was Rory that gave me my sound, and that's the sound I still have."
1. Today, he is remembered all over Ireland – numerous memorials to him
Rory Gallagher sadly passed away in 1995 at the age of 47, and today, he is remembered in various forms all over Ireland.
There are statues in Temple Bar's Rory Gallagher Corner and Cork's Rory Gallagher Place, and Ballyshannon has a Rory Gallagher Exhibition and Festival.