There are so many amazing things to do and see, so we have compiled the most unique tourist attractions in Northern Ireland for you to visit.
We all know the classic tourist spots to visit in Northern Ireland. Titanic Belfast, The Dark Hedges, one of the best free things to do in Northern Ireland, Samson and Goliath, the list could go on forever. However, have you heard of all of these unique tourist attractions in Northern Ireland?
So, let the Giant's Causeway and the Causeway Coast, Titanic Belfast, and Belfast City Centre take a back seat for a second and have a look at the top ten most unique tourist attractions in Northern Ireland.
10. Llama Trekking with Jungle NI, Co. Derry – what a lovely way to spend a day
Llamas are majestic, tame, and friendly animals who absolutely love human company.
You can enjoy a peaceful and soul-cleansing walk in the forest among the rolling Sperrin Mountains with the llamas. An instructor will be there to show you how best to guide them.
You can extend your visit to having lunch with the llamas! For an additional cost, a picnic basket filled with treats will be provided so you can enjoy a bite to eat alongside your llama companion.
Address: 60 Desertmartin Rd, Moneymore, Magherafelt BT45 7RB
9. Black Taxi Tours, Co. Antrim – a unique tour of Belfast's past
Black Taxi Tours of Belfast will give you a critical insight into life during The Troubles.
Your driver will educate you on the heartbreak and chaos of over 30 years of a city torn by a bloody civil war, fought between the mainly nationalist Catholic community and mainly loyalist Protestant community.
You'll hear an insight into the history behind The Peace Wall that separated the two communities and learn about the stories that come with the many murals across the city.
This is one of the most unique tourist attractions in Northern Ireland, and really anywhere else in the world, as it outlines our exclusive history. There are many different Black Taxi Tours in Belfast city.
8. Hinch Distillery, Co. Down – whiskey and gin emporium
Hinch Distillery is located in the beautiful grounds of Killaney Estate, County Down. Fans of whiskey and gin and will flourish here.
There are a number of unique and exciting tours you can be a part of down at the distillery. You'll learn all about the distillation process. For example, the water used in Hinch Whiskey comes from The Mourne Mountains.
For the gin fans out there, their Ninth Wave gin is absolutely to die for. You can take part in the gin school experience down at the distillery.
You'll learn about how it is produced, the botanicals, and recipe development. However, best of all, you'll take home your own individual gin, made by you.
Address: 19 Carryduff Rd, Ballynahinch BT27 6TZ
7. Seaforde Tropical Butterfly House and Gardens, Co. Down – a peaceful day out
Now that we are entering Spring, the Seaforde Tropical Butterfly House is open to the public once more!
This is a day in Seaforde, Downpatrick, that will truly make you feel at one with nature. The micro-climate gardens host Ireland's oldest maze and plants collected from all over the world. You can even spot a number of rare species.
Closed in the colder autumn and winter months, this place of tranquillity and beautiful gardens looks forward to welcoming visitors for spring very soon.
Address: Seaforde Gardens, Seaforde, Downpatrick BT30 8PG
6. Armagh Observatory and Planetarium, Co. Armagh – a day out for all ages
The Armagh Planetarium is the longest-running in the North and is a day out for families, couples, solo travellers, and anyone who has an interest in multi-sensory experiences.
You can enjoy the wonders of the sky and space with the Full Dome Theatre. Sit back, relax, and enjoy the constellations and much more at Armagh Planetarium.
Address: College Hill, Armagh BT61 9DB
5. Street Art Walking Tour, Co. Antrim – incredible artists from all over
Led by Seedhead Arts, this walking tour will show you an entirely different outlook on art on walls in Northern Ireland. The tour is led by local artists, who certainly know their stuff when it comes to describing the artists' work and the story behind the image.
The two-hour walking tour will take you on a journey around Belfast, showcasing the talent of some seriously incredible artists. This is a tour for you if you appreciate fine detail in art.
More info: HERE
4. Johann The Goat, Co. Antrim – poor Johan
This statue is certainly one of the most unique tourist attractions in Northern Ireland. Johann was a very real goat who spent his days at the harbour and riverbank at Cushendun.
Sadly, due to a foot and mouth breakout, Johann was the last animal to be culled as a result in the early 2000s. Now, his memory lives on in a bronze statue made by Deborah Brown that sits on the Cushendun riverbank.
Address: 1 Main St, Cushendun, Ballymena BT44 0PH
3. Rathlin West Lighthouse, Co. Antrim – upside-down lighthouse
This is one of the most unique tourist attractions in Northern Ireland because it is not just a lighthouse; it is an upside-down lighthouse.
Constructed between 1912 and 1919, the light was placed unusually on the bottom floor of the lighthouse due to the dense and low fog that surrounded the island.
This is an incredible site to visit for bird-lovers as it is home to one of the largest seabird colonies in the UK. Every year, we see flocks in the thousands return to breed, including puffins, razorbills, guillemots, and fulmars, among many.
2. Alec the Goose, Co. Antrim – child's best friend
Situated right outside St George's Market, Alec the Goose is memorialised in bronze. Much like Johann the Goat, the story of Alec the Goose is an adorable one.
In the 1920s, Alec used to paddle around the market, accompanying children to school. He would then waddle back to his owner, who ran a stall at the market.
He was adored by the many and was a regular feature of the market landscape until he was sadly hit by a truck in 1929. I bet if you hadn't spotted his statue already, you will now!
Address: St George's Market, East Bridge St, Belfast BT1 3NQ
1. Game of Thrones Studio Tour, Co. Down – GoT fans get ready
From Castle Black to Winterfell, King's Landing to Braavos, you'll get to experience how this epic world was created.
Visitors will get to see the making of Westeros. You'll experience how visions were plucked from George R.R Martin's novels and transformed to the screen.
This is a really exciting new venture in Banbridge, Northern Ireland, and will certainly be a unique experience you won't soon forget and one of the most exciting new attractions to visit in Ireland.
Address: The Boulevard, Cascum Rd, Banbridge BT32 4LF
Other notable mentions
Grave of Sting the Dog: The beloved pooch is buried among some famous faces in one of Antrim's oldest cemeteries.
Valerie Hobson Mural: Mural of famous local actress from the 1930s and 1940s in Larne.
Slemish Mountain: The top of Slemish offers stunning views of County Antrim during the St Patrick's Trail.
Strangford Lough: You can enjoy spectacular views or take a boat trip in the beautiful Strangford Lough.
Bloody Bridge: Located close to Annalong at the foot of the Mourne Mountains, Bloody Bridge is a great spot for a walk or a dip in the rock pools.
HMS Caroline: Located close to the Titanic Belfast Visitor Centre, HMS Caroline, is a fantastic and underrated tourist attraction.
Castle Ward: Located in the County Down countryside, Castle Ward is a great place to get out in nature.
FAQS about the unique tourist attractions in Northern Ireland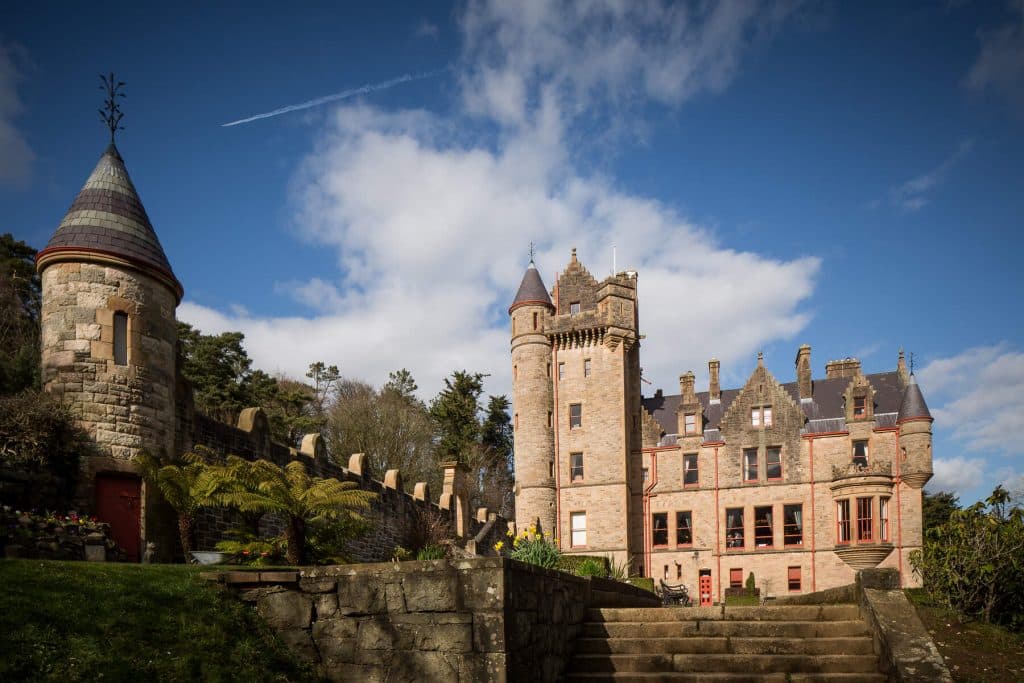 What are the most popular tourist attractions in Northern Ireland?
The Giant's Causeway in County Antrim and Titanic Belfast are among the most popular tourist attractions. There is also Lough Erne, Belfast City Hall, Tollymore Forest Park, Cave Hill, the Carrick-a-Rede Rope Bridge, Glenariff Forest Park, and Belfast Zoo.
Is Northern Ireland safe?
Despite our sordid past, Northern Ireland is now considered a very safe part of the world. Just exercise caution as you would anywhere else.
What are the best castles in Northern Ireland?
There is a range of beautiful castles in Northern Ireland. The best and most historic castles would be Enniskillen Castle, Kinbane Castle, Belfast Castle, Dunluce Castle, Dunseverick Castle, and Carrickfergus Castle, one of the best-preserved medieval castles.
What are the best cities in Northern Ireland?
These would be Derry city, the Walled City, and Belfast, which is the capital city. They are both great for a day trip and the City Walls of Derry offer a panoramic view of the city.