As Ireland's first city, Waterford has to be a romantic place. Strongbow and Aoife were married on the quay in Reginald's Tower.
Thanks to Waterford Walls, the streets are coloured with the most beautiful artworks, providing a gorgeous ambience. The city can host some of the most romantic dates once you know where to go.
Whether you're looking for somewhere casual for a first date or a seasoned veteran looking to wow your partner, we've thought out some of the most romantic date spots in Waterford. Keep reading to find out where to go on your next date.
10. Axe Junkies − for a memorable first date
While this may not seem romantic in the traditional sense, there is something oddly satisfying about throwing an axe at a bullseye.
We think this is a perfect first date idea, as a candlelit dinner may be too romantic, too soon. You don't want to scare them off, after all. And somehow, wielding an axe is more casual than a dinner. Trust us; you'll have so much fun.
Address: 15-16 O'Connell St, Waterford, X91 AP84
9. Waterford Greenway − for the outdoorsy couple
Whether you're a competitive cyclist or like to stroll along enjoying your surroundings, if you want the great outdoors, then the Waterford Greenway is a must-visit.
It's suitable for bikes or pedestrians and stretches from Waterford City to Dungarvan. Stop off at the Waterford Suir Valley Railway for a fun trip back in time to learn about the golden age of rails.
Address: Co. Waterford, Ireland
8. Ardmore − one of the most romantic villages in Ireland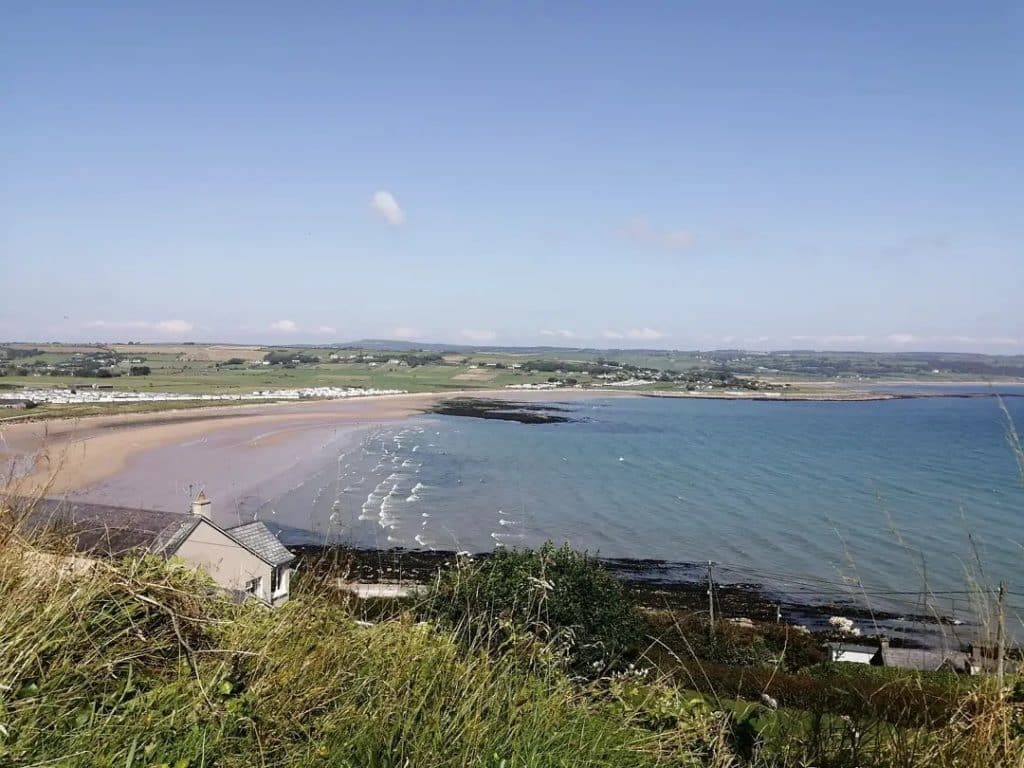 Ardmore is perfect for a sunny day. This village is one of the most picturesque and, therefore, one of the most romantic in Ireland.
The cliff walk is the ideal length, meaning you won't get worn out and sweaty. If cliff walks aren't your thing, then there are a variety of craft shops you can explore too. It's by far one of the most romantic date spots in Waterford.
Address: Aird Mhór, Duffcarrick, Co. Waterford, Ireland
7. Tramore Amusement Park − for a cheeky shift
The amusements aren't just for teenagers in love. There's something about going to a fairground that brings out the romance.
Take a walk along the promenade, follow it with a spin on the waltzers, then go for a chip in Dooleys. You can't beat a day at the seaside to bring out the romantic spark.
Address: Tramore West, Tramore, Co. Waterford
6. Gallwey's Chocolate Café − for a casual coffee date
Gallwey's is a prime date spot nestled on the edge of the Viking triangle. Grab an upstairs seat; it's a perfect private hideaway in the centre of town.
One of the best-kept secrets and one of the most romantic date spots in Waterford City.
Address: 10A Henrietta St, Waterford, X91 XT67
5. Lafcadio Hearn Japanese Gardens – for a stroll through a cultural paradise
This garden was established to commemorate the renowned writer Lafcadio Hearn and his links to Tramore. This spot takes you on a stroll through beautiful gardens.
The staff are all too accommodating in answering any questions you may have. Afterwards, you might like to continue your date with a tea or coffee out on their raised patio area, where you can take in the garden's ambience from above.
Address: Tramore House, Pond Rd, Tramore East, Tramore, Co. Waterford
4. Tramore sand dunes − for a romp in nature
The loop of the Tramore dunes is a spectacular walk; just make sure to bring your suncream. See if you can find the singular tree growing on the dunes.
This spot used to be a regular meeting spot for couples to meet in private, long before the days of dating apps. A perfect place for a little bit of historical shifting.
Address: Tramore Burrow, Co. Waterford, Ireland
3. Mahon Falls − one of the top romantic date spots in Waterford
If experiencing the tremendous natural power of the waterfall isn't enough, then you need to experience the magic road.
An optical illusion that makes your mind think your car is rolling up a hill, this is a date idea that will leave you pleasantly surprised.
Address: Mountain Breeze, Comeragh, Co. Waterford, Ireland
2. The Old Couch Café − for the foodie couple
The Old Couch Café is one of the premier locations for foodies in Waterford. They provide a ten-course tasting menu which will be one of the most memorable meals of your life.
This small restaurant offers few tables, meaning more intimate conversations between your courses.
Address: 11 O'Connell St, Waterford, X91 F304
1. Mount Congreve Estate − our top spot for romance
If you want pure romance, then a visit to Mount Congreve on a sunny day is ideal. The entire garden spans an enormous 70 acres.
The last heir to the estate, Ambrose Congreve, was internationally recognised, even being recognised by the Queen, for his services to horticulture.
There are many romantic nooks to get lost in here, and it is a perfect spot for some Sunday strolling with some hand-holding thrown in for good measure.
Address: Mount Congreve, Kilmeaden, Co. Waterford, X91 PX05