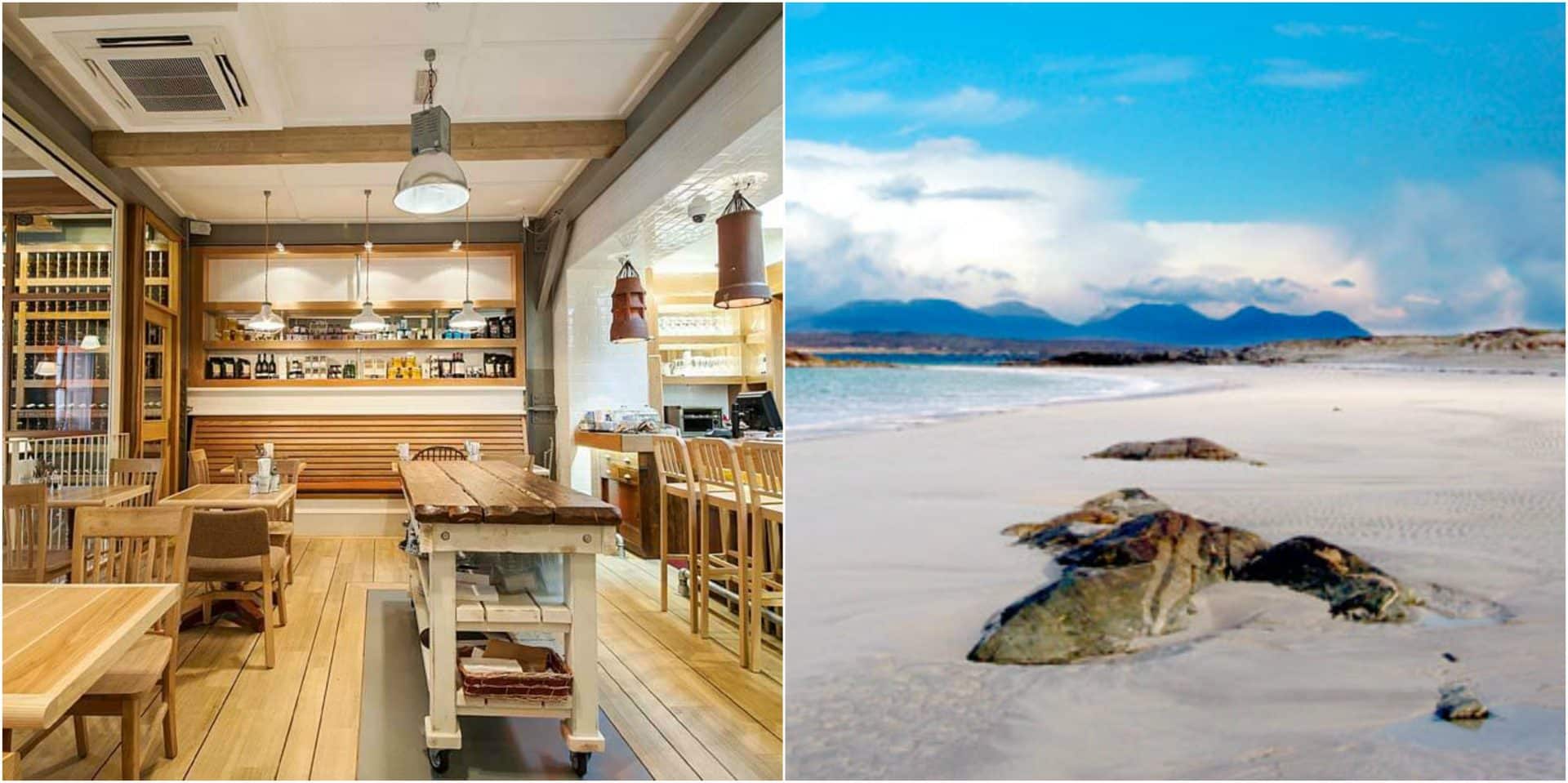 Galway is a great place for a weekend getaway. From stunning landscapes stretching for miles across Connemara and along the Wild Atlantic Way to the buzzing metropolis of the city, Galway is not to be missed when visiting the west of Ireland.
Otherwise known as the 'Tribal County,' Galway is a pleasure ground for explorers and budding historians alike. For those who wish to while the time away in a more relaxed fashion there are lots of beautiful beaches for a stroll, delectable restaurants for food and fantastic pubs for traditional evenings.
Here are some ideas for the ultimate weekend (48 hours) in Galway.
Day 1 of your 48 hours in Galway
Breakfast at McCambridge's
Start as you mean to go on with a delicious breakfast at the world-class McCambridge's – one of the best Galway restaurants. Their menu offers a wide range of dishes with the freshest local ingredients.
The restaurant is a lovely place to start your weekend in Galway and the prices are refreshingly competitive. It also has a food hall crammed with artisan products to take with you.
Address: 38-39 Shop Street, Galway City
Visit the National Aquarium of Ireland
Atlantaquaria is a great place to visit during a weekend in Galway. It has never been so vital to educate ourselves and our children on the importance of sea life and how we can protect it.
The aquarium covers all the educational STEM subjects (science, technology, English and Maths), making it a super place to substitute some school time over the summer months.
Address: Galway Atlantaquaria, Toft Park, Promenade Salthill, Galway City, H91T2FD
Cruise on The Corrib Princess
Enjoy Ireland's largest lake on The Corrib Princess cruise setting off from Woodquay in Galway City. The tranquil journey begins on the Corrib River before joining Lough Corrib for some spectacular views on the water.
Abandoned castles, historical buildings and stunning flora and fauna, this waterway is a sight to behold. The 90-minute cruise happens twice a day from May to September with an extra daily sail in July and August.
Address: Waterside, Woodquay, Co. Galway
Lunch at The Kitchen
To make the most of just two days in this wonderful part of Ireland head for Galway City Museum for a spot of lunch at The Kitchen.
From bagels to a vegan fry, this quirky spot is buzzing with life. Or if you are still full from breakfast, this is one of the best places in Galway for a coffee with lots of outdoor space for warmer months.
Address: Galway City Museum, Spanish Arch
Explore the city
After lunch in the heart of it all why not walk it off while exploring the best of the city? Eyre Square is the 18th-century hub with the nearby Latin Quarter still home to some of the medieval walls that protected the original Galwegians.
Barna Woods
After taking in the city sights you might want to head for Barna Woods via Cappagh Park, located near Galway Bay. It is a super place to walk off lunch, let children run and play and soak up some woodland goodness.
A popular spot for nature trails, bug watching or leaf races along the little stream that runs through it, Barna Woods will leave you revitalized.
Address: 336 Barna Road, Near Knockaunnacarragh, Galway
Dinner on the bay
There are lots of lovely restaurants in Galway but Wildes on the Bay is a lovely spot to end the first day of your 48 hours in Galway. For seafood lovers, this is the place to eat as well as being super child-friendly and in a fantastic location.
Address: Salthill, Galway Bay
Day 2 of your 48 hours in Galway
Hit the beach!
There are so many beautiful beaches along the west coast of Ireland with a lot of them in Connemara, Co. Galway. Some of them stand out from the rest with coral fragments instead of sand, and Coral Strand in Mannin Bay is no exception.
It is to the southwest of Clifden and just over an hour away by car or bus from the city.
The stunning contrast of white coral and blue water will make you question you are still in Ireland. It's also a super spot for swimming, snorkelling or collecting shells. Pack a picnic breakfast to make the most of your time on the beach.
Address: Coral Strand, Mannin Bay, Ballyconneely, Galway
Pony Trekking at Errislannan Manor
About 15 minutes from Ballyconneely is Errislannan Manor stud farm and the riding centre gives you the chance to not only admire the stunning Connemara ponies but also trek along some of the most beautiful beaches in Ireland.
The unique qualities of this hardy breed and yet gentle nature means riders of all levels are welcome.
Pony treks can be booked any weekday morning and are charged by the hour.
Address: Errislannan Manor, Kill, Clifden, Co. Galway, H71 N932
Lunch at Mitchell's
For a seafood lunch to remember, head to Mitchell's Restaurant in Clifden and dine on fresh calamari, Killary mussels or delectable seafood chowder.
Their seafood platter is perfect for those who want to savour and share or for meat eaters their Shepard's Pie or Angus beef burger are tempting options.
Soak up the chilled atmosphere here in the heart of Connemara as you plan the final afternoon of your weekend in Galway.
Address: Market Street, Clifden, Co. Galway
Kayaking on the Wild Atlantic Way
For your next adventure take the not to be missed opportunity to kayak on the Wild Atlantic Way with Connemara Sea Kayaking.
Spend the afternoon exploring rock arches, sea caves and stunning sands while keeping an eye out for dolphins, whales and seals along the way. No kayaking experience is needed and the instructors are very helpful and experienced.
Address: Connemara Wild Escapes, Letterfrack, Co. Galway
Connemara National Park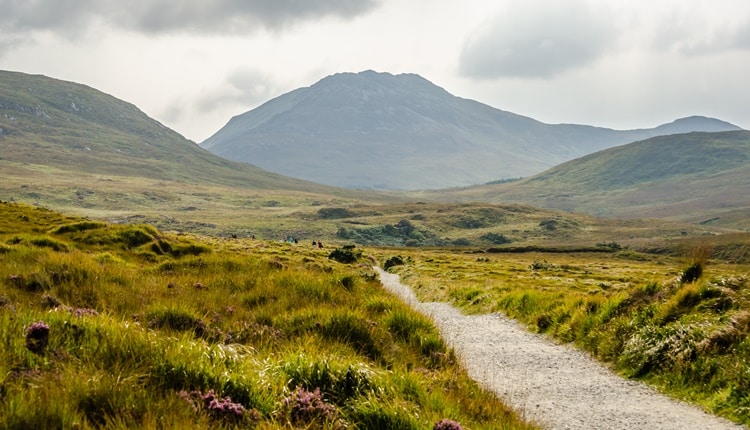 The National Park nearby is the perfect spot to end your day and recover from your exhilarating weekend. Guided trails start from the visitor's centre and can be tailored to individual levels of fitness.
Take in the true beauty of Connemara across bogs and woodlands before enjoying your final meal at The Lodge Restaurant at The Letterfrack Lodge. The national park is absolutely beautiful and undoubtedly one of the best things to do in Galway.
Address: Connemara National Park, Letterfrack, Co. Galway
A sesh in Clifden
For those of you who want to end your 48 hours in Galway quietly then you might want to skip off to bed at this stage.
For others who might want to go out with a bang then Clifden is a great spot to enjoy a classic Irish drinking session. Known as 'The Capital of Connemara' you will be spoilt for choice of pubs.
Lowry's Irish Music and Whiskey Bar is a great place to start with lots of other popular pubs in close proximity. Slainte!
Address: Market St, Clifden, Co. Galway, H71 WT32