Dublin is a small city, but home to 1.8 million people. As the most densely populated metropolis on the island of Ireland, it is seen as a cultural hub with a multicultural heart.
While living in even the Greater Dublin Area offers excellent proximity to, and accessibility in and around Dublin city, there are some lovely city suburbs in walking distance from the centre of it all.
If you're considering a move to Dublin or planning an upcoming trip, we vote you check out these five cool neighbourhoods in Dublin.
5. Stoneybatter
This small city suburb is located on the Northside of the River Liffey, only a short walk from "town" (the local's term for the city centre).
Brimming with charm and old stone terraced houses, this is a hot spot for real estate, in the current market. Recent redevelopments to the area have seen an influx of trendy shops, cafes and restaurants.
L. Mulligan's, The Elbowroom and Love Supreme coffee keep the coffee lovers and hipster kids keen while cultural sights and sites of interest such as St Michan's Church and the curious natural wonder: The Hungry Tree are present, too.
Bonus points go for its proximity to Phoenix Park – Europe's largest enclosed park – and the fact that Smithfield, another cool neighbourhood in Dublin, is just down the road.
4. Ranelagh
Next up on the list of coolest neighbourhoods in Dublin is Ranelagh. It's located on the Southside of the city, only a short walk, bus or Luas (overground tram or light rail) from the beating heart of the hustle and bustle.
This upmarket, city suburb is an ultimate haven for young professionals or those keen to start out family life, with the busy city right on their doorstep.
Self-sufficient and blossoming with bars, restaurants, cafes, shops, grocery stores and more, Ranelagh has just about everything.
Keeping up with the "it" kids, this cool neighbourhood in Dublin is on-trend with an offering of health food stores (check out Urban Health) and popular bars (try The Taphouse) – making it the perfect place to spend the day or an ideal location for a permanent address.
3. Smithfield

Smithfield is a small and trendy city suburb on the Northside of Dublin city. Accessed easily on foot, by bus or Luas, the neighbourhood is dominated by a square, which acts as the central hub of its activity.
Whether it is bars or contemporary cafes, one of Dublin's coolest alternative cinemas (the Lighthouse) or one of the most authentic pubs in all of the city (the Cobblestone), it is safe to say, Smithfield is a little mini city in a city. Buzzing with life, this is without a doubt one of the coolest neighbourhoods in Dublin.
If you're planning on staying in Dublin and want to experience a sweet suburb, away from the hustle and bustle of the city centre, but also want to make friends and party, check out the Generator Hostel in Smithfield Square.
2. Portobello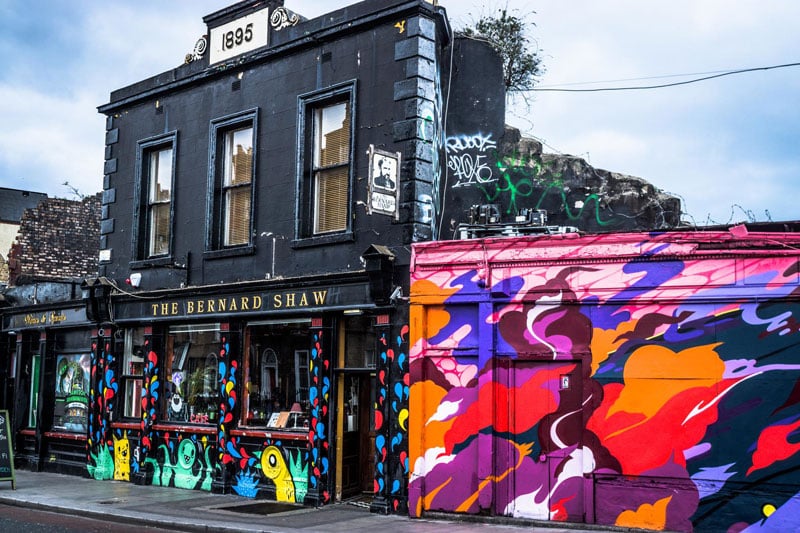 Located on the Southside of Dublin city, very close to the centre of it all is the cool neighbourhood of Portobello.
This suburb offers the convenience of city living with the charm of quiet suburban life. Terraced houses of character stand in solidarity, only broken by trendy, independent speciality coffee shops or the latest brunch craze.
With the canal running parallel to this cool neighbourhood in Dublin, and all the benefits of city life (bars, nightclubs, cinemas, entertainment venues, eateries, brunch spots, gyms) on your doorstep, this is an ideal place to call home when in Dublin, or even visit for an afternoon.
1. Rathmines
Located on the Southside of the city is a cool neighbourhood in Dublin called Rathmines. Accessible on foot or by bus from the heart of the city, this, similar to its sister suburb, Ranelagh, is a trendy yuppie neighbourhood with tonnes to offer.
Fitted and kitted with hipster bars (try Blackbird), trendy restaurants (eat at Farmer Brown's), health food stores (get fit at The Hopsack), takeaways (indulge with Saba), cafes (brunch at Two Fifty Square), a cinema and multiple grocers, this neighbourhood is as self-sufficient as they come.
Whether you're looking for a place to stay on your next weekend break to Dublin or looking for your next permanent address (if the funds allow), Rathmines is the place to be.