These are the top five most beautiful and scenic places to go cycling in Belfast. Grab your helmet and your wheels, what are you waiting for?
While Belfast may not necessarily be known worldwide for its acclaimed cyclists, rest assured that the cycling routes here are still spectacular. As a result of its improved cycle paths, recent years have seen cycling flourish in the North's historical capital.
With beautiful, green parks sprawling over the city centre and Belfast's iconic Lagan River running through scenic hotspots, cyclists are utterly spoiled for choice.
With that in mind, why not ditch your car and see Belfast by bicycle instead? If an energetic trip to this bustling city sounds appealing, then read on to see our breakdown of the top five best and most scenic cycling routes in Belfast.
5. Newtownabbey Way – for a gorgeous woodland paradise
Begin this four-mile route at either the Corrs Corner of Newtonabbey or on the shores of Belfast Lough that verge into the heartland of Belfast's City Centre.
Newtownabbey Way provides gorgeous forested paths that wind through Monkstown Wood which includes over 8,000 trees of 15 different species!
And if this soothing shrubbery wasn't enough to compel you to get on your bike, the path runs onto an open viaduct that's been in existence since 1933 – Bleach Green Viaduct.
It eventually leads cyclists into Glen Park and Glenavna Manor, which looks out directly onto Belfast's historic dockyard.
4. Divis Ridge Trail – for mountainous landscapes and distant sights of Scotland
The Divis Ridge Trail sits high atop the Belfast Hills. It offers spectacular skyline views over Belfast and further afield – including the Mourne Mountains, the Isle of Man, and even Scotland.
Being only five miles long, this route is a shorter one that cyclists might go on if they're seeking some fresh air that's far out of the reaches of Belfast's hustle and bustle.
Begin the route on the Upper Springfield Road, just off the A55 Outer Ring, and begin your ascent towards the impressive summit of Black Mountain, looming majestically beyond.
3. Comber Greenway – for epic panoramas over Northern Ireland
The Comber Greenway is a seven-mile-long cycling route that runs along the disused Belfast to Comber railway line, which originally closed way back in 1950.
Although this pathway begins in the western end of Belfast's Queen Elizabeth Bridge, cyclists should hop on at Dee Street in East Belfast as this is where the cycling route starts being traffic-free.
Cyclists will enjoy this route for the towering trees and lush greenery that hangs above its winding paths.
These serene corridors of foliage are at their most beautiful starting at the Holywood Arches and through East Belfast, but there points of interest all along the route, including views of the world-famous Harland and Wolff Cranes, Stormont Parliament Building, and Scrabo Tower.
2. Belfast Lough – lose yourself in the history of Belfast's docks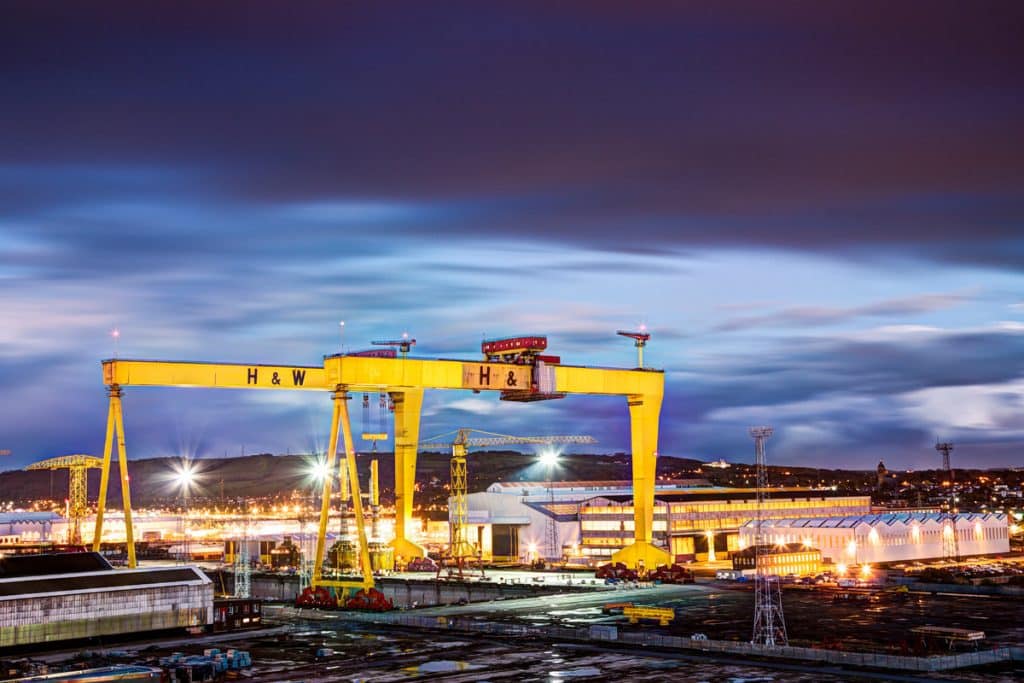 Belfast Lough includes a traffic-free section of flat ground that forms the National Cycle Network.
Cycling along this beautiful cycle route provides views of Belfast's wildlife and historic docks that run along the Lough and into Belfast's Lagan Weir.
Taking cyclists through Duncrue Industrial Estate and onto Clarendon Dock, this seven-mile-long route is perfect a medium-length excursion.
Its proximity to Belfast's internationally-acclaimed Titanic Quarter gives tourists plenty of history to soak up along their journey.
1. Lagan Towpath – one of the best routes for cycling in Belfast
The Lagan Towpath is one of, if not Northern Ireland's, most well-known coastal cycling route. This 21-mile long pathway is mostly traffic-free and connects Belfast to Lisburn and Jordanstown, another popular shopping and university town in Northern Ireland.
Popular among cyclists for having a relatively flat, tarmac terrain from start to finish, the towpath provides picturesque backdrops of the Belfast Hills, the National Trust park at Minnowburn, and even a historic archaeological site – the Giant's Ring.
The best place to begin the path from Belfast is at Stranmillis, which sits within the heart of the Queen's Quarter.
Of course, there are even more incredible places to go cycling in Belfast. Much of its beautiful city centre has been pedestrianised in recent years, making it much easier to see the city without the need of a car.