Who doesn't love to get the heart pumping on the adventure of a lifetime? Here are three epic ways to get an adrenaline rush in Ireland.
The feeling of excitement, stimulation, and increased physical ability, which happens when the body thinks it's under stress and produces the hormone, adrenaline, is what we call an adrenaline rush.
Whether you are into skydiving, rock climbing, white water rafting, or even dare to bungee from a great height, you most likely crave this undeniable rush of adventure.
Of course, countries such as New Zealand, Canada, and South Africa are famous for having such experiences to take advantage of, but what if we told you that in Ireland there are a more than a few ways to recreate that addictive feeling.
We have just the ticket, or three, in fact! Let's take a look at three epic ways to get an adrenaline rush in Ireland.
3. Surfing the Atlantic – a never-ending choice of surf spots
Any surfer will tell you, the adrenaline rush is real when riding that wave. Ireland is famous for top-class surfing along the west coast, considering we have a rugged and wild coast at our disposal and huge waves that come with it.
Whatever your level, there are many beautiful beaches to try out surfing as a beginner or to take on the monster waves as an expert, either way, the thrill will be incredible.
The obvious surf locations are Lahinch and Bundoran, with avid surfers flocking to these beaches whenever they get a chance. Still, we'll have you know there are many more beaches to choose from.
Some ideal beaches to get that adrenaline rush as a beginner are Enniscrone (Co. Sligo), Strandhill (Co. Sligo), Fanore (Co. Clare), and Inch Strand (Co. Kerry), to name but few.
For the more advanced, why not get your thrills at Rosnowlagh (Co. Donegal) – home to Ireland's longest-running surf competition, Castlerock, (Co. Derry), and the almighty Mullaghmore (Co. Sligo) – the expert-only surf spot and most intense in Ireland.
Surfing started out around 1949 in Ireland, and, since then, the activity has been thriving, giving countries like Australia and the USA a run for their money.
It may be slightly colder, but we promise you, with a decent wetsuit and the adrenaline pumping through your veins, you won't even be thinking about the temperature of the water.
2. Rally driving – a need for speed
With the many rally driving options around the country, you'll have the opportunity to get in the driver's seat, in almost any location in Ireland.
If you have a need for speed, this is the perfect way to get that adrenaline rush in Ireland. An experienced guide will be by your side as you take on the tracks and put the pedal to the metal, giving you shivers down your spine.
If you want a really authentic driving experience, we recommend heading to the source of it all, Mondello Park in Co. Kildare.
It doesn't stop there, though. You can even choose between a motor race experience, a supercar experience, or a drifting experience. So, even if you've tried rally driving before, there are various choices for your next adrenaline rush.
1. Skydiving – one of the top ways to get an adrenaline rush in Ireland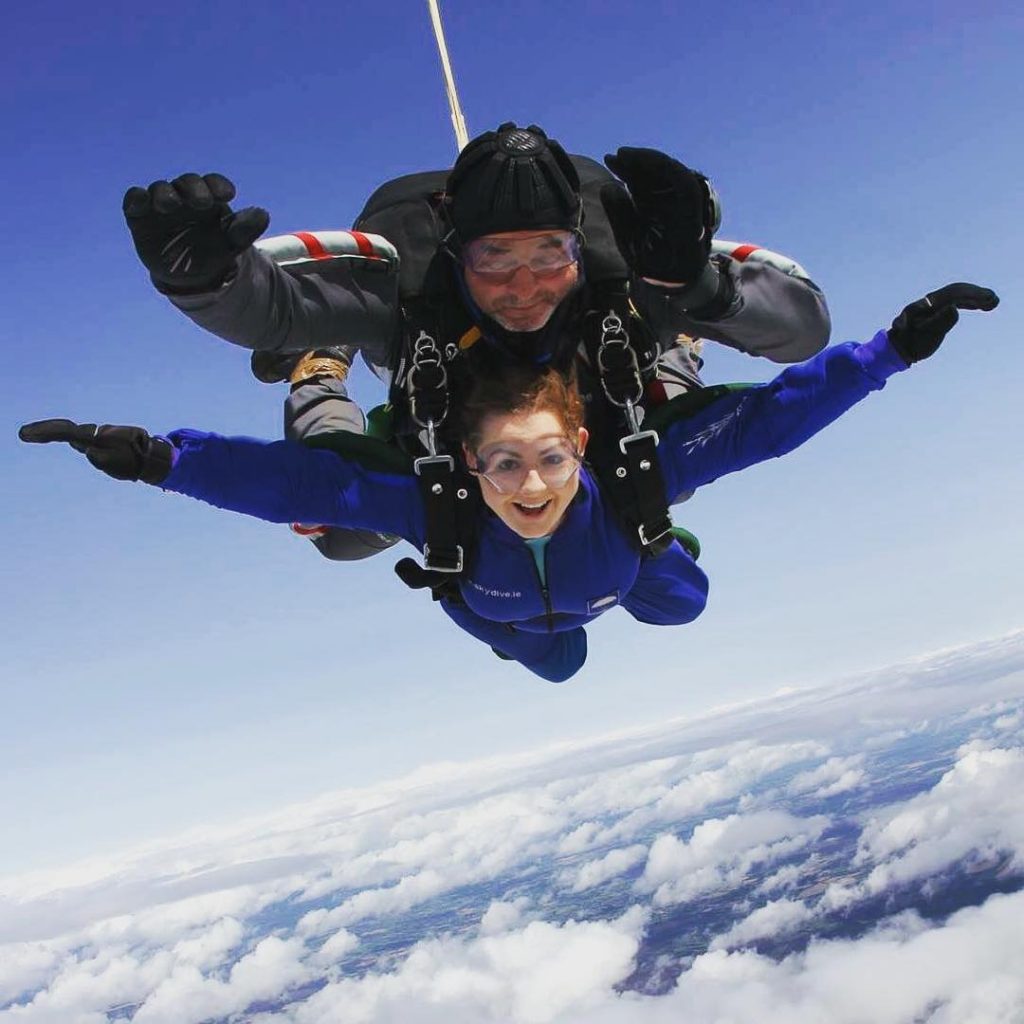 Yes, you guessed it, in at number one we have skydiving, guaranteed to get your heart racing. If you've done it before, you'll know what we mean, and if you haven't, then what are you waiting for?
Anyone who has jumped willingly out of a moving plane at great heights will tell you that the feeling is indescribable. Still, the adrenaline rush is undeniable, that's for sure!
Luckily, in Ireland, there are a bunch of places that will make your thrill-seeking dream come true, including Co. Offaly, Co. Derry, and Co. Kilkenny, all of which have top class skydiving options.
So there you have the three epic ways to get an adrenaline rush in Ireland. Whether you are curious about what it's like to don a wetsuit and ride that wave, feel what it's like to be a pro rally driver or have the guts to jump out of a plane over the beautiful Irish countryside, the choice is yours.
One thing is for sure, you'll undoubtedly feel that adrenaline rush you've been looking for.