Some of the most successful Irish athletes to come out of Ireland are so talented that they can easily be counted among the world's best athletes, not just Ireland's!
Ireland as a nation has always been proficient at producing great athletes covering a variety of sports, both mainstream and ones which are more niche.
Irish athletes excel in many sports, from boxing to soccer and athletics to golf and Gaelic Games such as hurling and Gaelic Football.
All the athletes on our list have reached the heights of their respective fields and have rightfully become names that will be remembered for a long time.

This article will list what we believe to be the top ten most successful Irish athletes of all time.
10. Roy Keane- a highly decorated soccer star
Remembered as a Manchester United and Ireland legend, Roy Keane enjoyed a hugely successful 12 years with Manchester United. This saw him win a stunning 7 Premier League titles and 4 FA cups, and numerous player of the year awards.
While his career with the Irish national team was often marred in controversy, he was their best player most of the time throughout his professional career.
9. Jason Smyth – once described as the fastest Paralympian alive
Jason Smyth is undoubtedly one of the most skilled Irish Paralympians in Irish history. The Northern Ireland sprint runner was once even described as the 'fastest Paralympian alive'.
With 6 gold Paralympic medals under his belt, it's not hard to see why he earned that title.
8. Brian O'Driscoll – Ireland's greatest rugby player
Brian O'Driscoll is a former professional rugby player who captained and played for Leinster, Ireland and the Irish & British Lions over fifteen years.
During his career, O'Driscoll won many accolades, which helped him to cement his place as Ireland's greatest rugby player within some of the best Irish teams.
7. Barry McGuigan – a world-champion boxer
Barry McGuigan, or the 'Clones Cyclone' as he was known during his career, became the featherweight champion of the world in 1985 by defeating Eusebio Pedroza. Out of 35 professional fights, McGuigan won an impressive 32.
6. Stephen Cluxton – a history-making player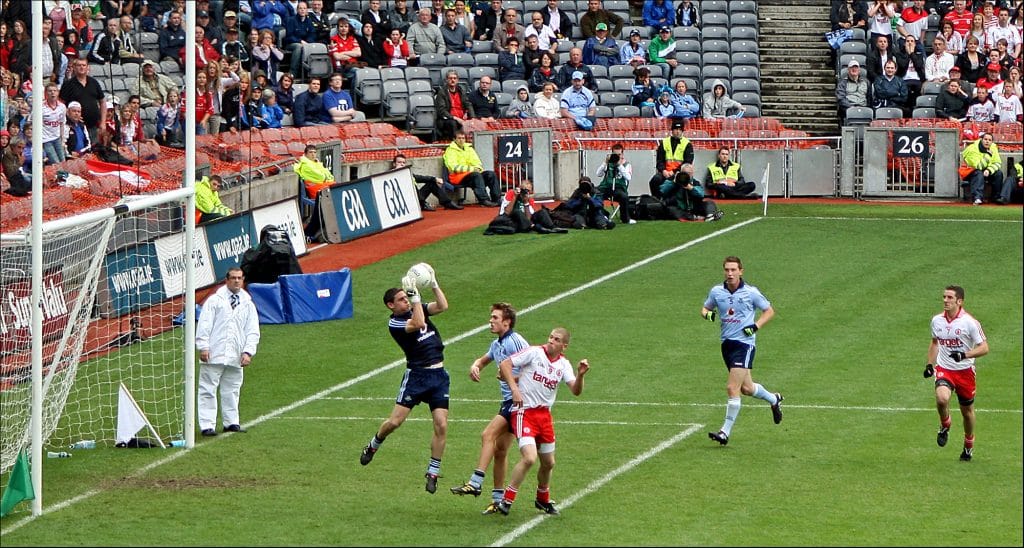 Stephen Cluxton is an Irish Gaelic footballer and goalkeeper for the Dublin senior county men's team and was commonly regarded as the safest pair of hands in football any team could have.
His career with Dublin was tremendously successful, winning eight All-Ireland medals and 6 consecutive championships. He made history by being the only player to captain a team to seven championship titles.
5. Henry Shefflin – the king of hurling
Henry Shefflin was famous for his skill, spirit and ability to dominate any match he played on the hurling field.
Winning 10 All-Ireland championships, 13 Leinster championship titles, 6 National Hurling League Titles and 6 Walsh cups with Kilkenny, he became one of the most decorated hurlers of all time. He affectionately earned the title 'King of Hurling'.
4. Ruby Walsh – one of the most successful Irish athletes
As the third most prolific winner in British and Irish jump racing history, Ruby Walsh has earned his place amongst the ranks of the finest jockeys to ever race at Cheltenham.
After 24 years of success which saw him win a record 59 Cheltenham Festival wins in 2019 after winning the Punchestown Gold Cup, Walsh retired in style.
3. Katie Taylor – one of the best female boxers in the world
Widely recognised as one of the world's best female boxers, Katie Taylor won her first official boxing match at 15 years old.
She went on to win gold in the 2012 Olympics. Since becoming a professional boxer in 2016 has won numerous fights. She became the unified lightweight female world champion and a fantastic role model to many young boys and girls.
2. Sonia O'Sullivan – a world record breaker
When it came to the world of athletics, Sonia O'Sullivan was a born superstar. During her career, she won 16 major athletic championship medals, including European and World 5,000 m gold.
She also won a European 10,000 m gold, two World Cross Country golds and a 5,000 m silver at the Sydney Olympics in 2000.
In 1994 she famously set a world record for running 2000 m and remains one of the most talented Irish athletes of all time.
1. George Best – one of the best soccer players of all time
In first place on our list of what we believe to be the top ten most successful Irish athletes of all time is the soccer legend George Best. He is considered one of the best players of one of Ireland's most popular sports.
Making his debut for Manchester United at just 17 years old, he went on to play for Northern Ireland. The Irish football association described him as "the greatest player to ever out in the green shirt for Northern Ireland."
He also won many honours as a club player, including the prestigious Balon d'Or Award. His legacy is one that his name is virtually always included in any discussion about the greatest soccer players of all time.
That concludes our article on the top ten most successful Irish athletes of all time. Do you agree with our list? Or, do you think there were other athletes we left out that deserved a place on our list?
Get featured on Ireland Before You Die
Do you want to get your Irish business more online exposure? Especially to those interested in travelling the best places in Ireland? Then why not get a dedicated feature on Ireland Before You Die. Find out more 
here.
Legal Disclaimer
We cover articles relating to many activities. Some of our articles showcase gaming and gambling as activities. While we do not take money for bets or own any gambling venues, we feel it is important that our readers know the risks of such venues or sites that we may mention in our articles. Gambling involves risk. Please only gamble with funds that you can comfortably afford to lose. See our legal disclaimer for more info.