Interested in Titanic? How about meeting a ghost? Whatever you're into, in Ireland, there's a pub for that.
1. Session searching: The Crosskeys Inn, Antrim
This little thatched-pub is one of the most famous traditional music pubs on the island, with musicians from all over Ireland playing sweet melodies both inside and outside its whitewashed walls (weather dependent!). On weekends, expect impromptu trad sessions.
2. Epic adventuring: The South Pole Inn, County Kerry
Local Dingle legend Tom Crean was involved in three of history's most punishing Antarctic expeditions and earned a medal for bravery. On returning to his native county, Crean opened The South Pole Inn, where today the shelves are packed with tomes attesting to his heroism.
3. Stayin' alive: McCarthy's Fethard, County Tipperary
McCarthy's has a catchphrase: "We wine you, dine you and bury you". This is a pub, restaurant and undertaker service all rolled into one. Open since the 1850s, it's functioned as everything from grocery shop to draper. The counters and packed cabinets are throwbacks to its quirky history.
4. Record breaking: Sean's Bar, County Westmeath
This 1200-year-old-pub is listed in the Guinness Book of Records as the oldest pub in Ireland and it hasn't changed for centuries, from the sawdust on the floor to the cannon ball decorations and open turf fire. Next door is Athlone Castle, a 12th century Norman pile.
5. Finding Fellowship: The Shire, County Kerry
Yes, you can visit the Shire for real (AND see the Ring of Power). Head through the hobbit-friendly dropped ceilings and arched doors to The Prancing Pony, and sup on hearty pints of Gandalf's ale, Bilbo's beer and even hobbit juice cocktails. Next stop is Mordor…
6. Time travel: Morrissey's Pub, County Laois
Morrissey's opened in 1775 as a pub-come-grocery shop and the bric-a-brac and grocery produce lining the shelves are reminders from the house's earlier multi-tasking days. Original 119th-centurydécor makes for a cosy setting. And on chilly days, warm up next to the pot belly stove.
7. Ghostbusting: Grace Neill's, County Down
Smugglers, pirates and all kinds of shady individuals have enjoyed a tipple in Grace Neill's over its 400-year history, so no wonder there's a ghost or two rattling around. In fact, the pub is so haunted it has been visited by paranormal TV crews and ghost hunters. Careful where you sit…
8. Playing the pirate: The Bulman Bar, County Cork
This nautical pub sits right by the sea and over the years it's been a favourite drinking spot for sailors, coastgaurds, merchants and a few landlubbers. The walls are appropiately decked with works of maritime art and the harbour view is a treat. Should hunger strike, the restaurant serves fresh-off-the-boat seafood.
9. Tracking Titanic: McConville's, County Armagh
McConville's has been around since the 1800s, and has a unique connection with the Titanic ship, built just over the hill in Belfast. Some of the Russian oak fixtures in the bar are said to be replicated from a design on the ship. The interior has plenty of original features, from the snugs to the moulded ceilings.
10. The meeting place of Irish Patriots: Kelly's Cellars, Belfast.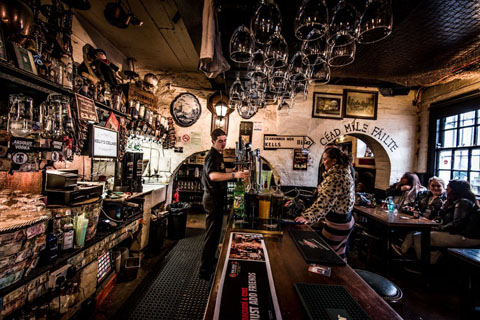 Kellys Cellars is a public house in Belfast, Northern Ireland, situated at 30 Bank Street in the city centre. Built in 1720, it is one of the oldest pubs of Belfast. It sits in what used to be an alley way off Royal Avenue, but a few buildings were knocked down and now Kellys sits in a square beside Castlecourt, a major Belfast shopping centre.
It provides pub food and traditional music sessions. It remains resolutely old-fashioned, with a vaulted ceiling and elbow-worn bar and is crammed with bric-a-brac. It was a meeting place for Henry Joy McCracken and the United Irishmen when they were planning the 1798 Rising.
The story goes that McCracken hid behind the bar when British soldiers came for him. In September 2004 the pub had a grand re-opening under new management. In 2007 a blue plaque was erected on the site by the Ulster History Circle stating that the Society of United Irishmen met there during the period 1791 to 1798.