Looking for an impressive seaside stroll between two vibrant towns? Look no further than the Bray to Greystones walk in County Wicklow.
Situated on the cusp of South Dublin are two charming coastal towns: Greystones and Bray. Connected by a majestic cliff walk, these destinations are a hive of activity year-round.
Known for its stunning views and rugged scenery, the Bray to Greystones Cliff Walk is the perfect way to enjoy the sunny weather.
So, for those seeking a Sunday adventure or scenic stroll, read on. Here is everything you need to know about the Bray to Greystones walk.
Basic info – the essentials
Route: Bray to Greystones cliff walk
Distance: 17.4 km (10.8 miles) out and back
Start / End Point: Bray, County Wicklow
Difficulty: Easy to moderate trail
Duration: 2.5 to 3.5 hours
Overview – a rugged cliff path with incredible scenery
The Bray to Greystones walk is a popular out-and-back coastal trail that traces the Irish sea along the eastern coastline.
Popular with daytrippers and seaside strollers, this is a moderately trafficked walking trail often tackled as a round-trip. Saying that, walkers can simply work in one direction from A to B and cut the distance by half.
Locals and tourists favour both beautiful towns due to their quaint local charm and proximity to Dublin city centre.
When to visit – popular year-round
Although the Bray to Greystones walk is popular year-round, summertime sees the highest number of visitors to the area. Other busy times are weekends in spring and autumn.
If you're looking for a quieter time and a more peaceful experience along the trail, we recommend visiting on a mild, sunny day during the workweek.
Due to the nature of the path, it is also advised to visit when weather conditions are dry. Wet weather and heavy rainfall can make the Greystones to Bray Cliff Walk a dangerous undertaking, making extra safety precautions a must..
What to see – plenty of natural beauty
This coastal path is perfect for those who love to lap up beautiful scenery, as you stroll along the captivating coastline overlooking Dublin Bay.
With the sound of crashing waves, the majesty of impressive cliff drops, and the vast expanses of the big blue to keep you company, the Bray to Greystones walk is equally enjoyed as a solo experience or with friends.
Make sure to give yourself ample time to enjoy the cute towns of Bray and Greystones at either end of the walk. Both are bursting with local life, artisan shops, independent cafes, and traditional pubs.
Directions – easy to access
Another one of the key reasons that this cliff walk is so popular is its easy accessibility and central location.
Both seaside towns are along the DART (Dublin Area Rapid Transit) train line and can be accessed from the heart of Dublin city centre in no time.
This also means that you can enjoy a day of adventure along with the Bray to Greystones walk and not have to think about bringing the car.
In addition to this, if you choose to enjoy the walk in one direction, you can simply hop back on the DART at whatever end of the trail you finish at, making it exceptionally accessible as far as cliff walks go!
Where to park – free, paid, and pay and display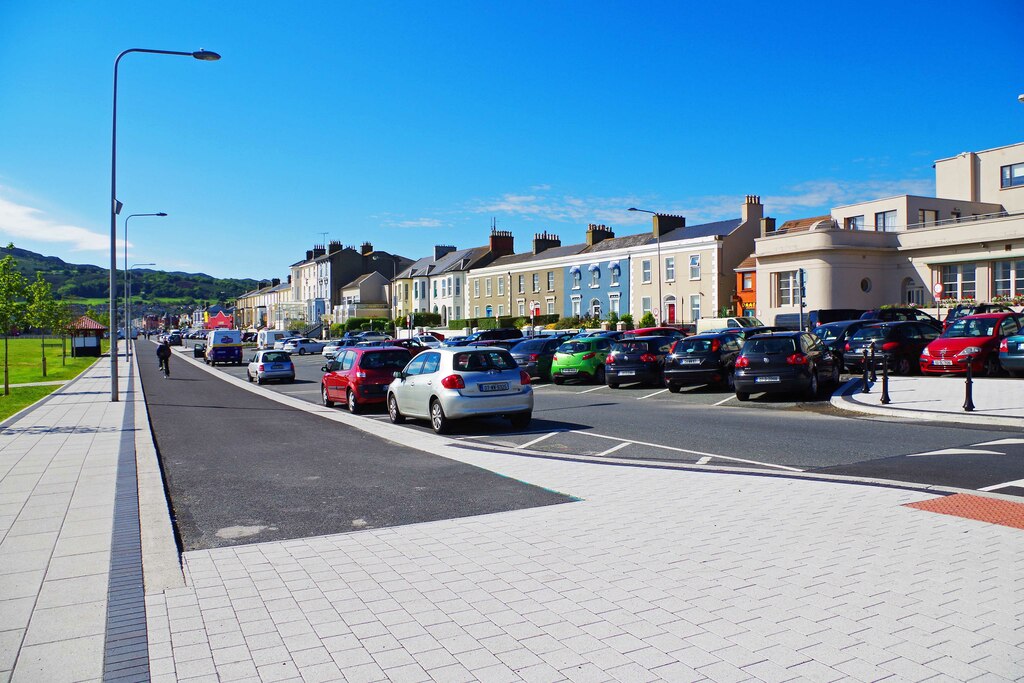 There is free, paid, and 'pay and display' (whereby you need to pay for your parking ticket in advance) parking in both towns.
Always double check before parking your car that you are in a permitted space and that you are aware of the fees involved if any.
Particularly during the summer months, Bray and Greystones can become congested as travellers, both local and international, flock to the seaside.
Given this, we always recommend using the public transportation links which are fantastic in the area.
Things to know – safety first
The Greystones to Bray walk is wild and dynamic, with incredibly beautiful views and coastal vistas. Given this, please be advised that no barriers are shielding the trail from the sheer cliff face.
Take your time when moving along the paths and wear appropriate footwear. Although people of all ages may easily tackle this track, it would not be suitable for those less able, and children should be supervised at all times.
Entirely exposed, make sure to dress for the elements. A rain jacket, gloves, a hat, and water are all advisable. There are no facilities along the walk, so make sure to bring any essentials with you.
How long is the experience – how much time you will need
Depending on your pace, this out and back cliff walk could be completed in two and a half to three and a half hours.
Note: during the summer, when the crowds are greater, you may have to move at a slower pace along the cliff trail.
Where to eat – fuel for your walk
For coffee and a pastry in Bray, head to Copper + Straw. If you're starting at the other end of the walk, make your way to The Happy Pear for a vegan meal you'll never forget!
If seeking a pub meal and a pint, head to The Harbour Bar in Bray; this was voted the World's Best Bar by the readers of the Lonely Planet in 2010! For those on the flip side, The Hungry Monk in Greystones is a solid shout.
Notable mentions
Bray Head Cliff Walk: For another beautiful walk offering amazing views, we highly recommend the stunning Bray Head Cliff Walk.
Wicklow Mountains: With a fantastic array of walks with something to suit all abilities, the Wicklow Mountains are a hiking lover's dream.
Greystones Beach: For a leisurely and relaxing stroll, head to Greystones Beach, set just in front of the Greystones Train Station.
FAQs about the Greystones to Bray walk
How long is the walk from Greystones to Bray?
In total, the Greystones to Bray cliff walk is 17.4 km (10.8 miles) out and back.
Where does to Greystones to Bray cliff walk start and end?
Typically, people start and finish the walk in the coastal town of Bray.
What do you wear on the Greystones to Bray cliff walk?
Due to the uncertain nature of Irish weather, it is best to wear layers on your walk. Also make sure to bring a rain jacket and sturdy walking shoes.