Westmeath is at the very heart of our country and has much to offer – beautiful lakes, medieval historical roots, and music festivals such as the Body and Soul Festival.
Westmeath is also home to some of the best watering holes in the country, with traditional-style pubs being a key feature of the Midlands County.
Here we have the top five pubs in Westmeath, where the pints are creamy, and the craic is always on tap.
5 – The Dog and Duck, Athlone
The Dog and Duck is a cosy, family-run pub located in the friendly village of Ballykeeran, just outside Athlone.
The pub is warm and welcoming, attracting those both young and old, with a mixture of locals and visitors enjoying the atmosphere night after night.
On a fine Summers day you will spot patrons relaxing at the tables scattered outside the pub, pints in hand as they soak in the sunshine.
The Dog and Duck also offers pool tables, weekend music, and an adjoined seasonal café called the Low Road which boasts a simple but tasty menu to complement your drinks.
The Dog and Duck is worth the short spin from Athlone for the chilled atmosphere and the laughs that are sure to ensue.
Address: Ballykeeran, Athlone, Co. Westmeath, Ireland
4 – The Auld Shebeen, Moate
The town of Moate has no shortage of pubs, but The Auld Shebeen far exceeds the rest.
The venue has been given quite the makeover in recent years and has become one of the top venues in the Midlands for a pint and a bite.
The restaurant is run by head chef Mac Joseph Karthy, and his team have mastered the art of pub grub. Think Cajun chicken burgers, juicy steaks, and dangerously good home-cut fries.
The drinks in the Auld Shebeen meet the high standards set by the food – they have a large range of wines, beers, and delicious cocktails.
If you happen to be in Moate on a Saturday night and are looking for a bit of devilment then look no further than Echo nightclub, an extension of The Auld Shebeen.
Once a bit of a grubby club where many a teenager had their first night on the town, Echo is now a quality night club open until 2 every Saturday night.
Address: Main St, Cartronkeel, Moate, Co. Westmeath, Ireland
3 – Druid's Chair, Mullingar
Druid's chair deserves a place on our list for its' extensive list of alcohols alone.
Gin, not your thing? Their pints of Guinness are top notch, and they have a fantastic range of ciders, having recently introduced a vegan and gluten-free brand to the family.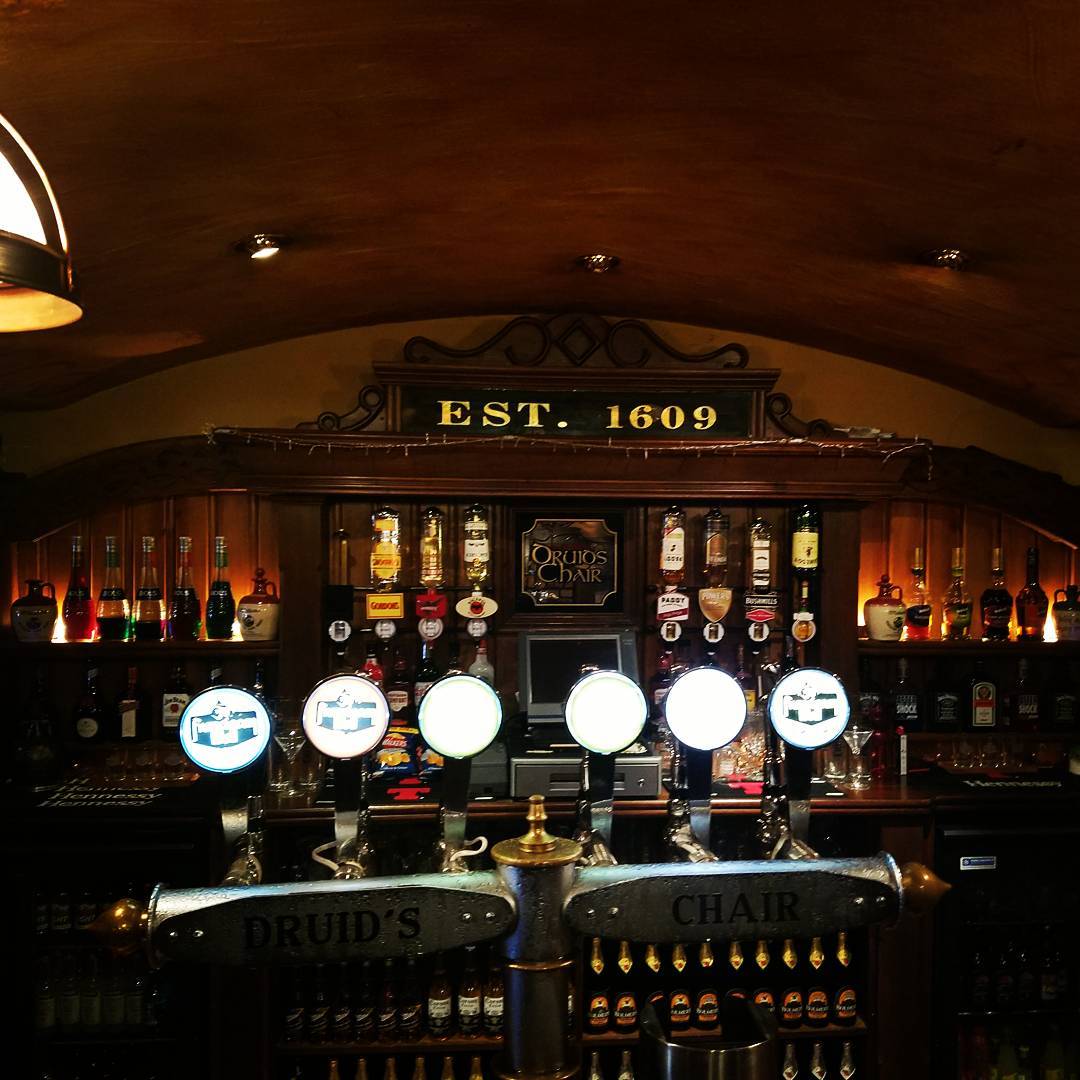 If gin is your poison then you've come to the right place – Druid's stocks no less than 11 gins, and staff are happy to help you pick the best one for your palette.
Drinks aside, Druid's is also the perfect place to grab a bite to eat, with food served until 9pm. Sports fan? Druid's have you covered, with all major sporting events shown across two separate screens.
Address: 8 Pearse St, Bellview, Mullingar, Co. Westmeath, Ireland
2 – Danny Byrnes, Mullingar
No bar crawl of Mullingar would be complete without a visit to Danny Byrnes!
Here they place a huge emphasis on music with live bands entertaining the crowds during the week and DJs performing to the masses on the weekend.
A popular venue amongst college students, many a story has unfolded within the walls of Danny Byrnes, where an exciting night out is always guaranteed.
During the day Danny Byrnes is ideal for a cosy catch up over one of their fabulous cocktails, and their delectable carvery is an absolute must after a wild night. Danny Byrnes is an all-around winner, and one of the best pubs in the Midlands!
Address: 27 Pearse St, Bellview, Mullingar, Co. Westmeath, N91 YT32, Ireland
1 – Sean's Bar, Athlone
Sean's has been crowned the winner in many a countdown, and the Athlone establishment certainly deserves the recognition!
The oldest bar in Ireland, Sean's Bar is the pride and joy of Athlone Town, rich with history and stories.
There is no finer place to be in the town than Sean's beer garden on a hot Summer day, watching boats crawl lazily down the river as you whittle away the hours with good drinks and better company.
Winter months are just as atmospheric in Sean's Bar with trad musicians playing in the corner, the fire blazing, and people sharing stories while they shelter from the cold outside.
Sean's is also an excellent venue for live music in the Midlands with music seven nights a week.
Mondays to Wednesdays are more intimate gigs, with a focus on trad music and fireside sessions.
Thursdays through to Sunday are a livelier affair, with DJs and live bands entertaining the people of Athlone.
Address: 13 Main St, Athlone, Co. Westmeath, Ireland
Get featured on Ireland Before You Die
Do you want to get your Irish business more online exposure? Especially to those interested in travelling the best places in Ireland? Then why not get a dedicated feature on Ireland Before You Die. Find out more 
here.