Although small, the island of Ireland has some killer spots to surf at. All of this is clustered mainly along the West coast of Ireland which runs alongside the wild Atlantic Ocean, causing swells and surf to rival any other top spots in the world.
Although the sun may not be shining a good 80% of the time (that's our guess, at least), the waves are second to none. And where better to learn how to ride a wave than off the coast of the stunning Emerald Isle? Check out these top five beaches for beginner surfing in Ireland.
5. Strandhill, Co. Sligo
If you're in search of a non-intimidating environment to take on your first waves, or to improve your newfound skills, Strandhill in County Sligo is the beach for you!
Nestled neatly with top-notch views of the neighbouring Knocknarea and Benbulben mountains, this secluded spot offers not only ideal conditions for newbies but also an utterly relaxed community vibe that is used to beginners dominating the waves (so, you won't have to worry about looking silly).
With consistent waves year round and gentle conditions that encourage new surfers to work on their paddle out with minimal difficulty, this is the perfect spot to polish your skills.
4. Tullan Strand, Co. Donegal
Tullan Strand is the ideal surfing beach in County Donegal to check out when you're with a crew of friends with varied surf experience. Depending on your level you'll be able to find a spot along this stretch of stand to challenge you, whether that be slow and temperate swells to more powerful waves.
Set in the Donegal town of Bundoran in north-west Ireland. It is an ideal spot for a summer weekend away, or surf and camping trip, with small-town vibes and a great community feel.
The beach itself is relaxed and inviting with a plethora of surf schools on hand to help you refine your skills. Excellent "surf and stay" options like TurfnSurf or Bundoran Surf Co. offer lodging and lessons in equal measure, and you're bound to make some new friends along the way, too.
3. Inch Strand, Co. Kerry
This spot has got to be one of the hottest surfing beaches in the whole of County Kerry, if not the whole of Ireland. With golden sand stretching nearly five kilometres along the Atlantic coast, this beach is a favourite to many local and tourist surfers, who are sure to find the perfect swell along the horizon.
Only 20 minutes from the electric town of Dingle, this is undoubtedly going to be one of the most lively places to take a surf trip in all of Ireland. We vote you check out Kingdom Waves Surf School, which has set up shop right on the sand if you feel a few lessons is what you're after. Simultaneously, these guys rent solid equipment for you to take on the waves yourself!
2. Whiterocks, Co. Antrim
This stunning "Blue Flag" beach (which means a beach which has been certified to meet stringent standards across quality, safety, environmental education, services and information) is a popular destination for locals and tourists alike.
Offering consistent swells and breaks throughout the year, this is a beach which caters for both beginners and advanced surfers in equal measure. With stunning limestone cliffs and golden sand meeting the wild Atlantic Ocean, this picturesque spot is the ideal place to tame some waves.
There are a few surf schools in the locale, but we suggest you try out the award-winning Troggs Surf School which offer a stunning selection of surf packages from one-off classes to kids camps, corporate parties to hens and stags, and even surf 'n' spa days!
1. Inchydoney, Co West Cork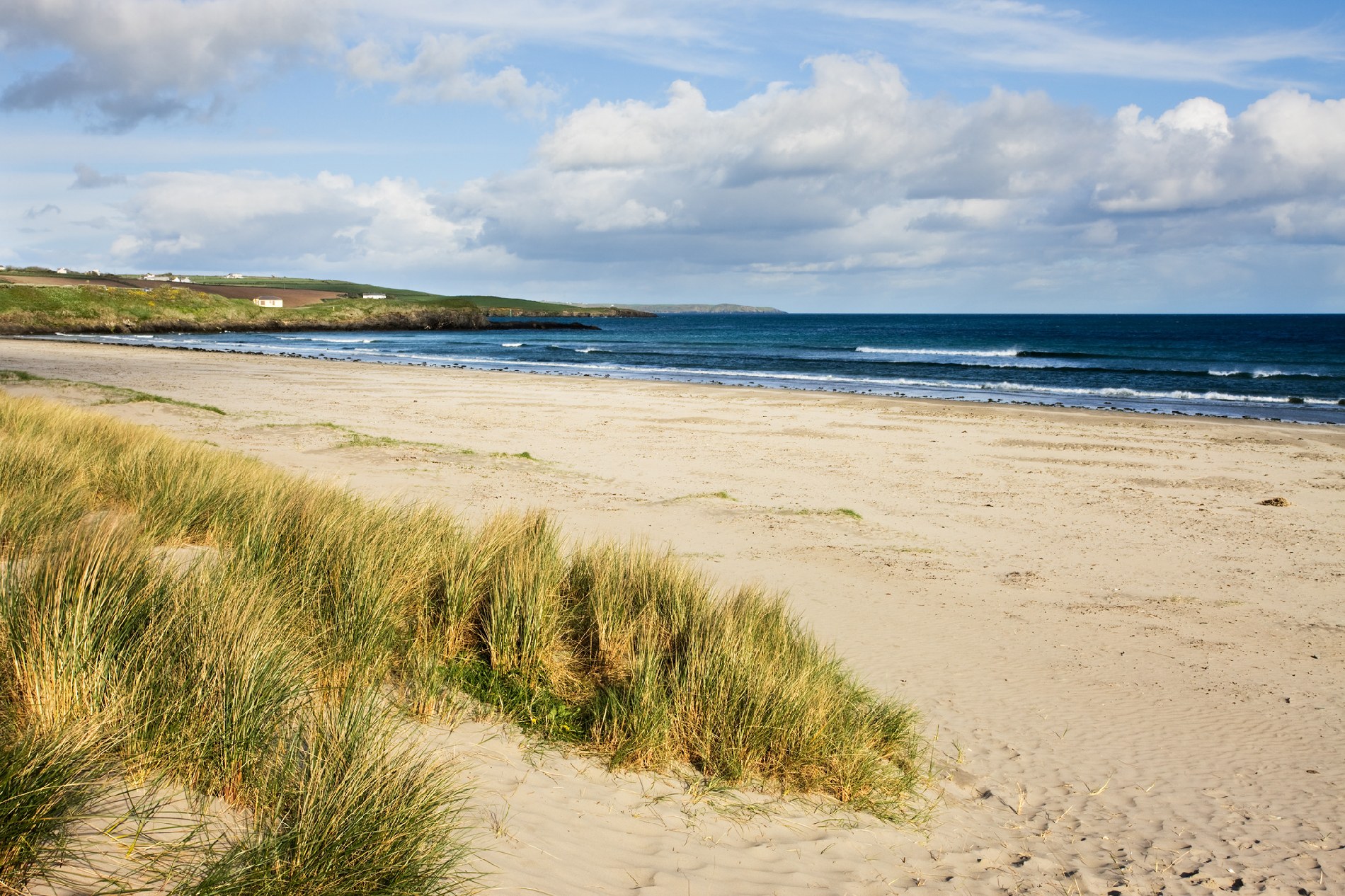 If you feel like boning up on your surf skills in pure paradise, check out Inchydoney in West Cork. This island beach has two connections to the mainland by causeways and offers visitors a real feeling of escape from the madness of everyday life.
Utterly tranquil (except in the height of summer on a sunny day!), this stretch of sand in West Cork offers surfers of all abilities the chance to take on the ocean waves.
Inchydoney Surf School is the longest running surf school in County Cork and the best in our books. Not only do they offer group and solo lessons, but also summer camps and equipment hire for anyone of any level keen to get wet.