Ah, Kerry. The Kingdom. County of mountains, lakes, spectacular ocean views, fantastic scenic walks.
There's a lot to take in on a visit to the tourism capital of Munster, and with all the hiking, mountain climbing, and dolphin chasing you're likely to do on your trip, it's important to stay well-nourished.
So let's take a look at the top five spots in Kerry for gaining a stone – that you'll walk off practically straight away on a bracing stroll of Inch strand, of course!
5. The Real Burger Co, Killorglin
Where would we be in 2019 without burgers? Back in the day, the humble burger was a greasy treat that signalled the end of a long night of revelry, as we queued in our droves for fast food vans parked outside nightclubs.
Not any more. Over the last decade, burgers have become gourmet. An Instagram favourite, restaurants across Ireland have been in competition to create the most decadent, calorie-laden and, of course, picture-perfect burger, and it's few places that don't have at least one on their menu.
At the Real Burger Co., you will find only burgers. Situated in Killorglin, a charming town along the Wild Atlantic Way famous for its yearly Puck Fair, Real Burger is true to its name. Voted the purveyors of one of Ireland's Top 18 burgers, all their beef comes from their own farm in Killorglin, which apparently isn't just home to goats.
Don't worry, Puck fans – there are no goats in sight on the menu, although you can try a 'King Puck', the restaurant's signature double beef burger with cheese, bacon and homemade slaw. Don't mind if we do.
Address: Langford St, Castleconway, Killorglin, Co. Kerry, Ireland

4. Quinlans Seafood Bar, Tralee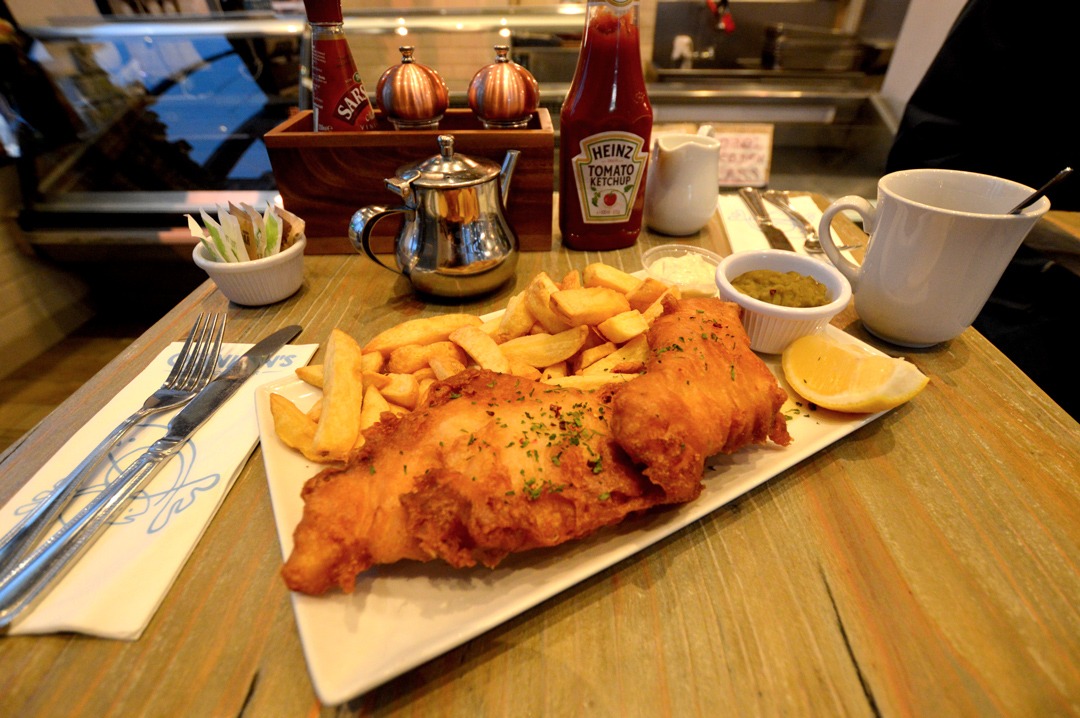 A trip to Kerry is not complete without sampling some fresh seafood straight from the Atlantic. Quinlans Seafood Bar in bustling Tralee offers a guarantee of freshness, with their produce delivered daily from their own boats.
Chunky chips, too, are chopped from potatoes peeled each day – and needless to say, there is no shortage of potatoes in Kerry, so you can expect a generous portion!
To add to the fun, patrons can select their fish themselves at the bar, where the chef will then cook it to order.
We presume that the recipe for Quinlans' special homemade batter is a closely guarded secret, but we're assured it's created to bring out the very best from the hake, cod, haddock or plaice that's fried in it.
For the health conscious, fish can be pan-fried in olive oil or salad served instead of chips. No thanks.
Address: 1 The Mall, Balloonagh, Tralee, Co. Kerry, Ireland
3. The Oratory Gourmet Pizza and Wine Bar, Cahersiveen
If Ireland and Italy have anything in common, it is surely their dedication to religion rather than their delicious pizzas.
But the Oratory at Cahersiveen, the sleepy town along the Ring of Kerry best known as the birth place of renowned Irish politician Daniel O'Connell, has both – a gourmet pizzeria in the unconventional setting of an old church. And if that's not blasphemous enough, there's even a wine bar!
From The Blue Peach – a pizza studded with Cashel Blue Cheese and, you guessed it, peaches – to the Tikka – an Indian-inspired spicy adventure for the tastebuds – and the Crab – showcasing the town's local shellfish alongside a mixture of mozzarella and mature Irish cheddar – there's something on the Oratory's menu for even the most adventurous palate.
And it's not just outlandish flavours on offer – the classic Napoli and Margherita are some of the best this far north-west of the Mediterranean.
Pair your pizza with a bottle of the finest Italian wine, and you'll find yourself experiencing the kind of spiritual awakening that we presume the church was built for.
Address: W Main St, Cahersiveen, Co. Kerry, Ireland
2. Gemma's Hot Dogs, Puck Fair, Killorglin

We're back in Killorglin for a seasonal treat. Whilst not available all year round, Gemma's Hot Dogs are on sale during the town's three busiest days of the year – 10th, 11th and 12th August, when the Puck Fair is in full swing.
If you're not in Killorglin during those three days, you are missing out not just on all the fun of a wild goat being captured from the Kerry mountains and paraded through the town before being crowned King (no, really), but also Gemma's delicious hot dogs.
Each year, Gemma transforms her hair salon into the finest food stall of the fair. Name a topping or a sauce, and chances are she will have it, and lots more besides.
A jewel in the crown of a festival not lacking in food options, Gemma's will have you coming back to Killorglin every year not in search of a wild goat, but rather the delicious hot dogs – the true kings of the fair!
1. The Porterhouse Gastropub, Killarney

And finally, something completely different. One of Ireland's most popular tourist destinations, there is absolutely no shortage of delicious eateries in Killarney. But if you're looking to pile on the pounds after a day of boating on the Lakes, then look no further than the Porterhouse.
A hugely popular family-run business that sources all its ingredients locally, the Porterhouse prides itself on being "Killarney's Original Gastropub" – no small claim in a town full of them.
If you're feeling particularly hungry – and you're on holiday, so of course you are – start with the stuffed pesto portabello mushrooms, perhaps sharing (or not!) a portion of crispy chilli and barbeque chicken wings.
For mains, it's hard to say no to the fillet steak – or, if you fancy more carbs, the steak sandwich. Choose between garlic butter and Jameson peppercorn sauce, and don't forget the sides – deep-fried onion rings, home cut garlic, rosemary and parmesan chips, and even patatas bravas soaked in salsa and a mayo dip.
But if you don't like the sound of all that meat and dairy, fear not, because the Porterhouse offers vegan options too, including a homemade nut roast and a vegan sticky toffee date pudding for dessert.
Not forgetting you're in a pub, why not finish your evening in Killarney with a night cap – Porterhouse serves a range of Irish whiskeys, including a native Dingle Single Malt.
Perhaps it's this Single Malt that keeps Fungi the dolphin himself so full of life after all these years. We'll never know, but it's surely worth a try!
Address: 26 Plunkett St, Killarney, Co. Kerry, Ireland
By Margaret Donnellan