Known fondly as "The Kingdom", County Kerry is one of the most picturesque locations in the country and is cherished by the citizens of Ireland and those from further afield.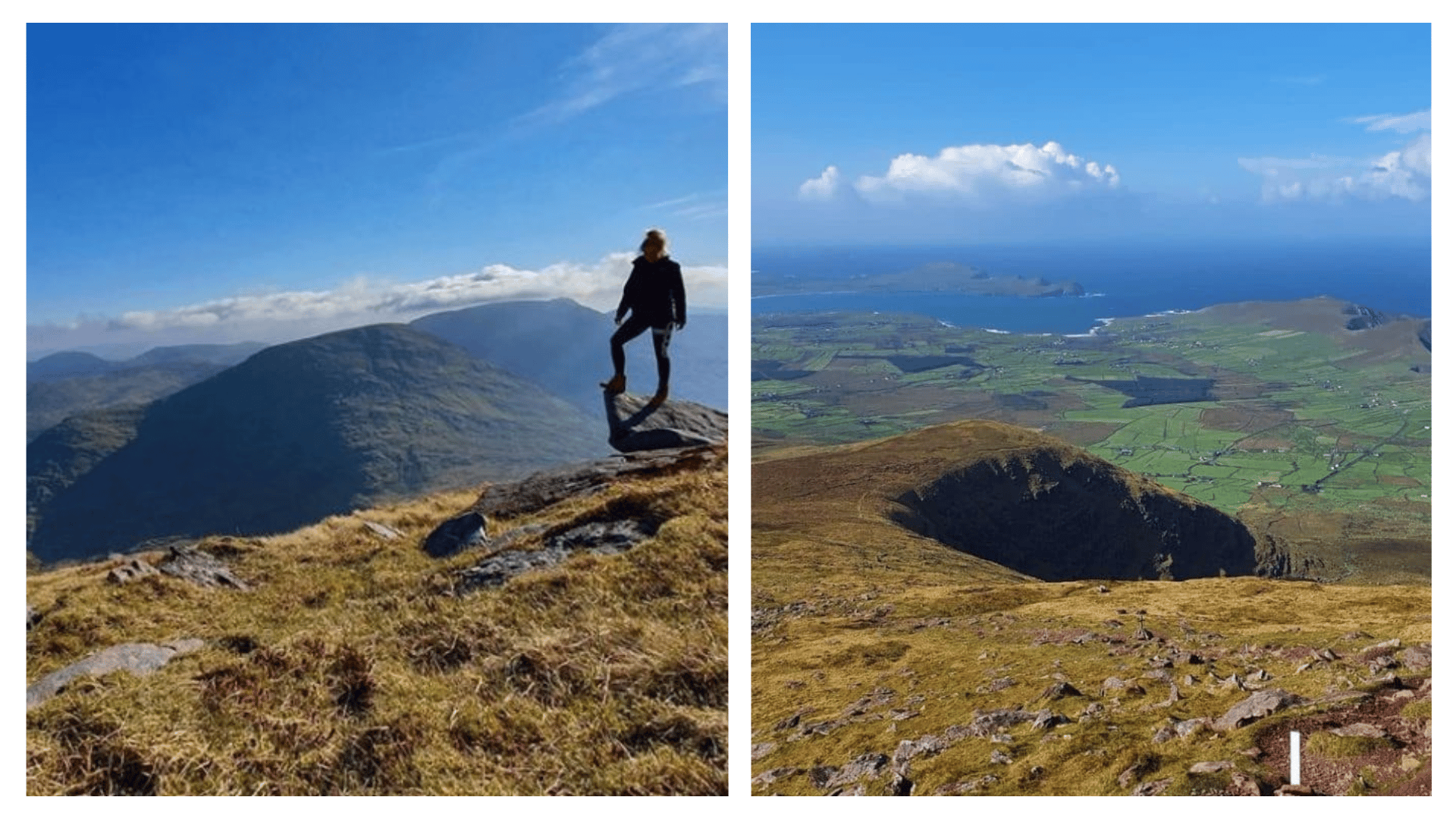 From vast national parks to blue-flag beaches, it is easy to understand the county's prestigious name.
One of the most appealing aspects of Kerry is its plethora of hiking destinations, ranging from moderately easy to immensely challenging.
Here we count down the top five hikes in Kerry – so lace up those hiking boots and prepare for an adventure.
5. Lomanagh Loop − a great start to hiking
One of the more manageable hikes on our list, the Lomanagh Loop is perfect for those just starting to fall in love with hiking. Most of the walk is compromised of tarmac roads and forest trails, meaning the terrain is a more simplistic one.
Though it may be lacking in difficulty compared to our other trails, the Lomanagh Loop is undoubtedly just as beautiful.
Starting in Sneem, it offers views of the surrounding woodlands, farmlands, and picture-perfect Kerry countryside.
The hike can easily be completed in an afternoon, and we thoroughly recommend heading there to whittle away the hours on a quiet Sunday afternoon.
The Loop is particularly lovely on a crisp Autumn day, as the countryside is draped in autumnal colours, and the gusts of wind bring a rosy hue to the faces of hikers passing by.
Level: Easy
Duration: Approx 3 ½ hours
Length: 10 km (6.2 miles)
Address: Lomanagh, An Lománach, Letter East, Co. Kerry, Ireland
4. The Gap of Dunloe − one of the best hikes in Kerry
The famed Gap of Dunloe is a narrow mountain pass nestled snugly between the MacGillycuddy Reeks and the Purple Mountain. A river called the river Loe snakes its way down from the Gap and indeed adds to the hiking experience.
The hiking trail is narrow and winding and will make you feel like you are on an adventure far from the hectic business of everyday life. During your hike, make sure to drink in the natural beauty that surrounds you.
You will see the Black Valley, several flowing lakes, and the old-time wishing bridge. Locals will tell you that wishes made on this bridge are guaranteed to come true, so why not buy into an old wives' tale just for the sake of it?
The Gap of Dunloe is difficult at times, but if the weather is on your side, it makes for an enjoyable day trip.
The Gap of Dunloe makes for a great wild camping spot, but Kerry is also home to many great camping and caravan parks to get close to nature.
Level: Moderate
Duration: 3 ½ to 4 hours
Length: 11 km (6.8 miles)
Address: Dunloe Upper, Co. Kerry, Ireland
3. Mount Brandon − an excellent choice
Mount Brandon is an excellent choice for intermediate hikers, as it will push your boundaries while still being manageable and very enjoyable. This mountain walk is part of the Wild Atlantic Way and offers incredible views of Dingle Peninsula from its peak.
The hiking trail is rich in history and tradition – the Marian Grotto is one of the most memorable features of the hike and is a monument where hikers have long made the pilgrimage to seek relief from ill health.
Mount Brandon incorporates jaw-dropping views of a glacial valley, where hikers will be treated to views of lakes, waterfalls and sheer cliff faces.
Views are plentiful at all points on the trail, and some of the most mesmerising views include sights such as the Blasket Islands and even the Aran Islands on a clear day.
Level: Moderate
Duration: 5 hours
Length: 10 km (6.2 miles)
Address: Glanshanacuirp, Co. Kerry, Ireland
2. Lough Googh Loop Walk − one of the hikes in Kerry to remember
One of the more strenuous hikes on our countdown, the Lough Googh Loop Walk is undoubtedly one for the more experienced hiker.
Hiking this mountain will allow you to take in parts of Killarney National Park, which in itself is one of the most appealing attractions in Ireland.
The Lough Googh Loop Walk is not one for the faint-hearted, and make sure you have a good head for heights before beginning your ascent.
One section, perhaps the most rewarding, is a very exposed ridge which passes two more of Kerry's many mountains, the Big Gun and Cruach Mor.
The views here are spectacular and will more than make up for the jarring exposed ridge and exposed edges. If you're in the mood to push yourself, the Lough Googh Loop Walk is right up your street!
Level: Difficult
Duration: 5 hours
Length: 10 km (6.2 miles)
Address: Derrycarna, Co. Kerry, Ireland
1. Carrauntoohil − incredible views of Lough Lochtar and Coomloughra Lough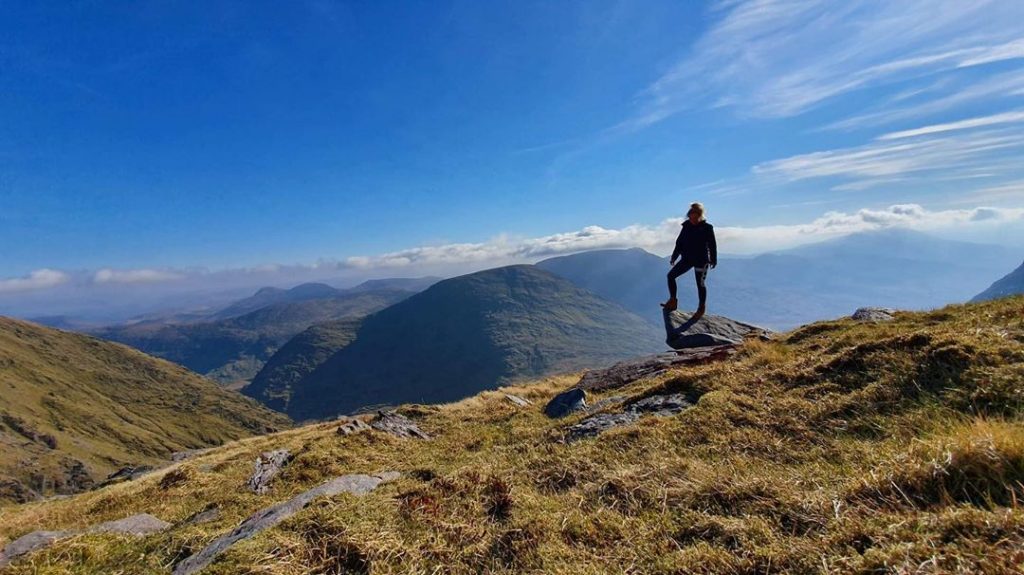 Carrauntoohil is Ireland's tallest and most challenging peak, posing the perfect challenge for experienced hikers.
There are several ways to approach the mountain, but the ominously-named Devil's Ladder is probably the most popular route.
The challenging but unforgettable hike is preceded by Hag's Glen, a vast valley surrounded by beautiful lakes.
Once you actually begin your hike along the Devil's Ladder, your trek becomes quite challenging, a challenge that will be embraced by avid hikers.
The view from the top of Carrauntoohill is one you can never forget, and those who have conquered the peak will reap the reward of lakeside, seaside, and mountain edge views.
One of Ireland's most beautiful mountains, it's certainly one to check out.
Level: Difficult
Duration: 6 hours
Length: 12 km (7.4 miles)
Address: Coomcallee, Co. Kerry, Ireland
Other notable mentions
Torc Waterfall: Walk from Muckross House to Torc Waterfall for a gentle 6.2 km (3.9 miles) hike that is suitable for all fitness levels and ages. You'll get to take in Lough Leane and Muckross Lake at a beautiful vantage point. This is one of the best walks along the Ring of Kerry.
Skellig Michael: You can't visit Kerry without heading out to the beautiful island of Skellig Michael. Visitors take on 600 steps to take in the stunning surroundings of this Star Wars filming location. Bear in mind that you require a decent level of fitness for this climb.
Rossbeigh Beach trail: Located in Dingle Bay, it's not so much a hike but a stunning coastal walk to take in amazing views and breathe in the Irish sea and air.
FAQs about the best hikes in Kerry
Are there many hiking trails in Killarney National Park?
There are 39 fantastic hiking trails in Killarney National Park, so you can cater to your level and ability.
What is the longest trail in County Kerry?
The longest trail in County Kerry is The Kerry Way. This trail is estimated to be 215 km (133.6 miles) long.
What is the most difficult hiking trail in Kerry?
The most difficult trail has to be the Devil's Ladder Loop on Carrauntoohill Mountain. It's worth it for the breathtaking views.