While on a recent trip down in Kerry, we fancied a good old fashioned fish and chip feast. After having a conversation with some locals, we were told that Quinlan's was our best bet.
Located in a historic building at 1 The Mall, Quinlan is right in the heart of Tralee. Since beginning in 1960 in Fish Processing and Fish Shops, Quinlan's Seafood Bar's has grown to three sites in Killarney, Tralee and Cork.
Quinlan's roots are firmly in County Kerry on the south-west coast of Ireland. They pride themselves on sustainability sourced, fresh and delicious seafood.
Over the years, Quinlan's has won several awards including The Great Taste Awards – Two Star Gold winner for their Wild Irish Smoked Salmon and their Organic Irish Smoked Salmon.
The Atmosphere
When you walk inside, you will be pleasantly surprised as it's not like a traditional fish shop or chipper.
Probably the most astounding thing is that this fish shop does not look, smell or feel like a chipper or a fish shop.
It is modern, clean and well-designed. It has excellent lighting, a modern feel and is cosy enough to make you feel right at home.
Quinlan's has the unique feature of allowing customers to select fresh fish from the fish counter and have it cooked at the Seafood Bar.
However, we visited during the evening when the fish counter was closed, but we will have to have to come back during the day and experience this!
The Menu
The majority of the fish, shellfish and smoked fish served in Quinlan's comes directly from Kerry Fishermen.
They offer a great variety of fresh local fish dishes, from native Salmon, Crab, Prawns, Hake, Lemon Sole, Plaice, Haddock and daily specials.
Menu items here include the Shrimp Sandwich, Homemade Fish Cakes, Fan Fried Wild Salmon and several other tasty dishes including Traditional Beer Battered Fish & Chips.
For those who want to enjoy a healthy dinner, they serve a salad in place of the chips with all meals, and they offer the option to have the fresh fish pan-fried in olive oil, instead of batter.
The chips here are made from fresh potatoes, freshly peeled and chipped each day.
What we had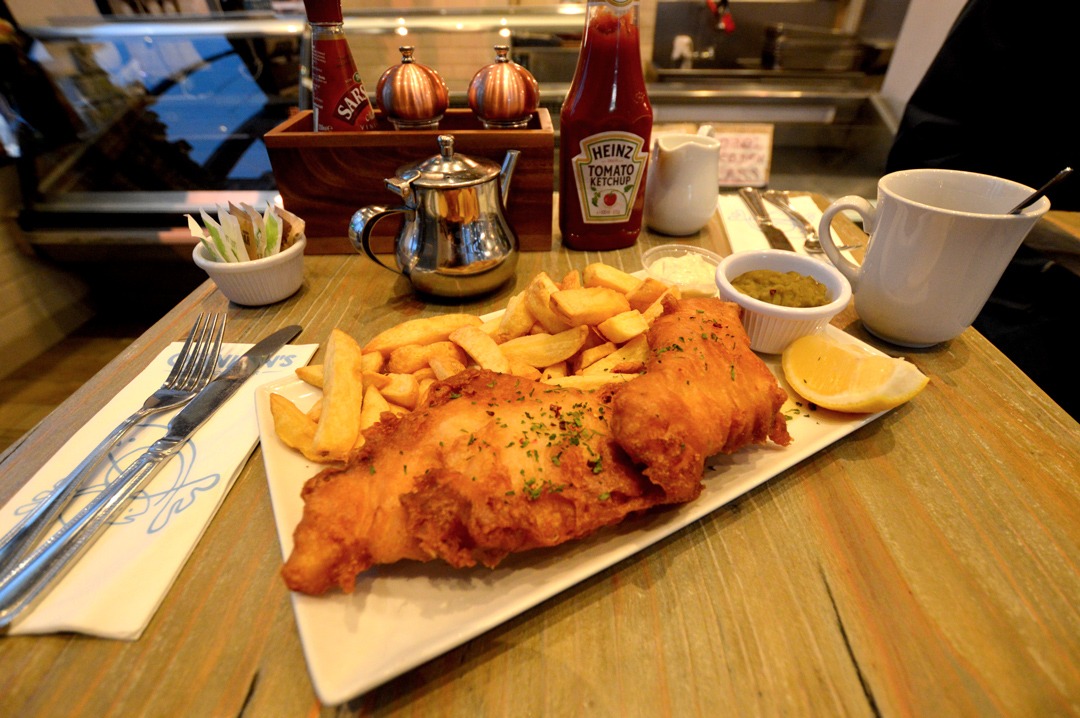 We took our time looking at the menu as there are so many options. But after much deliberation, we went with what we came for and had the Meal Deal, The Beer Battered Cod & Chips with Peas. We also ordered a pot of tea to wash it down.
How was it?
The fish was firm and flaky. It was delicious, free of bones, not too oily and white in colour. The batter which surrounded the fish was crispy and even-coloured. It covered the whole fish and wasn't too greasy.
However, there were some negatives. The batter was too crispy and, at the tail end of the fish, there was a large amount of crispy batter which didn't cover any fish which we didn't eat.
The chips were perfect, slightly crispy on the outside, fluffy on the inside and cooked right through.
The Mushy Peas had a very dark green colour, darker than we would expect but they were delicious. They could have been slightly hotter though.
As for the portion size, it was massive! It can easily satisfy two people. If you are hungry and have a big appetite, it is a perfect size. If you aren't, you might find there is a lot left over.
The Damage
For the sit-in Meal deal (cod, fish chips and peas), it came to € 14.95. The pot of tea came to €1.95.
Quite expensive for a fish and chip meal but we were satisfied with the food, service and atmosphere, so we don't have any complaints.
The Staff
According to their website, Quinlan's pride themselves on a warm welcome and friendly service, whether you are here to enjoy a quick snack, lunch with friends or a seafood feast for that special occasion.
We have to say, on our visit the staff were friendly and excellent in helping us make our order. The tea was brought to the table just before our meal, and there wasn't a long wait on the food.
Neither of the staff checked back to see if we or any other customers needed anything. For € 14.95 a meal, this really should be a minimum.
However, we're not sure whether this is much of an issue because we're not sure whether Quinlan's is a chipper, fish shop or a restaurant. It sort of does all three.
At the very least, it's a high-end chipper. And, if that's the case, then you can't expect staff to go over the top.
But if they did check back to each table to see how the customers were getting on, it would ensure their service was exceptional.
Overall
Quinlan's Seafood Bar in Tralee offers customers a range of fresh fish, sit-in meals, snacks and takeaways. If you are sitting in, the atmosphere is excellent, the quality of the food is excellent, and the staff are helpful.
So, when you are in Tralee and have a craving for fish and chips, this is the place to go. You won't be disappointed.