The ultimate list of things to do and see in beautiful Donegal
Ah, Donegal, known for its sand dunes, wide stretches of ocean-scape, local flavour and quaint villages. It has all the charm of the island spread out in one of the biggest counties.
Many from the island consider this a top holiday destination and who'd blame them? What with its sights and relaxing atmosphere, Donegal is a feast for the senses.
If you've got a few days to explore head to toe of this county then we have exactly what you need, the Donegal bucket list. Each stop on this all-stops tour is catered to experiencing the county at its best.
10. Traverse the endless beaches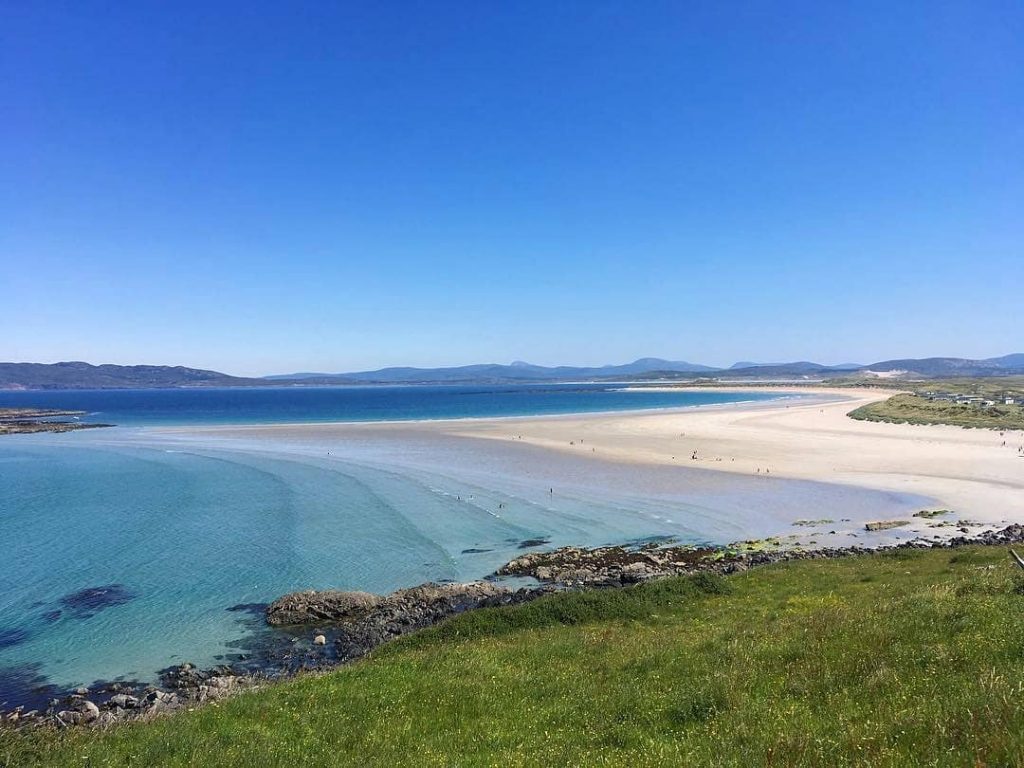 Life's a beach in Donegal! In fact, Donegal is made up of beaches with almost too many to count.
One in particular worth visiting is the Narin/Poortnoo beach, a spectacular stretch of golden sand ready to be walked or run or just relaxed upon.
If you travel along the Atlantic Drive you're sure to come across stunning beaches and coves that aren't even on the map. We hope you brought your sunnies and sunscreen for these beaches are some of the greatest you'll come across on our island.
9. Yell "I'm king of the world" at Malin Head
Malin Head is the most northern point in the whole of Ireland. It extends out to sea and opens up the coastline into a seemingly endless ocean that meets the sky in an epic horizon.
Malin Head is sure to take your breath away with its views. The spot has become a part of cinema history too as the Millennium Falcon has touched down on the tip of the shore.
Our top tip for Malin Head, grab an ice-cream from the local Glen House Ice-cream parlour and visit the spot at sunset to lick up some spectacular views and tastes – one of the best things to do in Donegal, no doubt.
8. Grab a pint in Sibin Ceoil (The Singing Pub)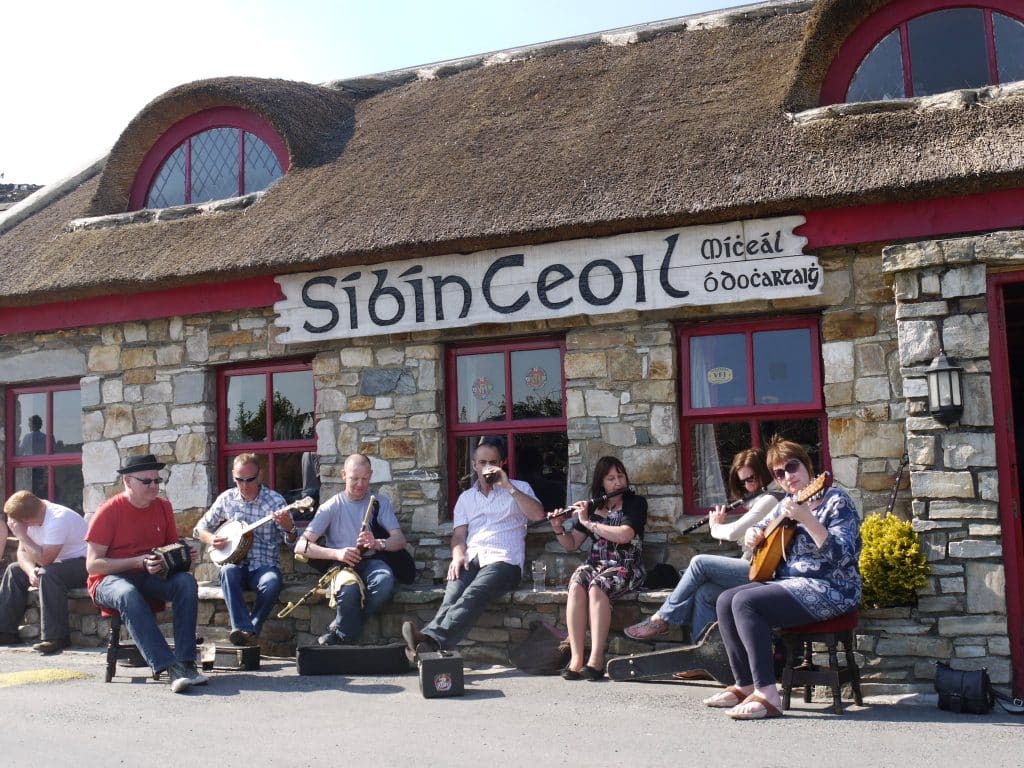 Situated on the Atlantic Drive you'll find the Sibin Ceoil, or The Singing Pub, a charming pub complete with a thatched roof and traditional music.
Be sure to stop along the beautiful coastal drive and grab a pint and sing along with the trad band playing. It's a great way to get a taste for the craic Donegal is famous for.
Address: Mevagh, Co. Donegal, Ireland
7. Lose your breath at Glenveagh National Park
I'm not joking when I say Glenveagh National Park will take your breath away. Situated in the middle of the county, this expansive area of forestry, lakes, mountains, and views is nothing short of paradise.
If walking the forest trails and trekking the mountains isn't up to your taste there are also guided tours of the Glenveagh Castle, a beautiful gothic structure placed right next to an expansive lake. Bring your inhaler, you're gonna need it.
6. Try lemon meringue Ice-cream at Little Mamma's
Little Mamma's has been a staple of Milltown since it opened and it offers one of the most interesting ranges of ice-cream you'll find in the county.
Whether you're a chocolate lover (the black forest gateaux flavour is divine) or more of a caramel person (salted caramel…delicious), you'll be stuck for choice. All their ice-cream is made in-store every day. Our favourite flavour is the lemon meringue, give it a try, you can thank us later.
Address: The diamond, Milltown, Donegal, Ireland
5. Travel back in time at Fanad Head Lighthouse
Idyllically placed on an outcropping of rock, the Fanad Head Lighthouse is a highlight worth seeing. From this viewpoint, first built in 1817, you can search the water for whales, dolphins and other marine life spotted on this part of the coast.
When you've had enough of that take a tour inside the lighthouse and learn the colourful history of the building. And if that's not enough for you why not stay the night in one of the cosy lighthouse keeper's cottages?
Address: Cionn Fhánada, Eara Thíre na Binne, Baile Láir, Letterkenny, Co. Donegal, F92 YC03, Ireland
4. Have the drive of your life on the Wild Atlantic Way
Not only limited to Donegal, the Wild Atlantic Way is a coastal route filled with wonder and spectacular sights. Arguably, though, the greatest section of the journey is in Donegal.
The Wild Atlantic Way is road-tripping at its finest. You traverse the beaches and cliff faces, touch-down in quaint villages and seaside towns and stop to gawk at the magnificence of the countryside. Need I say more? In this case, it's about the journey, not just the destination.
3. Play tourist in Bundoran
Known by locals as 'Fundoran', you can let loose your inner tourist in this stunning seaside town. It has everything you could want.
A great place for families to explore, the town offers a water park, complete with twisting slides, a sea-side funfair, a playground and all the fish and chips you could ask for.
2. Treat your taste buds at The Lemon Tree
Ah, The Lemon Tree! Be sure to stop here on your way through Letterkenny for some delicious food. The Lemon Tree is loved by both locals and tourists and known for its wide array of dishes.
Known for their seasonal-inspired delights, The Lemon Tree has a menu as long as your arm with options catering to all tastes. Recognised as one of the best by food magazines, newspapers, and travel websites, you must visit to see for yourself. No other meal in Donegal will compare.
Address: 32-34, Courtyard Shopping Centre, Lower Main Street, Letterkenny, Co. Donegal, Ireland
1. Arranmore Island
Located off the coast of Donegal is the picturesque island of Arranmore. The island speaks for itself but you won't find a more tranquil, peaceful spot to visit.
Ride an electric bike the length of the island, stop for a drink or two in the lively pubs and lay on the beaches, imagining a life of living as the Arranmore people do.
This is the perfect way to wrap up your trip around Donegal, kick back and enjoy the sea breeze. You deserve it.