Discover one of Ireland's most charming and idyllic beaches with this helpful visitor's guide to Dog's Bay Beach in County Galway.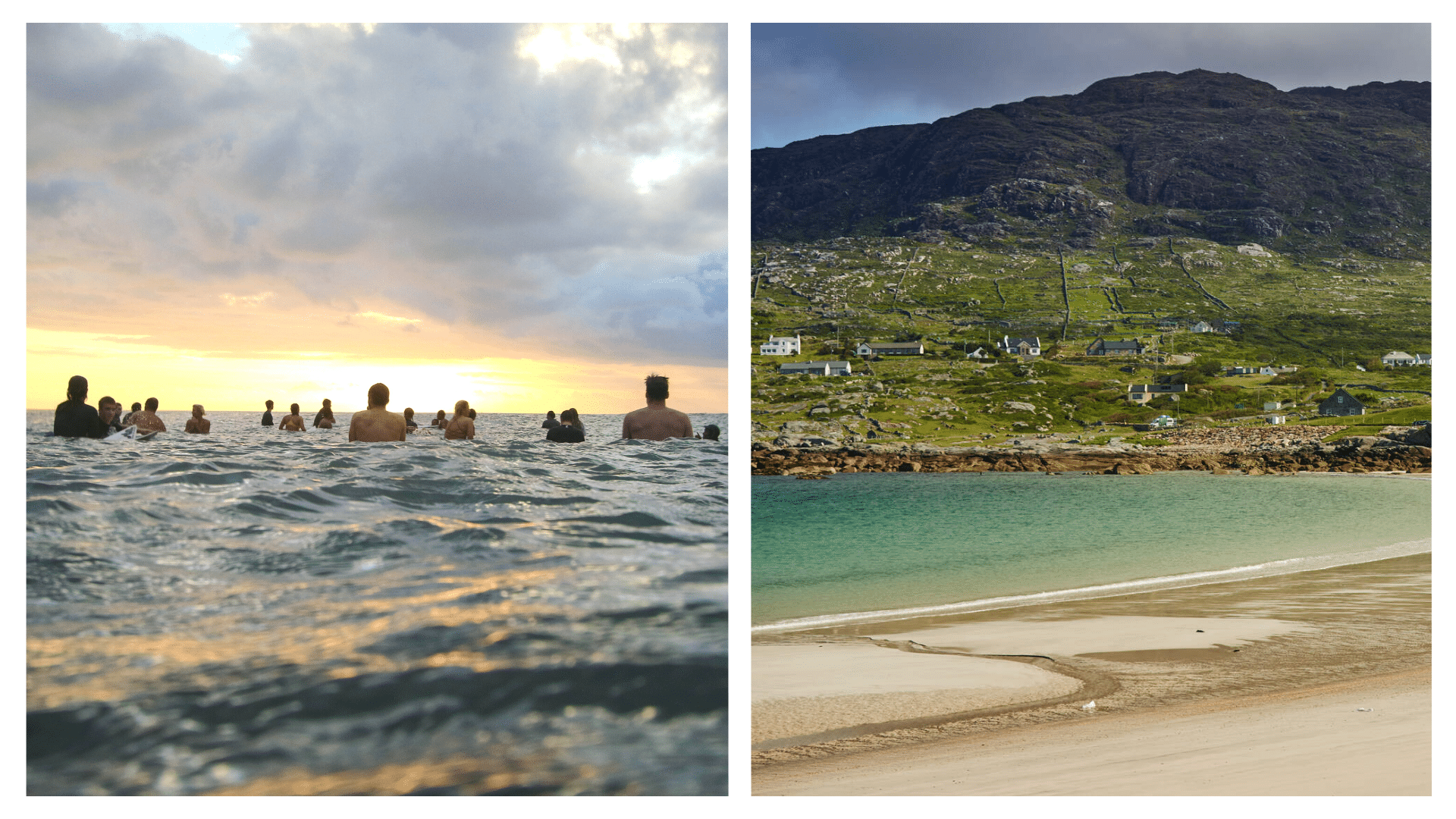 Ask anyone about the best beaches in Ireland, and many will argue that Dog's Bay Beach in County Galway comes close to paradise.
It is not often you imagine Ireland having beaches with fine white sand and crystal-clear water, but that is what you will find when visiting this stunning location along the Wild Atlantic Way.
Like any other natural attraction, planning and knowing what to expect when visiting is always wise.
We are here to guide you with our tips and tricks on swimming, parking, and ultimately enjoying Dog's Bay Beach, so stick around for some helpful info to enhance your Atlantic Ocean dip. 
Ireland Before You Die's top tips for visiting Dog's Bay Beach:
Always check the weather. While this beach is stunning any time of the year, it is best to visit on a sunny day when you can really enjoy the calm, clear waters and picnic onsite.
Arrive early, especially on weekends or public holidays, as parking is limited and the beach can be busy.
Bring food and drink for the day, as there are no onsite cafes or restaurants. However, it is close to Roundstone if you need to get some essentials. 
Gurteen Bay Beach is another gorgeous beach on the other side of the sand spit. Make sure to explore this glorious area. 
Dogs are allowed on Dog's Bay Beach but must be kept on a lead at all times.
Dog's Bay Beach – one of Ireland's most stunning beaches
Located along the world-famous and incredibly scenic Wild Atlantic Way, Dog's Bay Beach is one of Ireland's best beaches, complete with white sand, dunes, and crystal-clear water. So, it's no wonder it's on everyone's list when travelling in this region. 
This glorious paradise is ideal for nature enthusiasts since it is surrounded by natural vegetation, marram grass, and captivating sand dunes. Furthermore, swimmers and families will love this location since it suits everyone. 
This beach is renowned across the nation for its serene atmosphere and captivating beauty, and it is just a stone's throw from the charming Irish town of Roundstone which cannot be missed.
Dog's Bay Beach is characterised by its crescent shape and fine white sand, as well as the dunes which border the beach and are covered with lush vegetation.
The picturesque location is a hit with photographers, those seeking a relaxing nature walk, swimmers, and romantic picnic goers – literally anyone who wants to be blown away by the pure beauty of Irish nature. 
So, here is what you need to know to plan your memorable visit to Dog's Bay Beach in the Connemara region of County Galway. 
RELATED: Ireland Before You Die's top five best beaches in County Galway.
Planning your visit – useful info
Swimming: The calm nature of Dog's Bay Beach makes it an ideal place for swimmers of all levels to enjoy a relaxing dip. Even families can relax here, knowing the crystal-clear waters are calm and shallow. 
The beach is popular for water activities such as kitesurfing and windsurfing, and young kids can enjoy a refreshing dip here under supervision.
Like any beach, it is always advised to take precautions and not venture too far if you are not a confident swimmer, especially since no lifeguards are present here. Still, it is generally regarded as a safe swimming spot for everyone.
Parking: Dog's Bay Beach provides ample parking facilities for visitors. A designated parking area near the beach ensures easy access for those arriving by car.
Visitors are encouraged to follow any parking regulations and be mindful of other beachgoers. Get there before the crowds during the summer months to get a spot. 
Getting there: The beach is located near Roundstone, which is well connected by public transport from other parts of Galway and nearby cities. Note that visitors need to drive (or get a taxi) from Roundstone to Dog's Bay Beach, just 3.5 km (2 miles) away. 
Facilities: There are no camping facilities at Dog's Bay Beach, and wild camping is not tolerated here. However, a nearby camping park in Roundstone offers accommodation options for those looking to stay in the area. 
Campervans can park for the day only, but it is worth noting that spots are suitable for small campervans only.
In terms of other useful facilities, Dog's Bay Beach has restrooms, picnic areas, and walkways. Hospitality establishments like restaurants, bars, and cafes can be found in nearby Roundstone.
Other notable mentions
Be mindful: Dog's Bay Beach is a Special Area of Conservation, so be mindful not to walk in areas that are off limits. Always take rubbish with you, pick up after your dog, and don't light fires. 
Water activities: Kitesurfing, paddle boarding, and snorkelling are popular activities suitable for Dog's Bay Beach. 
Location: Dog's Bay Beach is just 30 minutes from Clifden, an hour and a half from Galway, and ten minutes from Roundstone. It is best reached by car. 
Roads: It is worth noting that roads are very narrow in Connemara. You should drive carefully to Dog's Bay Beach and be mindful of driving a large vehicle. 
Your questions answered about Dog's Bay Beach
If you've still got questions, keep reading! In this section, we answer some of our readers' most frequently asked questions and those that appear most often in online searches.
Is Ireland dog-friendly? 
Yes, Ireland is generally considered a dog-friendly country. Many accommodations, parks, beaches, and outdoor areas welcome dogs. You will also find that people in Ireland are often friendly towards dogs.
LEARN MORE: Our guide to the best dog-friendly hotels in Ireland.
Are there swimmable beaches in Ireland?
The country is known for its beautiful beaches, some of which offer excellent conditions for swimming. However, it is always wise to keep an eye on safety conditions and warnings. 
RELATED READ: The IB4UD guide to the best wild sea swimming spots in Ireland.
Which beach is best for kids in Galway?
Located just a short distance from Galway city centre, Salthill Beach offers a long stretch of sandy shoreline, ideal for families with children.
MORE ON THIS: Ireland Before You Die's guide to things to do with kids in Galway.
Whether you are a nature lover, a family seeking a fun day out, or a beach enthusiast looking for a tranquil escape, Dog's Bay Beach has something for everyone.