With 32 counties to choose from and endless possibilities for walkers of all levels, here's our handy list of the 32 best hikes and walks in all of Ireland.
There is an abundance of leisurely walking trails, sweat-inducing hikes, and calming coastal strolls available to visitors all across this stunning isle. Without a doubt, the best way to fully appreciate Ireland's natural beauty is on foot.
There are 32 counties to choose from and endless possibilities for walkers of all levels, it's challenging to know where to start. We've made it easy for you and have put together a list of 32 of the best hikes and walks available.
Here are the best hikes and walks in every county of Ireland.
1. Antrim – Rathlin Island Walk
Explore Northern Ireland's only inhabited offshore island and take in the spectacular views of Rathlin's harbour village, lighthouse, and the memorial to those who left the island during the Great Famine period.
Visit in Spring or Summer and be blown away by the puffins and seabirds taking shelter on the cliffs and offshore sea stacks.
Location: Rathlin Island, Ballycastle, United Kingdom
2. Armagh – Slieve Gullion
A popular spot for mountain walkers and the highest peak in charming County Armagh. At its summit, you're greeted by a tranquil lake and two ancient burial cairns, one being the highest surviving passage grave in Ireland!
Location: Slieve Gullion, Newry, BT35 8LN, United Kingdom
3. Carlow – The Barrow Way
Next is one of the finest long-distance hikes in the country and follows the original barge towpath alongside the idyllic River Barrow. This hike is 113 km but can be broken down into stages.
Stage 4 – from Carlow to Bagenalstown – is one of the most attractive stretches along the River Barrow, featuring beautiful bridges, historic mill buildings, crumbling castles, and scenic wooded areas.
Location: Bagenalstown, Co. Carlow
4. Cavan – Deerpark Forest Walk
This 5.5 km circular route can be found in Deerpark Forest, just outside Virginia, County Cavan. The route starts, and ends, at the forest entrance, and follows beautiful tree-lined paths, passing Virginia Golf Club, and skirting along the idyllic banks of Lough Ramor.
Location: Virginia, Co. Cavan
5. Clare – Cliffs of Moher Coastal Walk
This iconic trail guides you through one of Ireland's most outstanding landscapes. From Liscannor and Hags Head in the south, along by the majestic Cliffs of Moher, and on to Doolin in the north, this route offers views over Aill Na Searrach, the Aran Islands, and Galway Bay – an absolute must!
Location: Doolin, Co. Clare
6. Cork – Old Head of Kinsale Loop Walk
This 10 km circular walk explores the beautiful coastal headland of Kinsale. Starting from Garretstown beach and following a series of country lanes around the cape, the trail features a memorial to the crew of the RMS Lusitania, and fabulous views of Downmacpatrick Castle ruins.
Location: Kinsale, Co. Cork
7. Derry – Downhill Strand
Downhill Strand (known to Game of Thrones fans as Dragonstone) offers endless opportunities for nature walks featuring cascading waterfalls, extensive sand dunes, and the dramatic Mussenden Temple. The trail up to the Temple provides breath-taking views of the coastline and the prominent 18th-century ruins lie waiting to be explored at the top.
Location: Downhill Strand, Coleraine, United Kingdom
8. Donegal – Errigal Mountain and Mackoght Loop Trail
For an adrenaline-fueled hike, why not challenge yourself and try out the Errigal Mountain and Mackoght Mountain Hiking Trail? This 6 km loop walk climbs Donegal's highest and most iconic peak. At the summit admire stunning vistas of Donegal and the Poisoned Glen. It's most certainly one for the bucket list!
Location: Gweedore, Co Donegal
9. Down – Kilbroney Forest Park
At Kilbroney Forest Park and Rostrevor Forest, three trails ranging from 2 km to 7 km flaunt spectacular mountain views, gurgling streams, and magnificent views of Down's woodlands. Visit the Cloghmore Stone, a 40-tonne granite boulder deposited at the end of the last ice age and enjoy breath-taking views over Carlingford.
Location: Rostrevor, Newry BT34 3AA, United Kingdom
10. Dublin – Howth Cliff Walk
A haven, only 15 km from Dublin city, Howth is one of Dublin's hidden gems. From the harbour, walk around the nose of Howth up to the clifftops and take in the stunning views of Lambay Island, Ireland's Eye, and the Baily Lighthouse.
Location: Howth, Co. Dublin
11. Fermanagh – Cuilcagh Legnabrocky Trail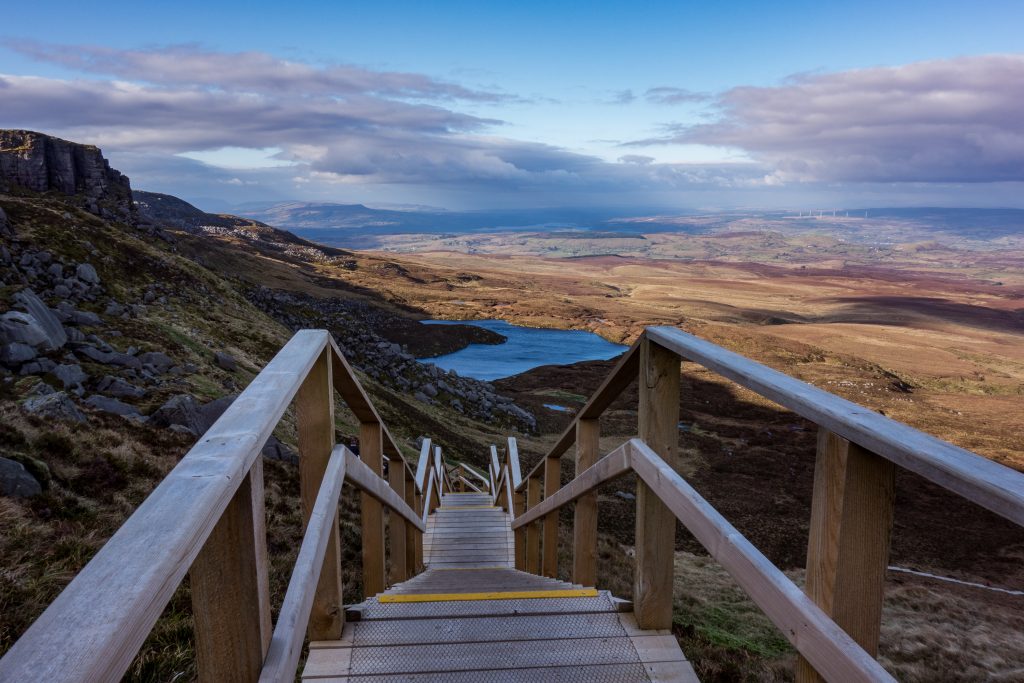 The Cuilcagh Legnagbrocky Trail showcases the scenic wilderness of Cuilcagh Mountain and follows a farmland track to the iconic wooden boardwalk, known as the 'Stairway to Heaven'. The stepped boardwalk climbs the mountain and leads to an ancient cairn. The views are simply heavenly!
Location: Florencecourt, Enniskillen BT92 1ER, United Kingdom
12. Galway – Portumna Forest Park
Enjoy a wander in Portumna Forest Park and follow the delightful forest paths and boardwalks to the viewing platform looking out across Lough Derg and its islands. A leisurely stroll with an epic view!
Location: Portumna Demesne, Portumna, Co. Galway
13. Kerry – The Gap of Dunloe
Walking is one of the best ways to appreciate the Gap of Dunloe. Featuring captivating, rugged mountain scenery with vistas opening on each side of dramatic cliff faces and pristine lakes. The entire route is 14 km, taking you between Purple Mountain and the McGillycuddy Reeks. A real walk on the wild side!
Location: Gap of Dunloe, Dunloe Upper, Co. Kerry
14. Kildare – Donadea Forest Park Walks
Donadea Forest consists of bewitching mixed woodland and is home to several historic structures including the remains of the castle, walled gardens, church, tower, icehouse, boathouse, and Lime Tree Avenue. There is also a tranquil lake hosting a wonderful display of water lilies in the summer.
Location: Donadea, Co. Kildare
15. Kilkenny – The Islands Walk
This 8 km looped walk starts in Urlingford town centre and is for both history and nature lovers alike. The trail passes by a restored quadrangular church and a 15th-century castle on the banks of the River Goul. When you enter the forest, you'll be met by a canopy of trees and, in the summer, a host of wildflowers.
Location: Urlingford, Co. Kilkenny
16. Laois – Glenbarrow Eco Walk
This enchanting ecological walk aims to inform walkers about their surroundings. The walk consists of 10 informative stops providing information on the trails' beautiful waterfalls, marvellous mountain ridges, quaint quarries, and views of neighbouring County Offaly's ancient volcano, Croghan Hill.
Location: Glenbarrow, Co. Laois
17. Leitrim – Arroo Trail
This scenic trail takes you up the southern flank of a river valley, below County Leitrim's Arroo Mountain, and offers climbers outstanding panoramic views south across Glenade Valley and north over Donegal Bay towards the Bluestack Mountains. A lesser-known hike that not to be missed!
Location: Glenade, Co. Leitrim
18. Limerick – Paradise Hill Loop
For our next walk, the proof is in the name! The Paradise Hill Loop walk is 12 km long and stretches over emerald green pastures, woodlands, and rolling hills. The best lookout point is on the shoulder of Temple Hill and offers marvellous views of Limerick and the expansive farmland below.
Location: Paradise Hill, Inchacoomb, Co. Limerick
19. Longford – Derrycassin Woods Walk
Located on the shores of Lough Gowna, this forest offers three highly-recommended walks, the Nature Trail, the Walled Garden Walk, and the Main Avenue Walk. Each offers a range of seasonal plant life and tree species to admire. The remains of an ancient ringfort also wait to be discovered.
Location: Mullinroe, Co. Longford
20. Louth – Clogherhead Cliff Walk
This walking trail starts from the village of Clogher and follows steep sea cliffs to the nearby harbour of Port Oriel. At low tide, you can walk the beach as far as the Boyne Estuary.
The headland and the harbour offer views of Ireland's east coast, the Mourne and Cooley Mountains in the north and as far south as Lambay Island and the Rockabill Lighthouse.
Location: Clogher, Co. Louth
21. Mayo – Erris Head Loop Walk
Unspoilt, untouched, and unique, the Erris Head Loop Walk offers spectacular scenery along grassy paths over the magnificent Mullet Peninsula. At the Head's northernmost tip, a railed viewpoint offers dramatic views of Illandavuck Island, Pigeon Rock, and sublime sea arches sure to take your breath away.
Location: Glenlara, Belmullet, Co. Mayo
22. Meath – Trim Historical Trail
This fantastic town trail breathes life into the medieval town of Trim. Start at the Visitor Centre and follow the historical signs to learn about Trim, its people, and its history, including the old town gates, the remains of the old leper hospital, and the Tomb of the Jealous Man and Woman.
Location: Trim, Co. Meath
23. Monaghan – Carrickmacross Kavanagh Trail
This walk follows a self-guided heritage trail following in the footsteps of the famous poet, Patrick Kavanagh. Brochures are available locally and cover a range of sites of historical interest and locations that inspired several of Kavanagh's literary works.
Location: Carrickmacross, Co. Monaghan
24. Offaly – The Offaly Way
The Offaly Way is a 37 km route that offers stunning views of the midlands. Starting in the quaint village of Cadamstown, and ending near the early Christian monastic site of Lemanaghan, the trail follows an old mass path that accesses several historical sites including the Turraun Wildlife Park, and the Boora Mesolithic Site.
Location: The Offaly Way, Cadamstown, Co. Offaly
25. Roscommon – Cloonfad Scenic Walks
Cloonfad offers visitors with a rustic landscape and is home to an array of scenic walks consisting of grassy pathways, bog tracks, and old boreens. It is the perfect spot to get away from the rush of everyday life.
Location: Cloonfad, Ballyhaunis, Co. Roscommon
26. Sligo – Benbulbin and Kings Mountain Loop Walk
This strenuous 8 km route ascends to the unique and distinctive plateau of Kings Mountain, and the spectacular Benbulbin. This is a great hiking route with spectacular scenery at every turn and stunning views of the surrounding countryside. A must-do hike along the Wild Atlantic Way!
Location: Kings Mountain, Dartry Mountains, Co. Sligo
27. Tipperary – Devil's Bit Loop
Next on our list of best walks and hikes in Ireland is the Devil's Bit Loop. Local legend has it that the devil lost a tooth taking a bite out of this mountain! This 5 km loop follows forest and hillside pathways providing a pleasant and enjoyable outing.
Location: Devil's Bit, Curraheen, Co. Tipperary
28. Tyrone – An Creagán Biodiversity Trail
An Creagán Biodiversity Trail follows a picturesque trail through the forested and bogland areas of Creggan. Information panels on the local plant life can be found along the route, and a variety of natural wildlife can be spotted. A stunning walk to help de-stress and appreciate your surroundings.
Location: Barony Rd, Creggan, Omagh BT79 9AF, United Kingdom
29. Waterford – Coumshingaun Loop Walk
This 7.5 km walk loops around the stunning natural splendour of the Comeragh mountains' most famous landmark, Coumshingaun. This route takes in the Coumshingaun Corrie Lake and the surrounding mountain range.
Location: Coumshingaun Loop Walk, Comeragh Mountains, Co. Waterford
30. Westmeath – Mullaghmeen Forest Walk
Mullaghmeen is an isolated forest area boasting an array of native trees including; beech, Sitka spruce, Scots pine, and noble fir. Trails lead to the summit of Mullaghmeen and offer climbers magnificent views across Lough Sheelin and into the neighbouring County Cavan.
Location: Mullaghmeen Forest Recreation Area, Sheskernagh, Co. Westmeath
31. Wexford – Raven Point Wood
A stunning coastal walk in the sunny south-east, Raven Point Wood offers visitors an array of woodland and beach trails for all levels. As you explore, keep an eye out for the impressive number of geese who claim the area as their home during the winter months.
Location: Raven Point, Curracloe, Co. Wexford
32. Wicklow – Glendalough and the Spinc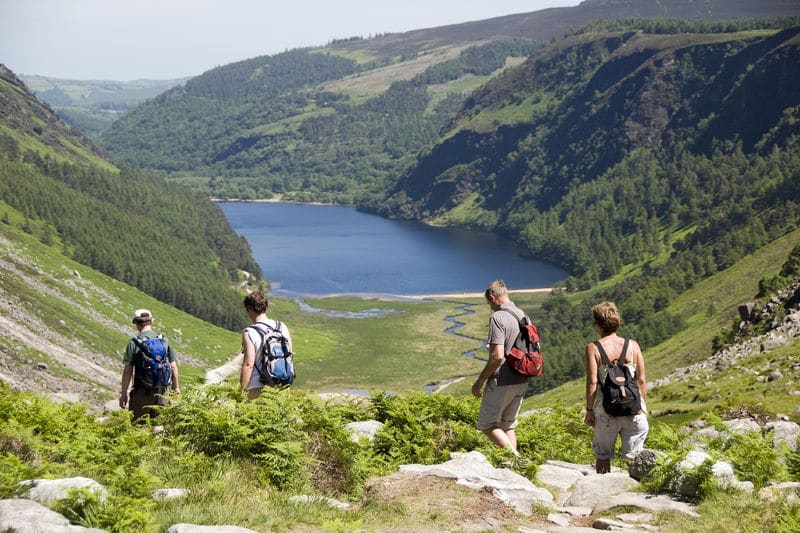 Last on our list (but by no means least), is the superb Spinc ridge walk, overlooking Glendalough. A tough but sensational 9 km climb consisting of rocky mountain trails, boardwalks, and forest roads, rewards you with breath-taking views, not just of the monastic city and glacial valley below, but also, a glorious vista over the Wicklow uplands.
This one is not to be missed!
Location: Glendalough, Derrybawn, Co. Wicklow