We've rounded up the five best hikes in Northern Ireland that you need to do in your lifetime.
When it comes to planning a hiking trip, Northern Ireland has an abundance of beautiful trails to choose from. Whether you are a casual walker looking for a relaxing day out with the family, or a seasoned explorer ready to take on rough, mountainous terrain, you will certainly find a route that suits you and your abilities.
Got your hiking boots on? Here are the five best hikes in Northern Ireland you should definitely add to your bucket list.
5. Carrick-a-Rede – for those unafraid of heights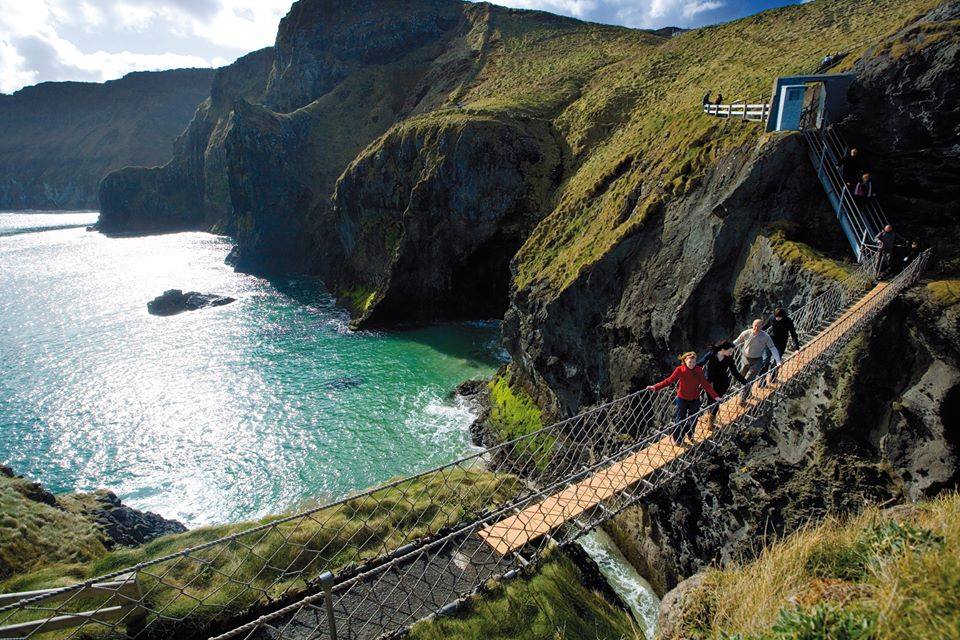 A well-known stop on many a tourist's agenda, this trail involves crossing the famous Carrick-a-Rede rope bridge. Closed to the public for health and safety reasons on particularly windy days, the bridge is sure to test the courage of even the bravest traveller.
If you manage to make it across (we advise you don't look down!), you'll be led to a small island on the other side. From here, you'll be rewarded for your bravery with stunning views of striking caves and outstanding beaches—and you might even spot a dolphin or two!
With a distance of 1.6 miles, this one-way trail is particularly popular with families and occasional hikers.
Address: Whitepark Rd, Ballycastle, Co. Antrim
4. Causeway Coastal Walk – the site of legends
The Causeway Coastal Walk is without a doubt the most popular hiking route for tourists in the North of Ireland, attracting millions of visitors a year. The reasons for how the unique rock formations came to be has been the subject of debate for centuries.
One of the most well-known legends claims that the mysterious columns are the remains of a causeway built by a mythical giant, Finn McCool, who apparently needed a pathway all the way to Scotland to fight fellow giant Benandonner.
The story goes that Finn crossed this causeway he created only to find that his Scottish competitor was much bigger than he anticipated, and he made a hasty return to his native land. Benandonner quickly followed, eager for a fight.
According to legend, it was the quick thinking of his wife that saved the Irish giant, who she swiftly dressed as a baby. Seeing how big this baby was, Benandonner didn't fancy his chances with his father and fled back to Scotland.
Regardless of which origin story you choose to believe, the Causeway Coastal Walk is definitely one of the best hikes in Northern Ireland. Start your journey at The Windy Gap, and you'll be treated to the fresh breeze blowing off the North Sea, and a unique view you won't find anywhere else in the world.
Address: 44 Causeway Rd, Bushmills, Co. Antrim
3. Cave Hill Country Park – for panoramic views of Belfast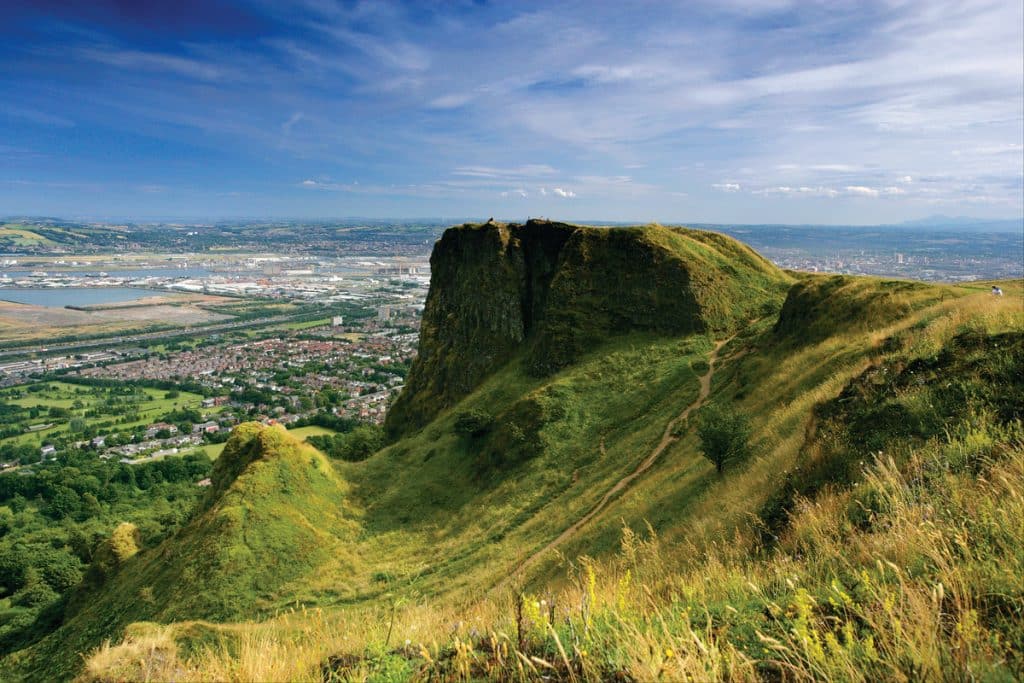 Cave Hill is an iconic landmark that can be seen from almost every part of Belfast. The face-like appearance of the hill's outline is said to have inspired the character of the giant in Jonathan Swift's famous work Gulliver's Travels. What can we say—we Irish love our giants!
Beginning at the beautifully historic Belfast Castle, this is a 4.5-mile circular hiking trial that crosses some uneven terrain. You won't regret it when you reach a summit with panoramic views of Belfast, including the majority of the city's iconic landmarks and the surrounding countryside.
On a particularly clear day, you might even see the outline of the Mourne Mountains in the distance.
Address: 12 Upper Hightown Rd, Belfast, Co. Antrim
2. Rostrevor and Kilbroney Forest – explore Narnia
You'll find multiple hiking routes to choose from around Kilbroney Forest and Rostrevor, a small town near the Mourne Mountains. Ranging between 0.5 and 5 miles in distance, this area has a route for all abilities.
Reportedly serving as the inspiration for C.S. Lewis' Narnia, the area is also richly seeped in folklore. Locals have long told tales of faery folk living in the forest, causing mischief for many an innocent passer-by. Take the longest trail, and you'll be treated to views of the beautiful Carlingford Lough, as well as a great view of the iconic Mournes.
Address: Rostrevor, Co. Down
1. Slieve Donard – Northern Ireland's tallest mountain
The best hike in Northern Ireland also happens to be Ulster's highest peak. Slieve Donard, a mountain in County Down, is a magnificent sight to see, serving as a beautiful backdrop for miles around.
With a distance of 5.6 miles, it will take you around five hours to complete this summit trial, so make sure to take a packed lunch and lots of water for this one. Beginning at Donard Park at the foot of the Mournes, and ending at the famous Mourne Wall, this hike will treat you to fantastic views of the Isle of Man, Scotland, and Wales from the top of the summit.
Address: 5 Donard Park, Newcastle, Co. Down
Whether it's a steep climb you desire, a chilled walk on a stunning beach, or a hike to challenge your fear of heights, we're confident you'll find the trail for you among our selection of the very best hikes in Northern Ireland.