Westport is one of the best towns to visit in Ireland, situated on the west coast of Ireland, Co. Mayo, and has ties to famous 16th-century pirate queen Grace O'Malley.
From climbing Croagh Patrick to playing in indoor play villages to exploring ancient castles, here our one-day itinerary for exploring Westport, including locations to have a bite to eat!
Morning
Breakfast at Sheila's Food Emporium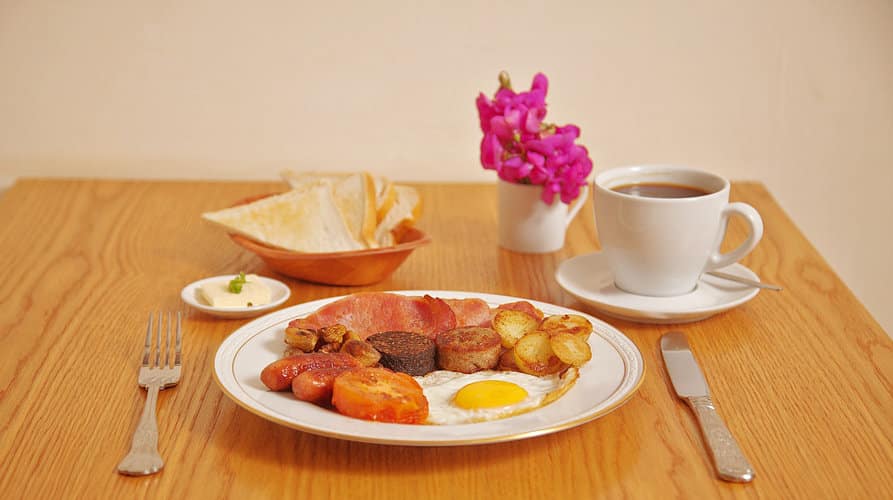 Break your fast by tucking into breakfast at this family run business. Many of the vegetables used in their dishes are grown by the family themselves.
The café opens early, meaning you are served up fresh bread of all flavours.
As for the menu, there is something for everyone. The vegetarian breakfast consists of Quorn sausages, eggs, fried potatoes and mushrooms.
Freshly made banana and walnut bread are available too! Healthier options include porridge and homemade granola!
Address: 5 Lime Court, James St, Cahernamart, Westport, Co. Mayo, Ireland
Westport House
Westport House is a five-minute drive from Sheila's Emporium. There are a wealth of activities and amenities on-site, making this one of the best things to do in Mayo.
Work began on Westport House as far back as the 16th century. It was built by the Browne family, direct descendants of the Pirate Queen Grace O'Malley.
Over 30 rooms are open to view by the public. Also, on-site is the Pirate Adventure park, suitable for children between the ages of 4 and 11 years.
Rides include the Cannonball Run slide and Pirate Queen Swinging Ship. There is a miniature railway for the little ones also.
Visitors can camp in the nearby parkland and lakeside setting. There really is endless entertainment.
Address: Quay Rd, Cloonmonad, Westport, Co. Mayo, Ireland
Climb or Take in Croagh Patrick
A site of pilgrimage, Croagh Patrick boasts beautiful views of Clew Bay, Co Mayo. St Patrick is said to have fasted for 40 days on the summit.
Climbing the mountain takes just two hours, and it is a 750-metre climb. The visitor centre boasts a family restaurant, healthy smoothies to boost you for the climb and hot food.
The craft shop has a selection of crafts sourced from local artists. Any information you need on the South West Mayo region is available at the centre, which blends into the beautiful landscape.
Lunch
Sol Rio Restaurant
Take yourself to an exotic location by means of food, by eating lunch in the Sol Rio, a Portuguese restaurant in the heart of the town.
The owner and head chef Jose Barroso has curated a beautiful diverse menu for diners. For a starter? Tuck into an old reliable, homemade soup and bread, or why not try the prawn in pastry?
There are a wide variety of vegetarian options for main course, such as veggie lasagne or Crespelle, an interesting dish which consists of rolled pancakes filled with broccoli, avocado, mangetout and mushrooms.
Or there is the cottage pie and homemade burgers for meat eaters.
There is also a children's menu with dishes to suit all tastes.
Address: Bridge St, Cahernamart, Westport, Co. Mayo, Ireland
Clew Bay Heritage Centre
This is a must-see in Westport, the heritage centre located in a 19th-century building with a beautiful view of Clew Bay.
The centre traces the history of Westport and Clew Bay from pre-Christian times to present. Some exhibitions are; a scale model of Westport Town and Quay, demonstrating the development of the town, a feature about the pirate queen of Connacht, Grainne Mhaol and Ireland's struggle for Independence.
You can also sign up to a guided walking tour of Westport!
Address: The Quay, Rosbeg, Westport, Co. Mayo, Ireland
The Wild West – for the kids
Boasting the fact that it is Ireland's only indoor play village, this is a good spot to pass a bit of time if you have young children in tow.
Parents can eat in the White Buffalo Café while their little ones expend their energy in the soft play zone.
The room is designed to have four sections with a different sensory experience in each. The play village welcomes children of all abilities to come and explore.
Address: Westpoint Shopping Centre, Altamount Street, Knockranny, Westport, Co. Mayo, Ireland
Evening
Dinner and Drinks at Cronin's Sheebeen 
If you're not tired by the end of this Westport itinerary, fair to you! By this time, you'll surely want a cold refreshing drink and a big dinner in The Sheebeen as its locally known.
The interior is really traditional, the perfect setting to conclude a day of exploration.
The menu changes seasonally, meaning, depending on the time of year you visit The Sheebeen you'll have a different menu to try.
Dishes on the menu include fresh Killary Fjord Mussels, the ever-popular fish and chips and the Sheebeen's Special Vegetarian Linguine.
You'll be full when you leave, a satisfactory conclusion to your tour of Westport.
Address: Rosbeg, Westport, Co. Mayo, Ireland