Whether you're playing with your group of friends, granny, or are up for a game with your local community, these are the five most popular bingo spots in Dublin.
The game of bingo is a simple pursuit. It's a game of luck in which the winner can walk away with impressive prizes, and it is adored by all generations, from young to old.
More so, bingo is a social affair, which brings together people from communities across the country. So, what's not to love?
If this sounds like your cup of tea, we encourage you to read on and find out the top five most popular bingo spots in Dublin.
5. Q's Bingo – for Zoom bingo
Q's Bingo in Clondalkin is a friendly hangout that offers a warm welcome and entertainment to the community nightly.
Not only is Q's one of the most popular bingo spots in Dublin, but it also boasts pool and snooker tables as well as some slot machines for added excitement. While its style may be a bit old school, its charm lies in these exact qualities.
Q's usually hosts bingo tournaments a few times per week in-house. Although in light of current COVID restrictions, it has moved its games onto Zoom so that players don't have to miss out on all the fun – or prizes – while venues are locked down.
Its Facebook page is the place to find full details of upcoming bingo nights.
Address: Old Nangor Rd, Clondalkin, Dublin 22, Ireland
4. Busy Bee Bingo – the online option
For those of you seeking a more sensible and safer bingo solution, we suggest you take your game night online.
And whilst in the UK some bingo operators accept a £5 deposit to get started – an absolute steal in comparison to most online bingo operators – this is a cost-effective way to keep your bingo brain sharp while halls are on lockdown.
Online bingo can be enjoyed just about anywhere, but most importantly, from the comfort of your own home, making it a great way to keep the fun alive regardless of current restrictions.
3. National Stadium Bingo – the golden oldie
National Stadium Bingo is the longest-running bingo hall in Ireland, and it gets our vote as the golden oldie.
Running every Tuesday, Thursday, and Sunday evening (times may differ, please check directly with the business); this venue has firmly established itself as a go-to for good craic and mighty winnings.
With impressive payouts (€27,000+ each week) and decades of experience under its belt, you'll feel in safe hands when bingoing with the National Stadium.
Address: 145 S Circular Rd, Saint Catherine's, Dublin, D08 HY40, Ireland
2. Jack Potts Bingo at The Star Crumlin – for a group night out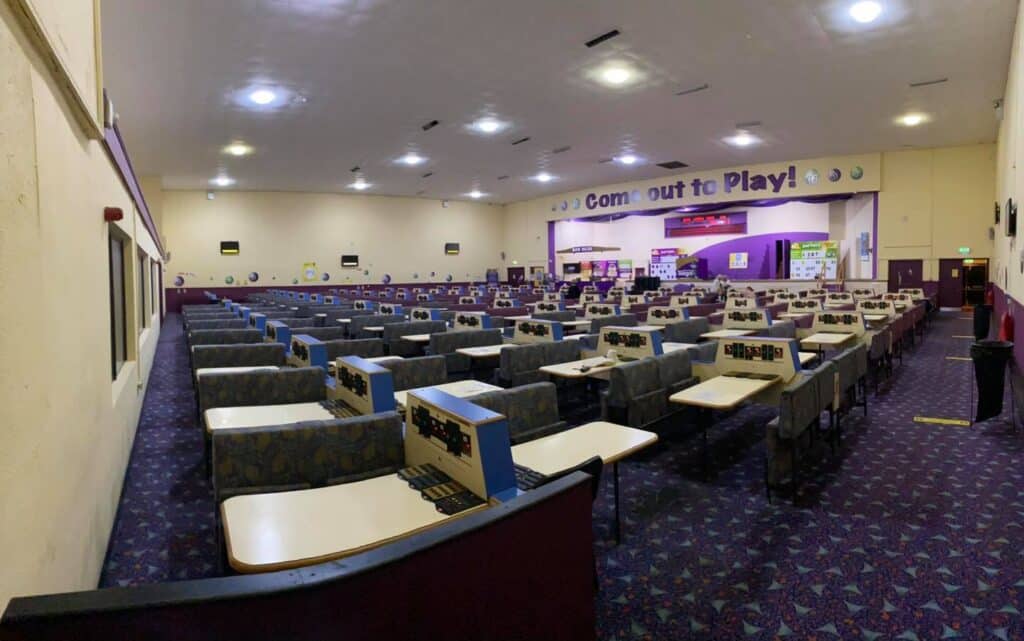 Jack Potts Bingo at The Star Crumlin is one of the most popular bingo spots in Dublin – if not all of Ireland.
Located on the outskirts of Dublin City, this bingo hall is easily accessible via public transport from the city centre and welcomes throngs of players seven days a week.
With afternoon and evening games, online Jack Pott's lotto, and huge payouts, we can see why this Dublin bingo venue is such a hot ticket!
Address: Kildare Rd, Crumlin, Dublin, Ireland
1. Bingo with Shirley Temple Bar – for something spectacular
If you're looking for something a little more spectacular, we suggest Bingo with Shirley Temple Bar in Dublin's iconic LGBTQ+ venue, The George – without a doubt one of the most popular bingo spots in Dublin!
Operating for over two decades, this Bingo night takes place every Sunday (COVID-19 restrictions aside).
With spot prizes, drinks, and drag queens, what more could one want from a Sunday evening? Bingo kicks off at 9:30 pm and lasts for approximately two hours.
Address: 89 South Great George's Street, Dublin 2, D02 R220, Ireland
Disclaimer: Given the current COVID-19 crisis, some of these venues may not be operating the usual business hours. Please check opening times directly with the business.
Get featured on Ireland Before You Die
Do you want to get your Irish business more online exposure? Especially to those interested in travelling the best places in Ireland? Then why not get a dedicated feature on Ireland Before You Die. Find out more 
here.
Legal Disclaimer
We cover articles relating to many activities. Some of our articles showcase gaming and gambling as activities. While we do not take money for bets or own any gambling venues, we feel it is important that our readers know the risks of such venues or sites that we may mention in our articles. Gambling involves risk. Please only gamble with funds that you can comfortably afford to lose. See our legal disclaimer for more info.