Looking for the greatest LGBT+ friendly nights out? This list celebrates the best LGBT+ bars and clubs in all of Ireland.
This January, Northern Ireland will bring in 2020 with the legalisation of marriage equality. This followed the momentous referendum in 2015, when the south of the island voted to legalise love through a historic popular vote.
With all the excitement in the air, there's never been a better time to visit Ireland as an LGBT+ tourist.
If you're planning a trip to the Emerald Isle but don't have a clue what venue to choose for your night out, have no fear! We've rounded up the 5 best LGBT+ bars and clubs in Ireland.
Whether you're looking for a quiet drink, wanting to meet some new friendly faces, or fancying a mad one, Ireland has the spot for you!
5. PantiBar – for a relaxing pint in the centre of Dublin
Whether you're looking for a relaxed pint in the heart of Dublin's City Centre, or fancy a good location to unwind for after-work drinks, look no further than Pantibar.
With friendly staff and a welcoming atmosphere, Pantibar has a mixed crowd and accepts all members of the LGBT+ community.
From Thursday to Sunday, the bar comes alive with all sorts of theatrical and musical events, including spectacular drag performances. Whether your music tastes include pop, indie, electro, disco or rock, PantiBar plays it.
Address: 7-8 Capel St, North City, Dublin 1, Ireland
4. Kremlin – for a stylish club night to remember
Although a Soviet theme may not be the first thing you'd expect to find in a gay club, this stylish clubbing complex has slowly become the busiest epicentre of Belfast's burgeoning gay quarter.
This growing hub features three distinct areas; Tsar (a chic, cocktail bar), the Long Bar (which plays all the best cheesy, retro hits you can imagine), and Red Square (featuring the biggest dance floor, showcasing the best of club music).
Although the crowd here is predominantly cis gay men, Kremlin welcomes all members of the LGBT+ community.
Address: 96 Donegall St, Belfast BT1 2GW
3. Maverick Bar – for drag cabaret and karaoke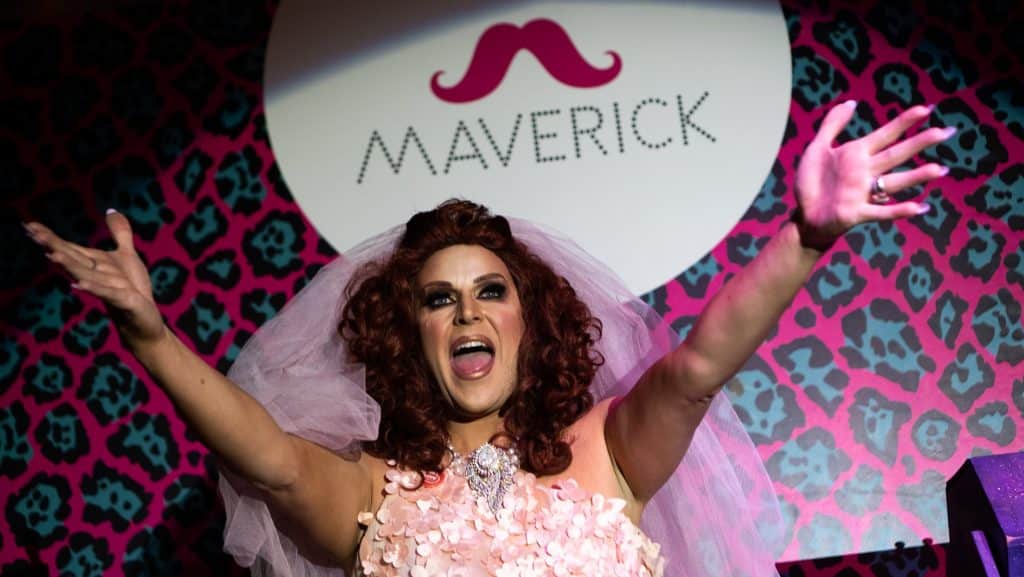 Positioning itself as a 'radical alternative at the heart of Belfast's Queer Quarter', the Maverick Bar has attracted a large, diverse following in recent years.
This bar, open seven nights a week, hold regular events such as movie nights, drag cabaret, and Wednesday and Sunday night karaoke, hosted by a string of amazing drag queens and queer comedians.
Seen as an alternative to more commercial venues in the Queer Quarter, this venue offers a range of fine wines, an international array of beers, and themed cocktails.
Address: 1 Union St, Belfast BT1 2JK
2. The George – Ireland's oldest gay bar and club
Only in Ireland will you find a club that so effortlessly mixes the wooden-panelled charm of an old Irish pub with the raucous club vibes of the dance scene today.
Opened in 1985, The George served as a safe space for gay people to socialise and meet each other without fear of prejudice. Nowadays, it boasts the title of Ireland's oldest gay bar and attracts thousands of patrons a year.
The downstairs front bar offers a chill vibe for LGBT+ folk of all ages to relax, socialise, and have a pint. The club upstairs erupts in a burst of colour every evening, hosting some of Ireland's best-known drag queens including Shirley Temple Bar and Veda Beaux Reves.
Address: 89 South Great George's Street, Dublin 2, D02 R220, Ireland
1. Street 66 – for roots, blues, and soul enthusiasts
Hidden in plain sight, Street 66 is a true gem found in Dublin's city centre. For a more alternative LGBT+ venue, you'll find everything you need here.
Aiming to provide a welcoming and old-school atmosphere, Street 66 treats its patrons to a range of the best roots, blues, reggae, ska, rocksteady, soul, and funk around.
As well as serving some pretty fantastic cocktails, this hub also serves as a coffee-shop and social hub during the day. This makes it the ideal spot to have a break from your travels and play some board games in one of Dublin's most original and frequented hotspots.
Address: 33-34 Parliament St, Temple Bar, Dublin 2, Ireland
Whatever vibe you are fancying, rest assured there is something for everyone in our selection of the best LGBT+ bars and clubs in Ireland. Remember, though: these spaces are meant to be a relaxing, enjoyable, and safe space for all, so be respectful – and have a great night!
Get featured on Ireland Before You Die
Do you want to get your Irish business more online exposure? Especially to those interested in travelling the best places in Ireland? Then why not get a dedicated feature on Ireland Before You Die. Find out more 
here.