We've got you covered on the five best Chinese takeaways in Belfast.
We love a good Chinese takeaway. Thankfully for us, Belfast has some of the best we've ever seen. Nothing beats a steaming portion of Singapore chow mein and ribs on a Friday night after a tiring week of work. It's delicious, and, best of all, it means you don't have to cook.
So, whether you're looking for a Chinese takeaway to enjoy on the sofa while watching a movie, or if you're stumbling out of a bar late at night and looking to fill a craving, we've got you covered with our top five Chinese takeaways right here in Belfast.
Happy eating!
5. Harmony City – for that perfect takeaway after a night on the town
We're going to let Chris W. on Google reviews take it away for our first choice: "Always confident that when I stroll out of Filthies on a Thursday night, struggling to find £4.50 in loose coins after being hammered by inflation, that no matter what, the young lady behind the counter will slide my snackbox half-rice sausage and chili chips over every time."
Chris W. concludes; "Could not recommend this more if you're steaming looking for a good feed."
Well, we're sold. Who knew Google reviewers could be so eloquent and give a poignant reminder of the state of our economy while talking about their snackbox of half-rice sausage and chilli chips?   
Round of applause for Chris, please.
Address: 55 Dublin Rd, Belfast BT2 7HE
4. Together Chinese – for a generous helping of portions
This is a little Chinese takeaway on the lower part of the Ormeau Road, but its portion sizes don't match the small nature of the eatery. Locals swear by this place and with good reason too. 
Not only is Together Chinese liberal with their portions, but their food is also top-notch and can stand up against any of the bigger takeaways in Belfast. If you're someone who loves their hot food, then you have to try this place's "Special Szechuan"— just make sure you've got plenty of water beside you. You've been warned.
Oh, and they stay open until 3 am every night! Together Chinese is hitting it out of the park.
Address: 176 Ormeau Rd, Belfast BT7 2ED
3. Golden Harvest – for absolutely amazing prices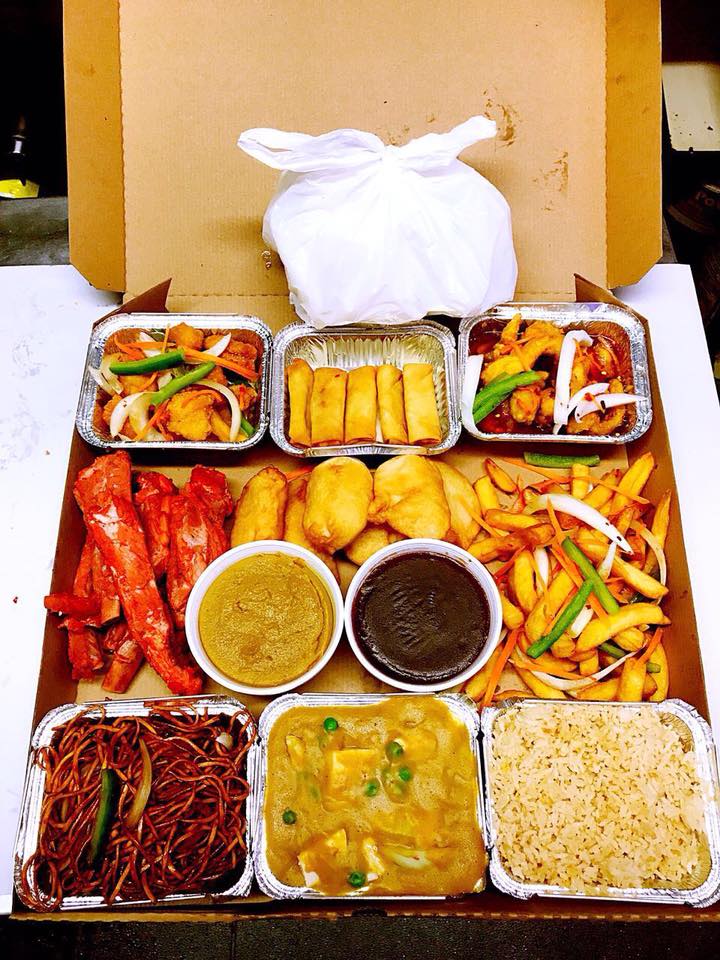 Anyone who's had a takeaway from the Golden Harvest will immediately get why it's on our list of top five Chinese takeaways in Belfast. This place knocks it out of the park with their food every time.
To have such quality Chinese food as this place does, you probably think there has to be a drawback, right? Could it be that they charge insanely high prices? Nope, not at all! Their prices are unbelievably reasonable considering how much food you get in your order. There are seriously no drawbacks with Golden Harvest.
We're starting to get a craving… thank God they don't open until 4:30 pm, otherwise we'd be ordering lunch right now!
Address: 405 Ormeau Rd, Belfast BT7 3GP
2. Elements Chinese – for an insane amount of options
This place probably has the biggest menu we've ever seen in a Chinese takeaway. Or maybe it just seemed that way because we had double-vision at the time…
Either way, we're not complaining about this; we've taken a gamble and ordered a handful of different dishes from here that we had never tried before—and more often than not we've come away finding something new that we enjoy.
We've probably been in here once or twice a little, erm, worse for wear, let's say—and the staff have always been very accommodating with offering their options on what's good. So don't be afraid to ask if you're not sure what something is like!
Address: 131A Andersonstown Rd, Belfast BT11 9BU
1. Wok Oriental – for the best Chinese takeaway in Belfast
This place. Oh my God. They get what makes a delicious takeaway. We've been getting food from here for years and never once have we had a bad or lacklustre meal.
Their salted chilli ribs are the absolute best we've ever had, and don't get us started on their chicken curry. It's all fantastic. The staff are always very courteous too, even on weekend nights when the place is packed out, and they're clearly under pressure to keep up with orders. 
It's also worth a mention that from the countless times we've ordered from here, we've never once had a delivery that made us wait an insanely long time before getting our food. Even on busy Friday and Saturday nights, they're always on time. Really impressive stuff.  
Address: 29 Shaftesbury Square, Belfast BT2 7DB
Have you gotten food from any of these places? If so, we'd love to hear your thoughts on our selection of the top five best Chinese takeaways in Belfast. Have we missed any you feel deserved to be on this list? Let us know!