When you think of beer in Ireland, you think Guinness. Although Guinness is fabulous and you should definitely visit the Guinness Storehouse at St James Gate while in Dublin for a pint, there are dozens upon dozens of excellent craft beers to be found in Ireland throughout the country.
The nice thing about these craft beers is that these breweries are independently owned and bring their own unique flavours to their beers. Below is the top ten independent craft beer breweries in Ireland.
10. The White Hag Brewing Company Unit 1, Block 2, Ballymote Business Park, Ballymote, Co. Sligo
James Ward, the owner, previously worked in craft beer distribution in America and opened The White Hag in 2014. The name came from Irish mythology, "The White Hag was a witch, a chameleon creature and even Mother Nature herself. We know she was all that, and more. A spiritual force, from and of the earth.
The spirit of Ireland who shaped land itself, present in everything through the pure water of the earth." Master Brewer, Joe Kearns creates popular beers such as Black Boar Stout, Ireland's only Heather Ale, an Irish Bog Ale, and an Oatmeal Stout with an alcohol content of 10.2!
 9. Galway Bay Brewery, Unit 12B, Unit 13, Monivea Road, Ballybrit, Co. Galway
Owners Jason O'Connell and Niall Walsh make small-batch beer king at Galway Bay Brewery. Options include Full Sail (IPA), Stormy Port (Irish Porter), Bay Ale (Irish Red Ale), Buried at Sea (Milk Chocolate Stout), Of Foam and Furry (Double IPA) and Althea (new season modern American pale ale).
The brewery offers tours giving a walk though of the brewing process in addition to teaching about the ancient craft of Irish brewing.  They have also opened nine exclusive craft beer bars throughout Dublin and Galway.
8. Trouble Brewing, Unit A, Old Mill Industrial Estate, Kill, Co. Kildare
Trouble Brewing was founded in 2010 by three friends – Thomas Prior, Stephen Clinch and Paul O'Connor. Their first brew was called Deception Golden Ale.
Some of their brews include the old favourite Deception Golden Ale, and news beers Dark Arts Porter, Sabotage India Pale Ale, Graffiti Pale Ale and Remix India Pale Lager. Other brews range from seasonal to one-off brews.
In 2012, they started bottling their beers for you at home. Please note they do not have a pub on site, but they are open one day for Indie Beer Week and appear at a variety of festivals.
7. Dingle Brewing Company, Spa Rd, Grove, Dingle, Co. Kerry
Dingle may be most known for Fungie the wild bottlenose dolphin who is a bit of celebrity, but Dingle Brewing is also making the town famous. The brewery was built from the old Dingle Creamery which first opened in 1889.
Their Tom Crean lager is served on Aer Lingus flights. It is produced from 100% natural and made from simple, natural ingredients including ripe hops, two distinct malted barleys, German-style lager yeast and crystal clear spring water.
Tom Crean is stocked throughout pubs and other establishments in Dingle, West Kerry, Tralee, Killarney, and South Kerry.
 6. Treaty City Brewing Company, Ballysimon Road, Limerick City, Co. Limerick
Founded in 2014, Treaty City Brewing is the first brewery in Limerick in more than 130 years. They do everything by hand in a true craft beer fashion.
The beer they are most known for is named after actor Richard Harris who was from Limerick. It is called Harris Pale Ale and is also available at 40 pubs in Limerick City.
Other favourite in-house brews are Treaty's Thomond Red ale which has a honey and deep earth aroma and Shannon River IPA full of pine and grapefruit notes.
5. Metalman Brewery Company, Unit 14, Tycor Business Center, Waterford, Co. Waterford
Grainne Walsh and Tim Barber opened their doors in 2011 with one beer called Metalman Pale Ale and they have been brewing ever since. In 2014, Metalman Brewery saw the arrival of the very first canning line at an Irish craft brewery.
Year-round beers include Pale Ale (citrus and floral), Equinox (orange and lemon peel), Heatsink (smoked porter – chocolate and coffee) and Ironmonger (malt body with a citrus finish). Metalman also has special releases and limited editions.
The name of their brewery honours a local navigational aid located on the Waterford coastline. In 1823, the Metalman statue was erected following the running around of the Sea Horse. The statue became a safety beacon and has become an iconic figure on the Waterford coast.
 4. Franciscan Well Brewery and Brewpub, 14 North Mall, Sunday's Well, Co. Cork
Franciscan Well was founded in 1998 and was built on the site of an old Franciscan Monastery and well that was constructed in 1219.
A nice fact about Franciscan Well is they only produce natural beers, stouts and lager that are free of chemicals and preservatives. Favorite brews include Rebel Red (a Cork red ale), Blarney Blonde (lighter ale), and Shandon Stout (full-bodied, dry stout).
There is a story that the water in the old well has miraculous properties and people use to travel miles to drink it. They host the annual Easter Beer Fest in Cork. Their beers are available throughout Ireland.
 3. Walled City Brewey, Ebrington Square & Parade Ground, 70 Ebrington Street, Derry, Co. Derry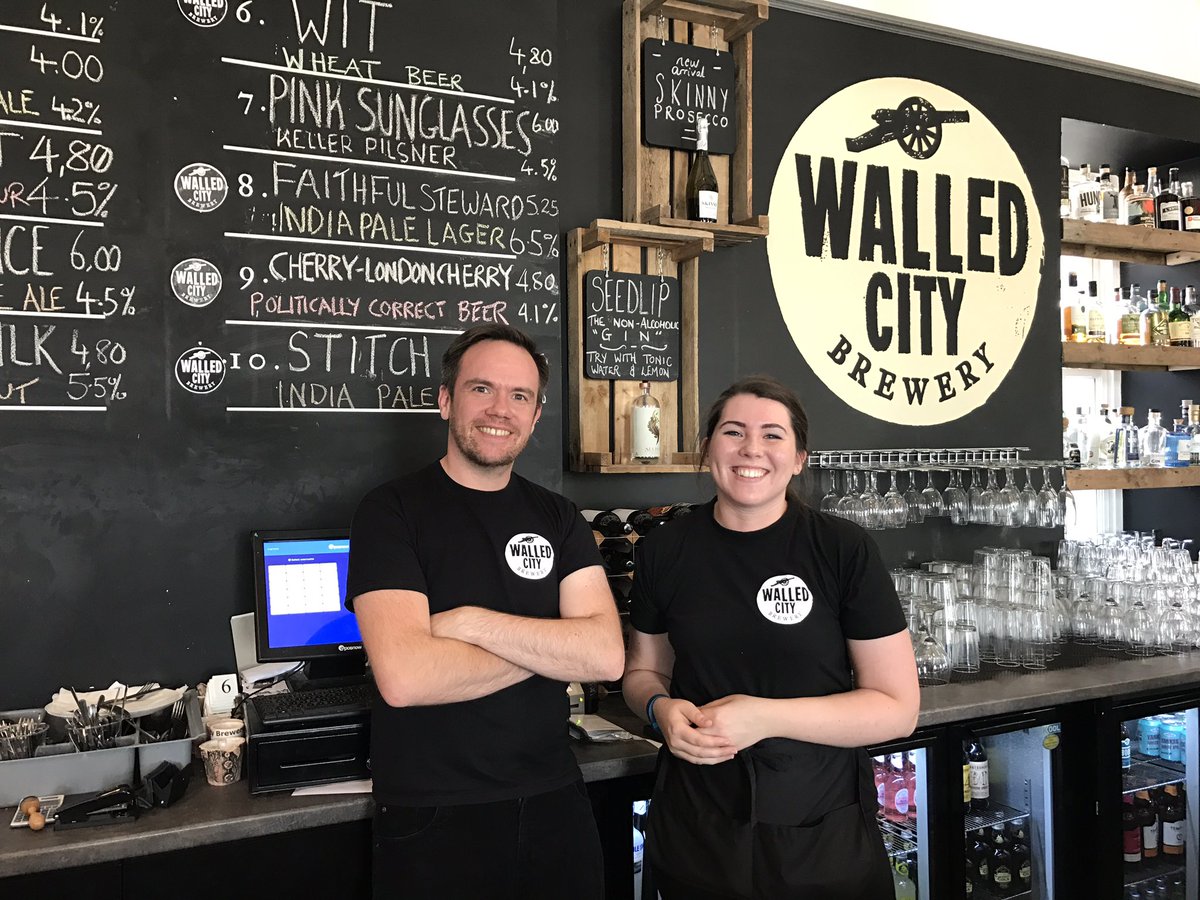 James Huey started Walled City Brewery on a foundation built with the heart from the brewery in Sir Henry Dowcra's Fort in 1607 and the once the largest distillery in Ireland, "Watts & Company" in 1925. Favorite beers include Cherry-Londoncherry (a pale ale) and Derry Milk (a Stout).
In addition to their craft beers, they have a full-service restaurant, booked private functions, and have a gin supper for those that want to stray away from beer.
They have a homebrew academy that just started in 2017 to be able to start your own hobby or craft beer brewery at home. The restaurant is gourmet fair at an affordable price.
2. Hercules Brewing Company, 5 Harbour Court, Heron Road, Belfast, Co. Antrim
Hercules Brewing Company is not a new craft beer, they were one of thirteen breweries that opened in Belfast 1845-1855.
Their current brewery is just over four years old but they take inspiration from the previous brewing company which existed more than 160 years ago. Hercules creates a small batch brew lager called Yardsman.
Yardsman is created with the best of local ingredients and filtered through Irish linen in the brewing process.
1. Rascals Brewing Company, Unit 16, Block 613, Greenogue Industrial Estate, Rathcoole, Co. Dublin
Emma Devlin and Cathal O'Donoghue's Rascals Brewing Company is very different than other breweries in a lot of ways. They use cans rather than bottles. Why? The cans block the light that destroys the taste and they are both easier to carry and recycle.
Their beers have won numerous awards including Ginger Porter which won a bronze medal at the Altech International Beer Convention in 2014, their Big Hop Red Ale which won a division of the Fan Favorite Award at the All-Ireland Irish Craft Beer Festival 2014, and their Lemon Saison Kim Jong Lem-Un won the National Homebrew Club Summer Session.
This list will get you started on some of the best craft beers Ireland has to offer, but do not let this list limit you. There are many of breweries throughout Co. Belfast, Co. Dublin, and Co. Cork in addition to a lot of small craft beer breweries offering big taste. Have fun and enjoy a pint for me.