Here are the five most picturesque lakeside towns and villages in Ireland that you need to visit in your lifetime.
Ireland is known for its rich natural landscape. From dramatic mountain peaks to vibrantly green national parks, this diverse and lush environment has sustained its people for millennia.
The Emerald Isle also happens to boast a mind-boggling 12,000 lakes (known as 'loughs'), which cover more than 120,000 hectares of the island.
Whether you're a keen water-sports enthusiast or you simply want to explore the countless unique towns and villages Ireland has to offer while enjoying a lakeside view, you'll be spoiled for choice.
Check out our list of the five most beautiful lakeside towns and villages in Ireland below for inspiration.
5. Athlone – for a mystical sighting
Athlone has gained a reputation as an up-and-coming travel destination in recent years. A large part of this is due to the town's proximity to the stunning Lough Ree.
There aren't many places as beautiful as this one around autumn, when the trees surrounding the serene lake are bursting with colour.
The second of the three major lakes on the River Shannon, this is a must-visit for fans of Irish mythology. Locals have long told of ghostly apparitions of high kings, monks, and warriors from long ago spotted upon the water at night. The lake is even rumoured to have its very own monster!
As this place is ideal for a family day out, why not treat yourself and loved ones to a lakeside picnic, and then spend your evening in the cosy Lough Ree Pub and Restaurant?
4. Killarney – the best place in Ireland for deer-spotting
The Ring of Kerry is likely to be on your Irish bucket list, and Killarney is the place to start and finish the 179km-long tourist route.
Known for its rich history and spectacular natural beauty, this part of the island is a must-see for all visiting the Emerald Isle.
Conveniently situated on the beautiful Lough Leane, the town happens to be part of the Killarney National Park. The first national park to be created here, it has the most extensive covering of native forest remaining in the country and is also the home to the only red deer herd on the mainland.
This town is ideal for those who enjoy their lakeside relaxation interspersed with some deer and wildlife spotting.
3. Castlewellan – for canoeing and good food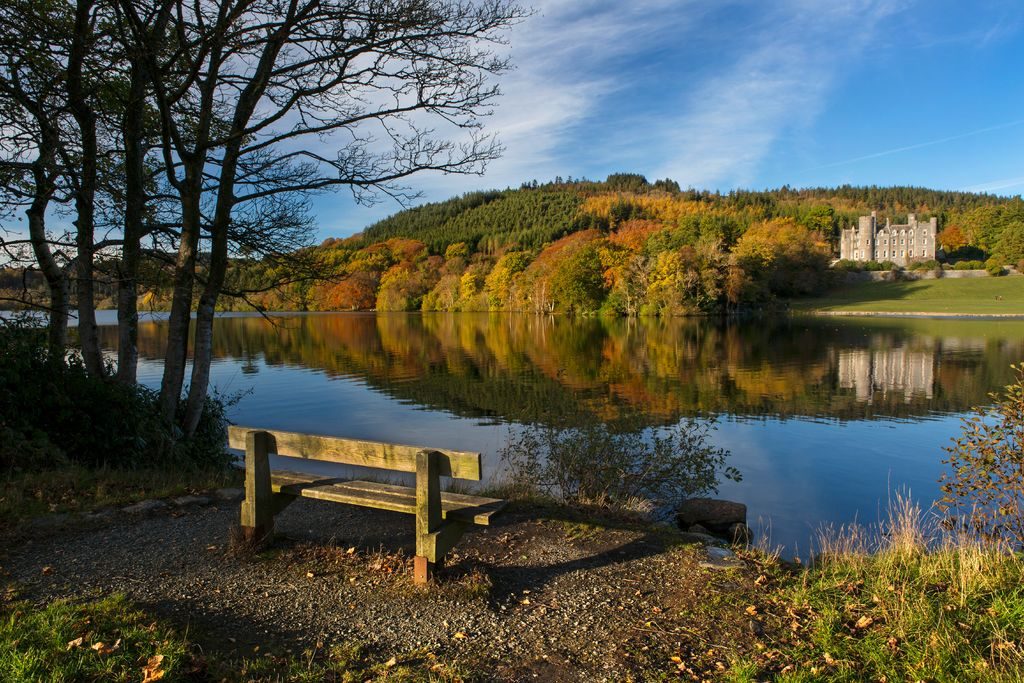 The village of Castlewellan in County Down is nestled between the majestic Mourne Mountains and Slieve Croob. It also happens to be home to one of the most beautiful lakes and forest parks in the North of the Ireland.
This is the perfect spot for a summer day out. Offering canoeing and water-sport facilities, as well as an extensive arboretum containing plants and trees from all over the world, including Mexico and Spain, this place will never leave you hard-pressed for things to do.
You'll also find the famous Peace Maze here, which held the title of the longest permanent hedge maze in the world until 2007. And when you're done with getting lost here, make sure you pop into the town itself for a bite to eat in the homely and affordable café Nana's Kitchen.
2. Killaloe – for lakeside adventures
Killaloe is situated on the banks of Lough Derg and is connected to the town of Ballina, Co. Tipperary, by the bridge. Killaloe is the busiest fishing and boating area in the Clare region. There are plenty of facilities in Killaloe that give an insight into a lakeside life: lakeside parks, boats to rent, and even lake cruises.
If you're in the mood for an adventure, look no further than The Ring of Lough Derg, a company that will plan your lakeside endeavours for you. Think organised fishing trips, hill walking, and water sports. Such activities have proven popular with large groups such as hens and stags, so for a celebration with a taste of the great outdoors, make a beeline for this Clare-based lakeside town!
1. Portumna – a picturesque haven
You may have heard of Ireland's third largest lake, Lough Derg. Seeped in mythology, the watery depths have been the subject of folklore and story-telling for centuries. The Derg also just so happens to run through one of the most picturesque lakeside towns and villages in Ireland.
Home to a towering castle and extensive 600 hectare forest, the town of Portumna is a haven for dog-walkers, families, and die-hard fans of Celtic mysticism alike.
As well as boasting spectacular walking and hiking trails, Portumna is a popular destination for boaters, golfers, and anglers all over the world. While beautiful at any time of the year, we recommend heading in June to catch the "Portumna's Great Outdoors Festival", which is dedicated to celebrating the stunning natural beauty of the lake and surrounding areas.