These places are really out of this world, even by Ireland's standards! 21 of the very best places to see on the Emerald Isle.
1. Duckett's Grove, Co. Carlow 
Duckett's Grove, the 18th, 19th and early 20th century home of the Duckett family, was formerly at the centre of a 12,000 acre (4,856 hectares) estate that has dominated the Carlow landscape for over 300 years. Even in ruin, the surviving towers and turrets of Duckett's Grove form a romantic profile making it one of the most photogenic historic buildings in the country.
2. Killarney National Park, Co. Kerry
Killarney National Park, Co. Kerry. Located beside the town of Killarney. It was the first national park established in Ireland, created when Muckross Estate was donated to the Irish state in 1932. The park has since been substantially expanded and encompasses over 102.89 km2 (25,425 acres) of diverse ecology, including the Lakes of Killarney, Oak and Yew woodlands of international importance, and mountain peaks.
3. Giant's Causeway, Co. Antrim
An absolute must. The Giant's Causeway in Co. Antrim is one of the most unique rock formations in the world. It is on the beautiful Antrim coast to top it off. Just stunning.
4. Portsalon Beach, Co. Donegal
A very extensive sandy beach on the shores of Lough Swilly. It gently slopes towards the Atlantic ocean and is located in a Natural Heritage Area. The beach at Portsalon can be reached by travelling north east in the R246 from Carrowkeel to Portsalon.
5. Glenoe Waterfall, Co. Antrim
Glenoe Waterfall, Co. Antrim. A beautiful waterfall nestling in the glens of Antrim. A short stroll from the charming village of Glenoe, steps and paths wind around a small glen with one of the most picturesque waterfalls in Ireland.
6. Slieve League cliffs, Co. Donegal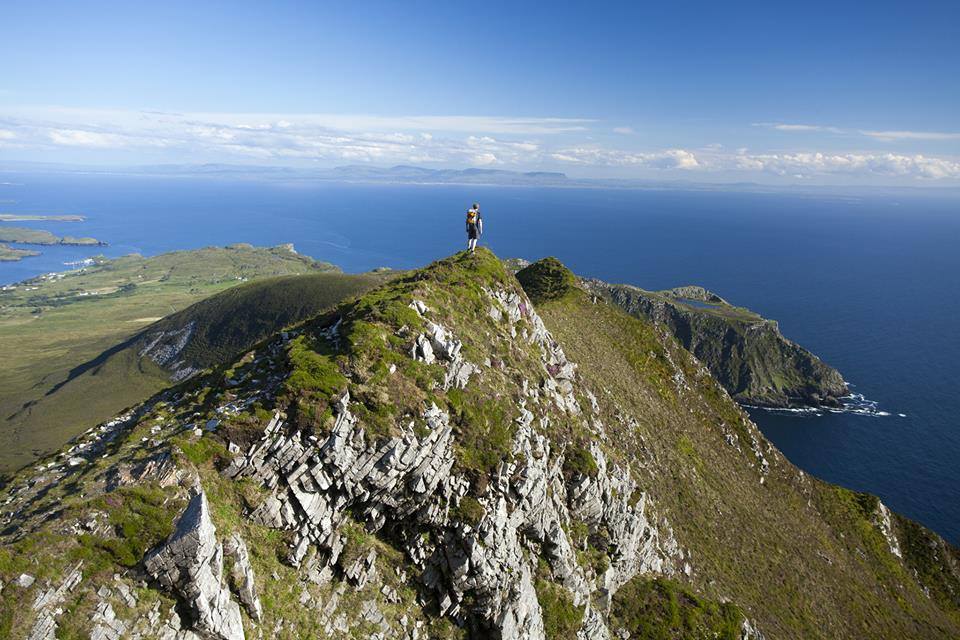 Ranked Number 1 attraction on tripadvisor for County Donegal. Climbing to this point on Slieve League Cliffs in County Donegal is a truly memorable experience. The views are fantastic! Highly recommended to add this place to the list of places to visit!
7. Glenveagh National Park, Co. Donegal
Glenveagh National Park is one of six national parks in Ireland. Situated in the Northwest of Co. Donegal, Glenveagh encompasses some 16,000 hectares in the heart of the Derryveagh Mountains. Such a great wilderness is the haunt of many interesting plants and animals. These lands were managed as a private deer forest before becoming a national park in 1975. With the completion of public facilities Glenveagh National Park was officially opened to the public in 1986.
8. Glencar Waterfall, Co. Leitrim
Number 1 attraction on tripadvisor for Co. Leitrim. Gainted Certificate of Excellence in 2014. Glencar Waterfall is situated near Glencar Lake, 11 kilometres west of Manorhamilton, County Leitrim. It is particularly impressive after rain and can be viewed from a lovely wooded walk. There are more waterfalls visible from the road, although none is quite as romantic as this one.
9. The Dingle peninsula, Co. Kerry

Stretches from Tralee to Slea head and looks west upon the famed Blasket Islands, home to a rugged island people until the 1950's and inspiration for acclaimed writer Peig Sayers. Often referred to as the last parish until the New World, it is home to a number of rural Ireland's most famous landmarks such as the Gallarus Castle and Oratory. The Dingle peninsula caters for everyones taste and imagination, from aquatic pursuits, heritage trails, religion, patriotism to fine dining and luxurious surrounds, and all within a four hour time frame by road. Slea Head drive is a popular route taken by tourists.
10. The Dark Hedges, Co. Antrim
The Dark Hedges is one of the most photographed natural phenomena in Northern Ireland and a popular attraction for tourists from across the world. It has been painted by hundreds of visiting artists and is a favourite location for wedding photographs.