If there is a truly unique city, it has to be Dublin, and we are here to tell you why it's so darn special.
There is something so magical about Dublin, the bustling capital of Ireland, with its incredible eateries, welcoming atmosphere, open green spaces, and gorgeous scenery, not to mention a thriving culture which attracts people from all over the world.
Despite the unpredictable weather, there is no wrong time to visit Dublin, and you can spend your days enjoying mountain hikes, coastal walks, cosy pub visits, and live music events.
So, of course, Dublin is a place that cannot be compared to anywhere else on the planet.
We are huge fans of the city for many reasons, so let us show you a few things that make the Irish capital unique.
10. The Guinness Book of Records – established in the 1950s
This world-famous book of world records was established in Dublin initially for marketing purposes. Yet, today it has grown to become the world's most well-known and prestigious record-breaking authority.
This has to be one of Dublin's most exciting things, attracting many visitors.
9. UNESCO City of Literature – a historic achievement
We have all heard of James Joyce, Oscar Wilde, and Samuel Beckett, to name a few literary greats, but did you know Dublin is recognised as a UNESCO City of Literature? It is one of only 40 places worldwide recognised for its literary influence on the world.
8. St. Valentine – his final resting place in Dublin
For all those love birds out there, who celebrate Valentine's Day on 14 February each year, it may surprise you that St. Valentine is buried in Dublin.
You can find his burial site inside the Whitefriar Street Church, which is kept in a secure vault beneath the building.
7. Croke Park – one of the biggest stadiums in Europe
Did you know that Dublin's Croke Park is the third biggest stadium in Europe? Only Barcelona's Nou Camp and London's Wembley Stadium trump Croke's 82,300 capacity.
Croke Park is the home of the GAA and hosts the annual All-Ireland finals. It also served as the home stadium for the national football and rugby teams between 2007-2010 and hosted Pope Francis during his 2018 Papal visit.
6. The widest street in Europe – one of the most exciting things
Yes, Dublin is home to the widest street in Europe, which is O'Connell Street in the heart of the city, measuring 137 ft (42 m) wide.
If you thought it was located in Paris, don't be fooled – the Champs Elysees is just the widest avenue in Europe.
5. A pivotal Viking town – plenty of history to be found
The Vikings founded Dublin twice, first in 841 AD and again in 917 AD, making it Ireland's most important Viking town.
The city has plenty of history and is one of the most incredible cities to visit in all of Europe; plus, it has the largest Viking cemetery outside of Scandinavia.
4. Europe's Silicon Valley – the tech hub
If you want to know how ultra-cool Dublin really is, wait until you hear that only in Dublin will you find companies such as Facebook, eBay, PayPal, and many more.
All of these companies have their main European headquarters right on our doorstep. This is indeed the Silicon Valley of Europe!
3. The Guinness Storehouse – home to the best Guinness
The original Guinness Storehouse is one of the main things that exist only in Dublin, making the city truly unique.
Not only is this a fascinating place to visit, with plenty of great historical stories to learn, but it offers up the freshest Guinness you will find on the planet.
2. O'Connell Bridge – a remarkable fun fact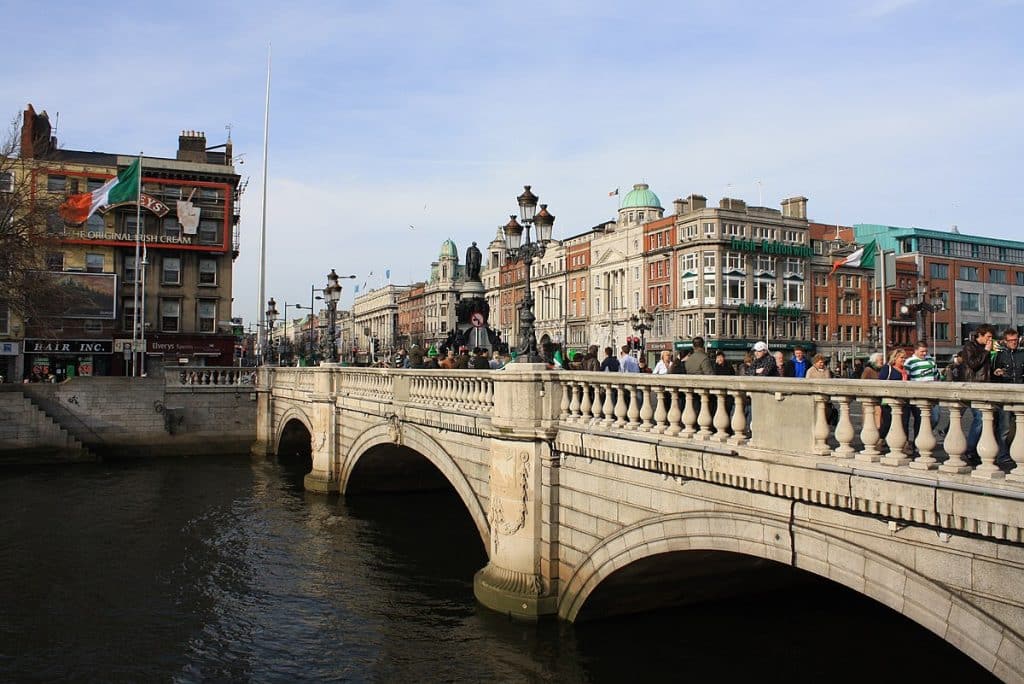 O'Connell Bridge is cool to see, walk across, and take photos of. But what makes it truly unique is that it's the only bridge in Europe that's as wide as it is long!
Try finding another European bridge that fits the bill – you won't. Only in Dublin.
1. Phoenix Park – stunning city parklands
What stands out to many people who visit Dublin for the first time is the ample green space in the heart of the city. But did you know that Phoenix Park, home to an abundance of wild deer, is, in fact, the largest city park in all of Europe? Now that's cool!
So, now you have seen the ten things that make the Irish capital unique, with plenty of things only in Dublin, but there are plenty more where these came from.