It was a big night at the Irish Takeaway Awards for Galway burger specialists Handsome Burger, who took home three prizes, including the Burger of the Year Award.
There was plenty of reason for celebration last night (21 February) for the staff of Handsome Burger in Galway. The popular restaurant was named 'Ireland's best burger' at the 2023 Irish Takeaway Awards.
As well as taking top spot in the nationwide burger category, Handsome Burger also claimed the prizes for the best burger in Connacht and the social media award.
They fought off stiff competition for the main prize, coming up against Papalino's Chipmongers from Bray, Bastianelli's in Limerick, and Melly's Café of Killybegs.
Those who follow Handsome Burger's social media will not be surprised by their triumph in this category. Their tantalisingly alluring content has seen the restaurant amass over 20,000 followers on Instagram, becoming one of the most famous restaurants in Galway.
The Irish Takeaway Awards – celebrating excellence
NI Media set up the Irish Takeaway Awards to recognise the variety of international and local cuisines available in Ireland today. They also highlight the healthy options available through their Healthy Takeaway of the Year Award.
The awards are free to enter and serve as a great publicity tool for the island's best takeaways.
NI Media's managing director Shane Smith noted, "Food to go is one of the fastest growing sectors in the foodservice sector. Customer expectations are high, and the modern Irish diner has a discerning palate.
"The standards that we encountered this year were incredibly high, and the quality of food delivered was outstanding."
Service to the stars – feeding Hollywood's elite
Handsome Burger's reputation precedes them. So much so that they were recruited to cater on the set of Martin McDonagh's Oscar-nominated film, The Banshees of Inisherin.
Not content with simply catering to stars such as Colin Farrell, Brendan Gleeson, and Kerry Condon, Handsome Burger went as far as recruiting one too!
When a grill cook called in sick, Ireland's newest star, BAFTA winner, and Oscar nominee, Barry Keoghan, donned an apron and lent a hand.
Other winners – the best in the country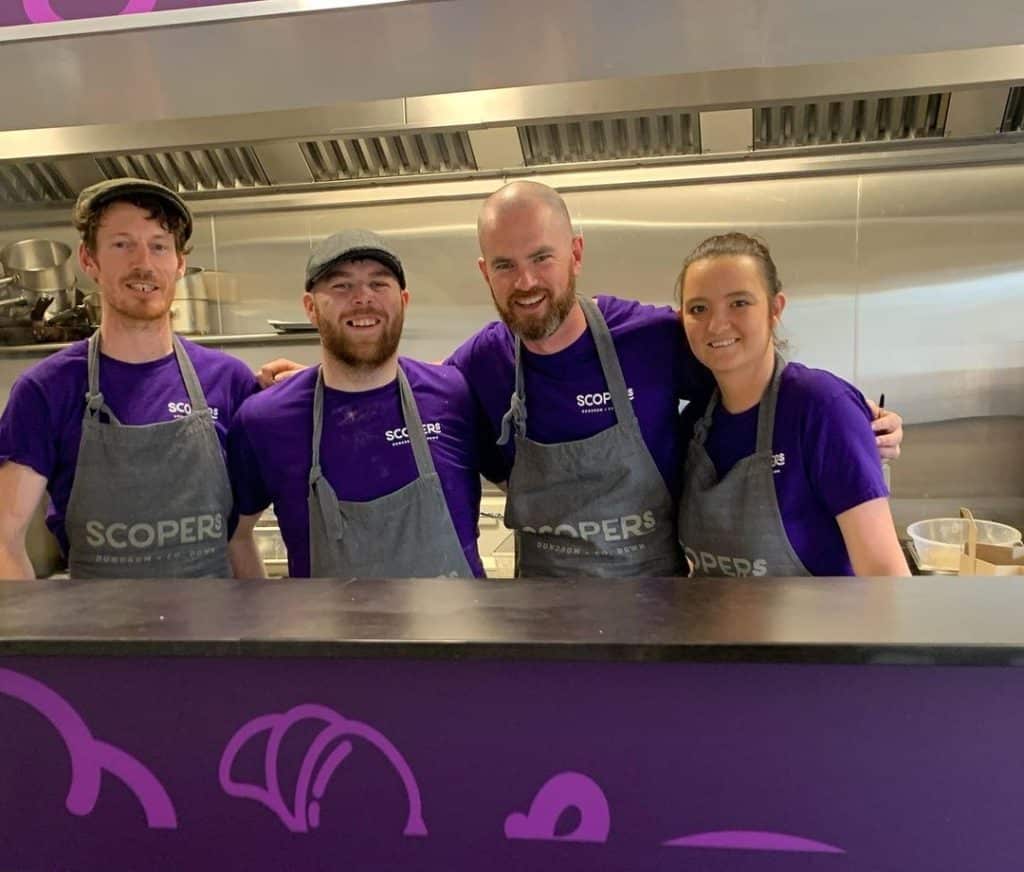 As well as naming Ireland's best burger, awards were given in many different categories.
Other notable categories included Breakfast Takeaway of the Year, Café Takeaway of the Year, and Coffee Cart of the Year. Old Stone Café (Donegal), Latte Da (Cavan), and An Capall Mara (Killybegs), respectively, picked up these awards.
Special mention must go to Scoper's in Dundrum. Scoper's pipped Kerry Sushi (Tralee), The Baker's Table (Lismore), and CoCo Kiosk (Magherfelt) to the Newcomer of the Year Award.