This may just be one of Ireland's most majestic trails: read on to learn everything you need to know about the Gap of Dunloe walk.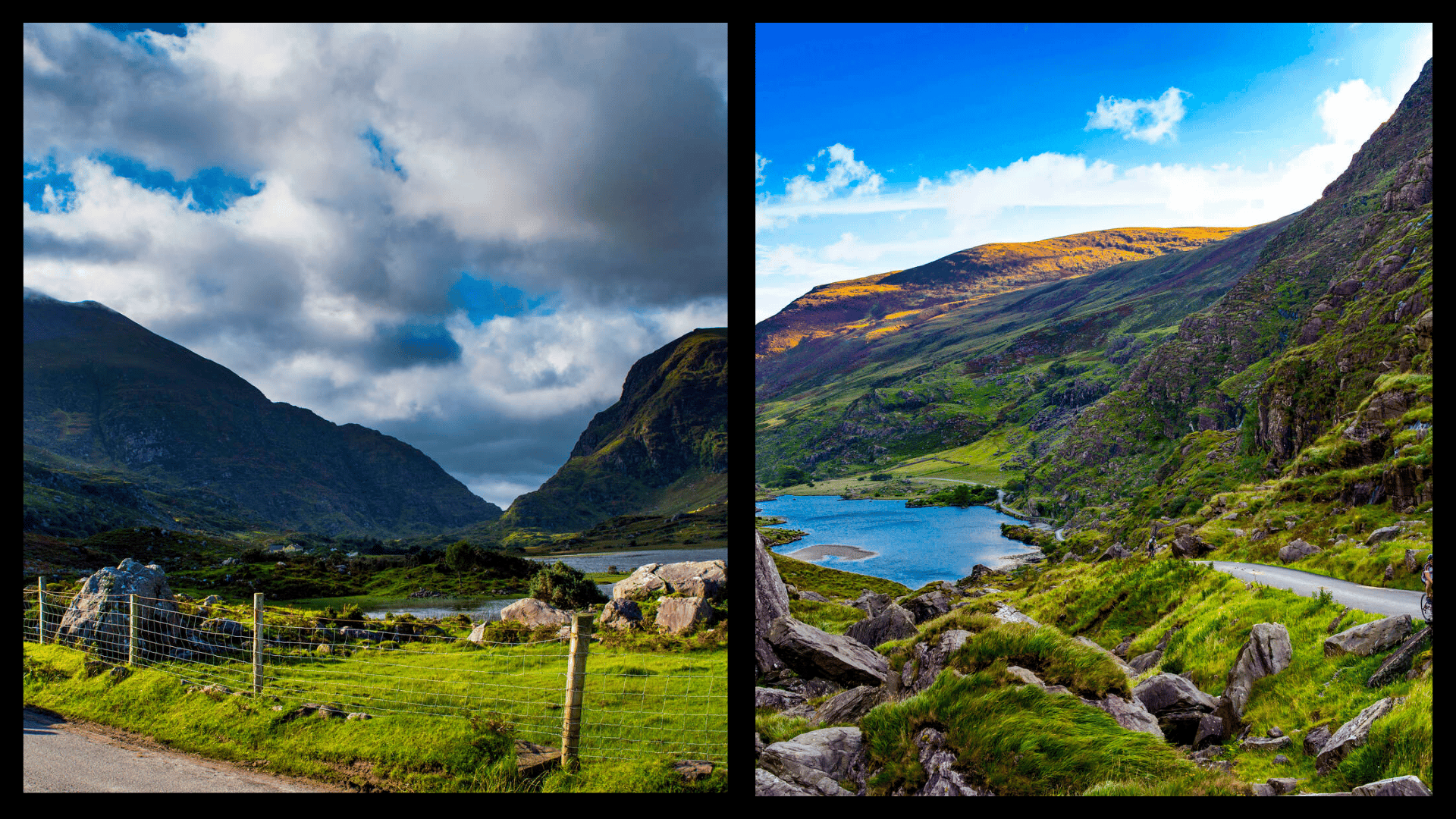 The Gap of Dunloe hike separates the impressive MacGillycuddy's Reeks mountain range from the Purple Mountain Group in County Kerry.
This scenic mountain pass is a favourite of hillwalkers, hikers, bikers, and road trippers looking for an epic experience to remember.
This is your ultimate guide to the Gap of Dunloe walk, including insider tips, when to visit, and what to see along the way.
Basic info – the essentials
Route: Gap of Dunloe walk
Distance: 11 km or 6.8 miles (one-way) / 22 km or 13.6 miles (out and back)
Start / End Point: Kate Kearney's Cottage / Lord Brandon's Cottage
Difficulty: Moderate
Duration: 2 to 2.5 hours (one way) / 4 to 5 hours (out and back trip)
Overview – in a nutshell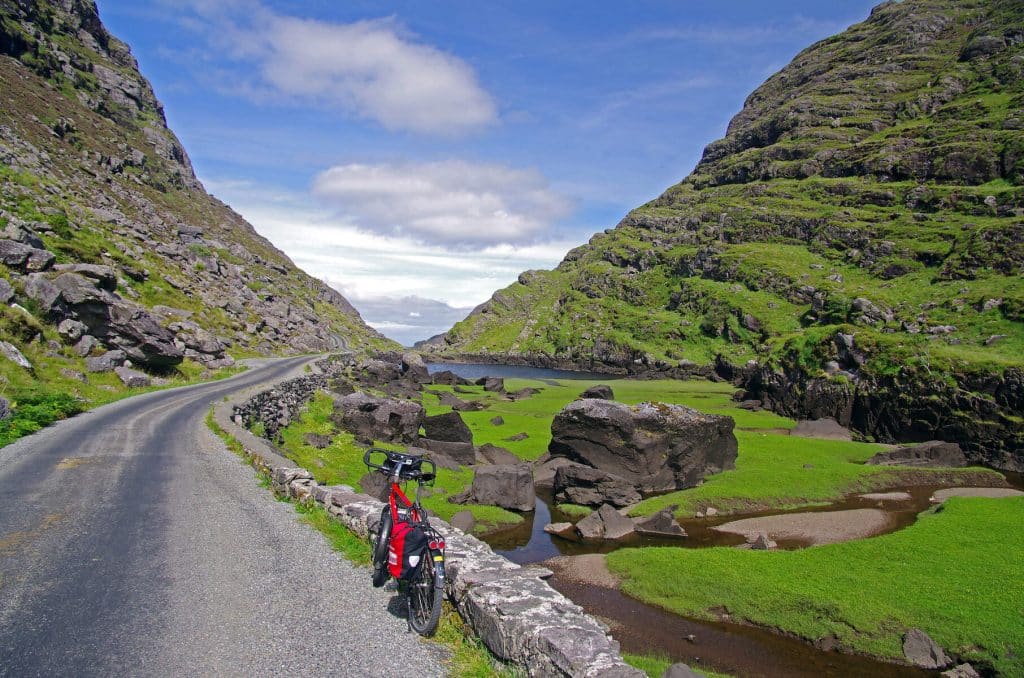 The Gap of Dunloe walk is a major bucket list entry on any Irish adventure list. Located in the heart of Kerry, separating two majestic mountain ranges, this narrow mountain pass offers stunning views and beautiful scenery.
While most visitors enjoy tackling the Gap of Dunloe hike one-way, others choose to tackle the trail on a round-trip. The option is entirely up to you and is based on your fitness level and the time available.
When to visit – the months in question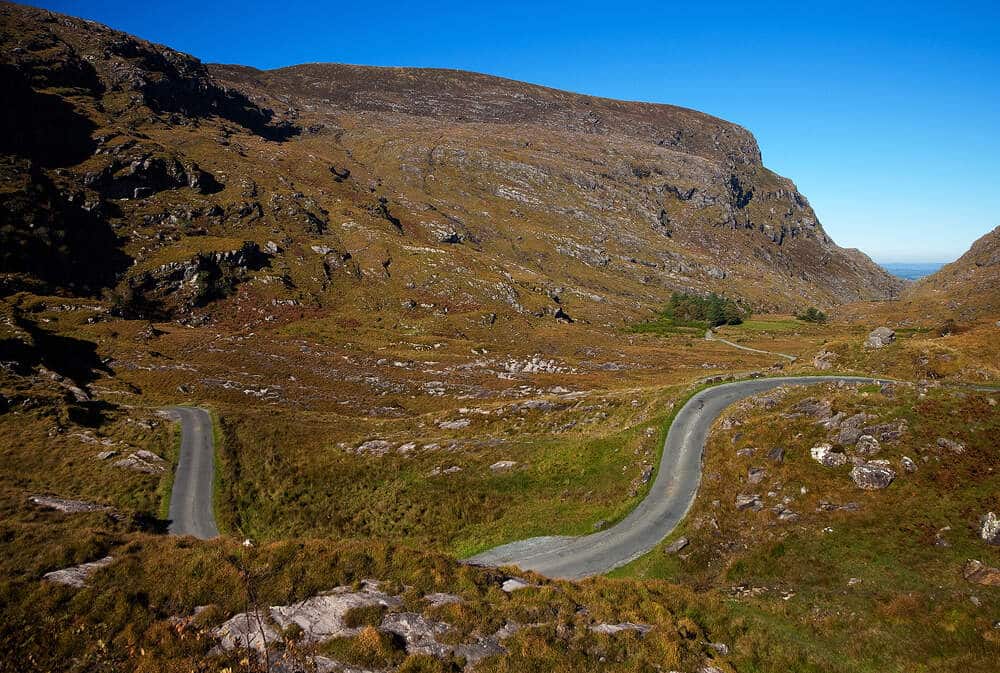 As always, we recommend visiting key attractions, like the Gap of Dunloe walk, during spring and autumn. In these seasons, visitors to the area will be fewer, allowing for a more peaceful experience in this ruggedly beautiful part of Ireland.
While summer has its draws – the weather being the most obvious – you can also expect many visitors during this time.
This may be an added bonus for solo travellers or those looking to socialise along their journey. Still, if you're looking for a serene experience, this is not the time to do the Gap of Dunloe hike.
Winter is the coldest and wettest season in Ireland. During this time, the Gap of Dunloe will be at its quietest. However, weather conditions will be at their worst. So, make sure you wrap up in warm clothes with a waterproof jacket if you visit during this season.
Key stops – what not to miss
The Gap of Dunloe begins at Kate Kearney's Cottage and ends at Lord Brandon's Cottage. For those keen to experience the return journey, you will turn around at Lord Brandon's Cottage and make your way back to your start point.
Along the Gap of Dunloe walk, the centre stage star will be the spectacular scenery. Keep an eye out for the stone cottages that lie in ruin, abandoned from Victorian times and the Great Famine in Ireland (1845-1852).
You will also experience winding roads and weaving glacial lakes, including Black Lake, Upper Lake, Augher Lake, Coosaun Lough, and Cushnavally Lake, that have been carving out the earth since the last Ice Age.
Keep an eye out for native wildlife, too. It's not uncommon to spot eagles and red deer along the Gap of Dunloe hike.
Directions – how to get there
Kate Kearney's Cottage is only a 15-minute drive from Killarney town, making it an easily accessed trail when exploring the town and surrounding areas.
From Killarney, follow the N71 and the Ring of Kerry for 7.1 km (4.4 miles). Then, continue on Gap Road and follow signs for the Gap of Dunloe.
Distance – the fine details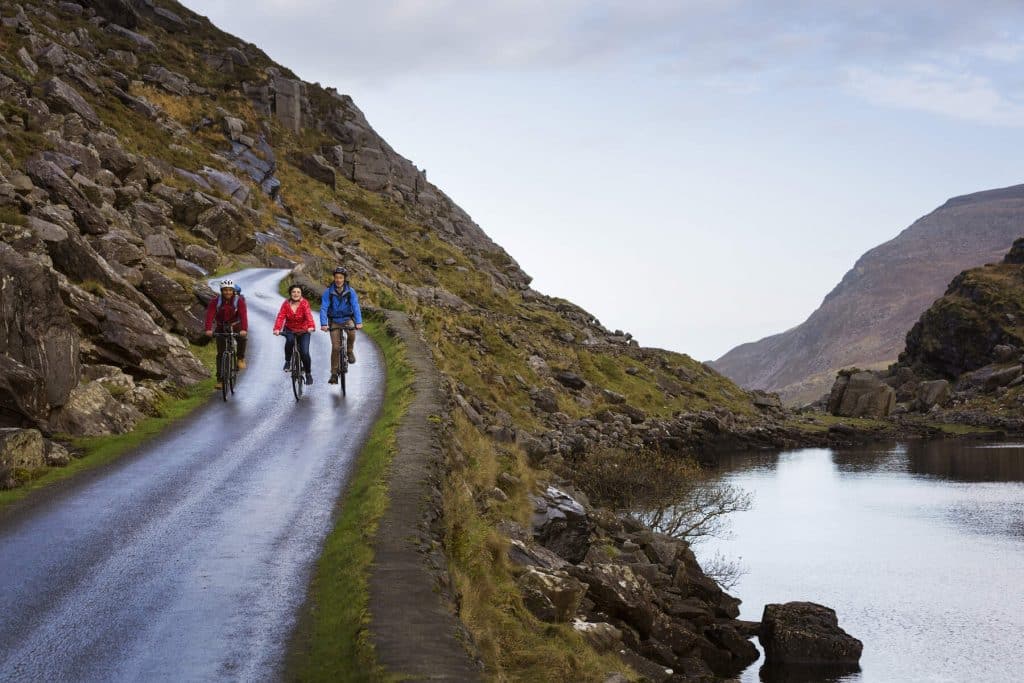 The Gap of Dunloe walk is 11 km (6.8 miles) one-way or 22 km (13.6 miles) out and back. The trail usually takes walkers between two to two and a half hours or four to five hours.
If you choose to experience the trek one way, the route is suitable for any relatively fit intermediate walker and both adults and children. For those keen to enjoy the looped trail, a more experienced level of fitness is required.
Things to know – the inside scoop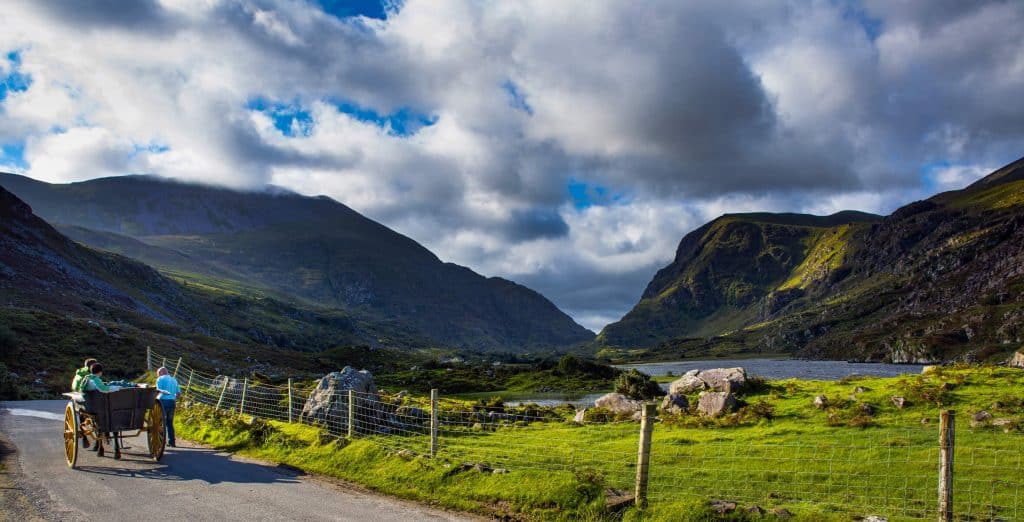 Technically, yes, you are allowed to drive through the narrow road at the Gap of Dunloe as it is a public road.
Saying that, if you do choose to tackle this stretch of road on four wheels, exercise caution. The road is ripe with blind turns and is well-populated with walkers, cyclists, runners, horse carriages, and horse riders.
There are steep slope ascents and loose and uneven footing. So wear suitable shoes and bring a rain jacket in case the weather turns.
There are no facilities en route. So make sure to bring water, food supplies, and anything else you need with you on your journey.
Where to eat – for the love of food
The Gap of Dunloe hike is commonly bookmarked with a meal in either Kate Kearney's Cottage and Lord Brandon's Cottage.
Both serve hot drinks and fresh food, but if you're looking for the ultimate sit-down after a long walk, we suggest the former.
Kate Kearney's Cottage restaurant is a 150-year-old family-run establishment, and its hospitality is as memorable as its food.
Where to stay – for a golden slumber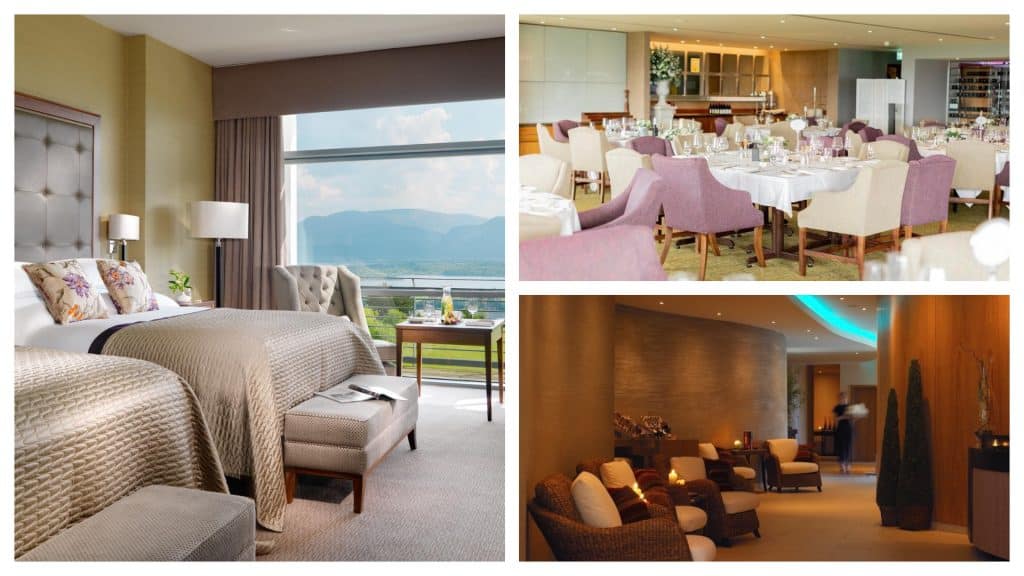 There are plenty of great places to stay near the Gap of Dunloe Walk and Killarney National Park. Surrounded by gorgeous scenery, amazing views, and friendly Irish hospitality, there is something for all tastes and budgets here.
Budget: The Sika Lodge Bed & Breakfast
A friendly bed and breakfast located on the doorstep of Killarney National Park. The perfect place for a relaxed and cosy stay.
Mid-range: Great Southern Killarney
The four-star Great Southern Killarney is renowned as one of the best hotels in County Kerry. If you want to enjoy all the comforts of a historic resort, this is for you.
Luxury: Aghadoe Heights Hotel & Spa
For a five-star luxury escape, we couldn't recommend the Aghadoe Heights Hotel and Spa in County Kerry enough. Offering beautiful views over the Lakes of Killarney, this spot has everything you could wish for.
Notable mentions
If you're looking for some other great things to see and do in the area, here are some of our top picks:
Killarney National Park: Home to some of the most breathtaking natural scenery in Ireland, Killarney National Park is a highlight of County Kerry.
Gap of Dunloe Tour: Sign up for a Gap of Dunloe Tour and experience some of the most beautiful sites in the area by horse-drawn carriage.
Ross Castle: Take a boat trip out to the famous Ross Castle for a truly unforgettable experience.
FAQs about the Gap of Dunloe walk
Can you drive the Gap of Dunloe?
Technically, yes. However, it is important to exercise extreme caution if you take to the road by car.
How long does it take to walk the Gap of Dunloe?
The one-way trip will take around two to two-and-a-half hours, while a return trip will take four to five.
Where is the Gap of Dunloe?
The Gap of Dunloe is just outside Killarney in County Kerry.